The finance industry is navigating new, never-before-seen challenges — Electric can help your workforce adapt
The pace of digital finance is accelerating, as more people are shopping and transacting online. But this growth is also heightening security and vulnerability risks. Electric is your solution for getting ahead of these challenges and bridging gaps in your IT foundation.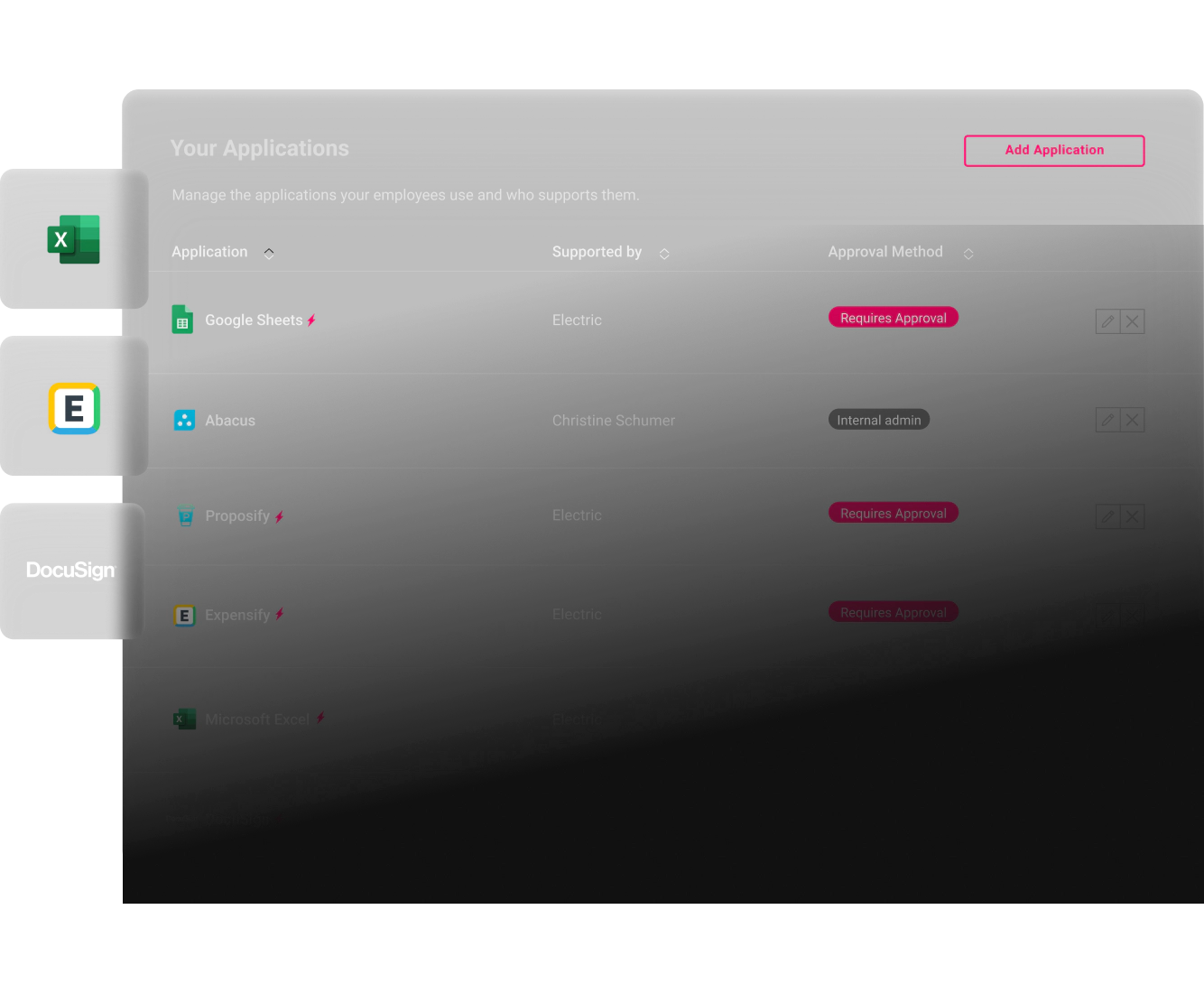 What exactly is Electric?
You can think of Electric as a comprehensive IT solution for your business. We combine software with unparalleled strategic expertise and customer support to fortify companies' IT programs.

Support for everyday IT support needs, so employees can remain productive.

Strategic guidance for standardizing IT processes that help internal workflows run smoothly.

Single pane of glass visibility into your IT environment, that's easy for even non-technical users to understand.
Here's a deeper look…
The foundation of our platform is a help desk style environment that employees can access for in-the-moment questions and requests. Our response time averages under 10 minutes — we're there exactly when you need us. 
Beyond answering basic support questions, Electric also helps businesses build specialized strategic IT programs and develop policies for security, compliance and governance. Our software-defined environment helps businesses consolidate IT spend while providing a single pane of glass visibility into important utilization metrics. 
As an end-to-end solution, Electric will manage employee devices on your company's behalf and take a comprehensive approach to managing IT and bridging gaps within your organization.
50%
Avg IT cost savings experienced by Electric customers
$5,000/device
Cost per device when they go unmanaged or mismanaged
$5,600/minute
Average cost to US businesses when a network outage occurs
IT Visibility
Build airtight security and IT processes.

Lean on Electric's expertise to help you select, implement, and manage the right security policies for your business including MFA, antivirus, firewall, disk encryption, and beyond. 

 

Simplify repetitive, time-consuming tasks.

Let Electric carry the load of onboarding and offboarding. On average these requests take 8 hours to manage from device procurement, to application license creation, and even shipping of devices to remote/hybrid employees. With Electric you simply submit a request in 7 minutes or less and Electric will handle the rest. 

Consolidate your IT expenses.

IT spend can become fractured across vendors or internal resourcing very quickly. Electric's subscription packages all IT services into one flat monthly fee. From device procurement to day-to-day support and even license procurement, we'll handle it all on your behalf and package into your monthly rate.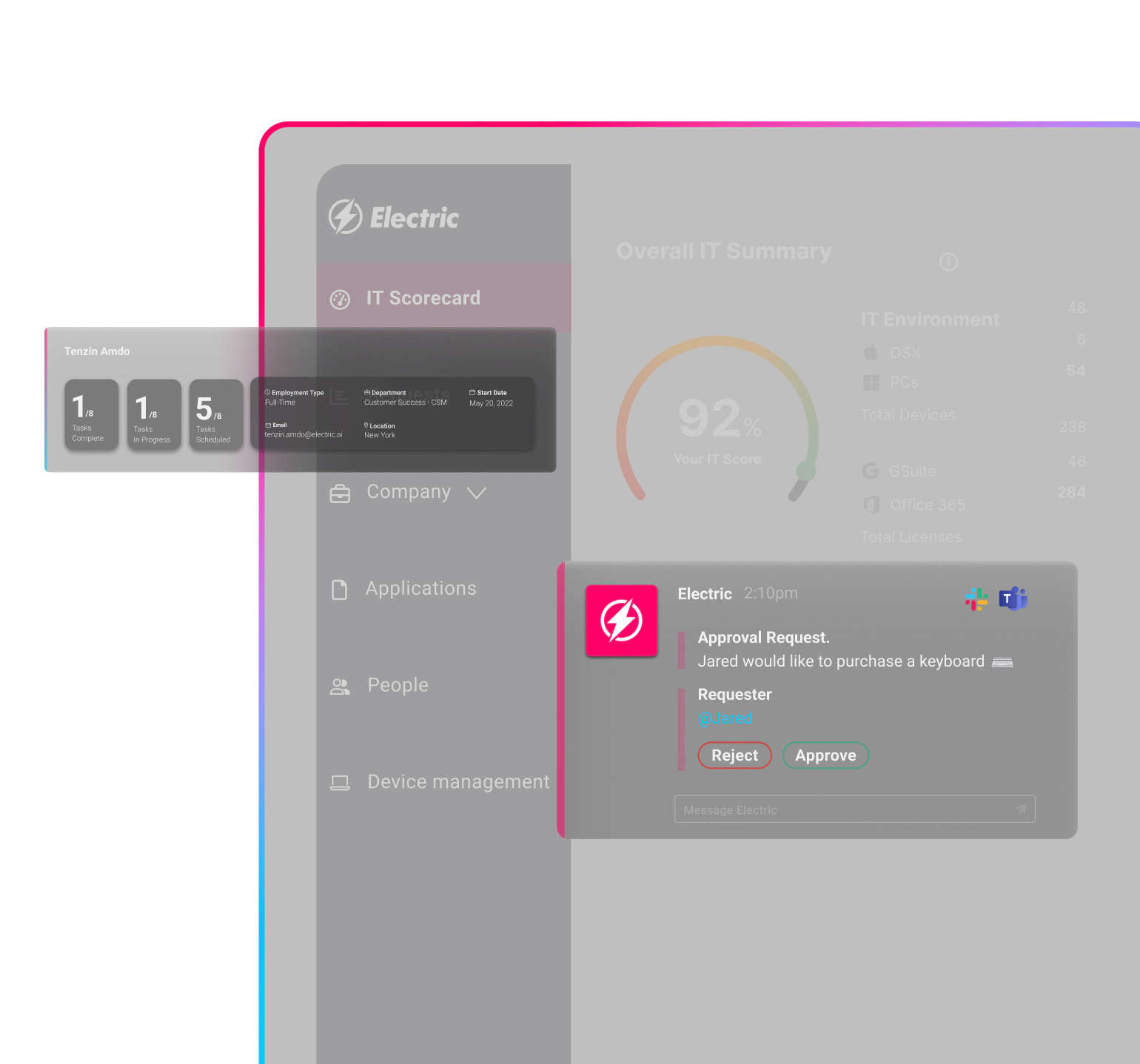 Your instant team of IT experts
Gain access to specialized expertise.

Electric is powered by a team of 100+ IT specialists with a wide variety of certifications including A+, Network +, CCNET, CCNA Security & CCNP. 

Stay compliant with less effort.

Need to meet specific compliance requirements like those for SOC II? We'll be there to support you with the collection of evidence for security audits and completion of security questionnaires. 

Delegate busywork.

Pass off day-to-day IT requests including troubleshooting, SysAdmin, and approvals to a team of 100+ IT specialists who are just a chat away. Consider Electric an extension of your team.