Don't just outsource your IT — Get a true IT partner
You need more than a person who handles your IT from the other side of a ticketing system. With Electric, a unique combination of visibility through technology and support through a team of technicians.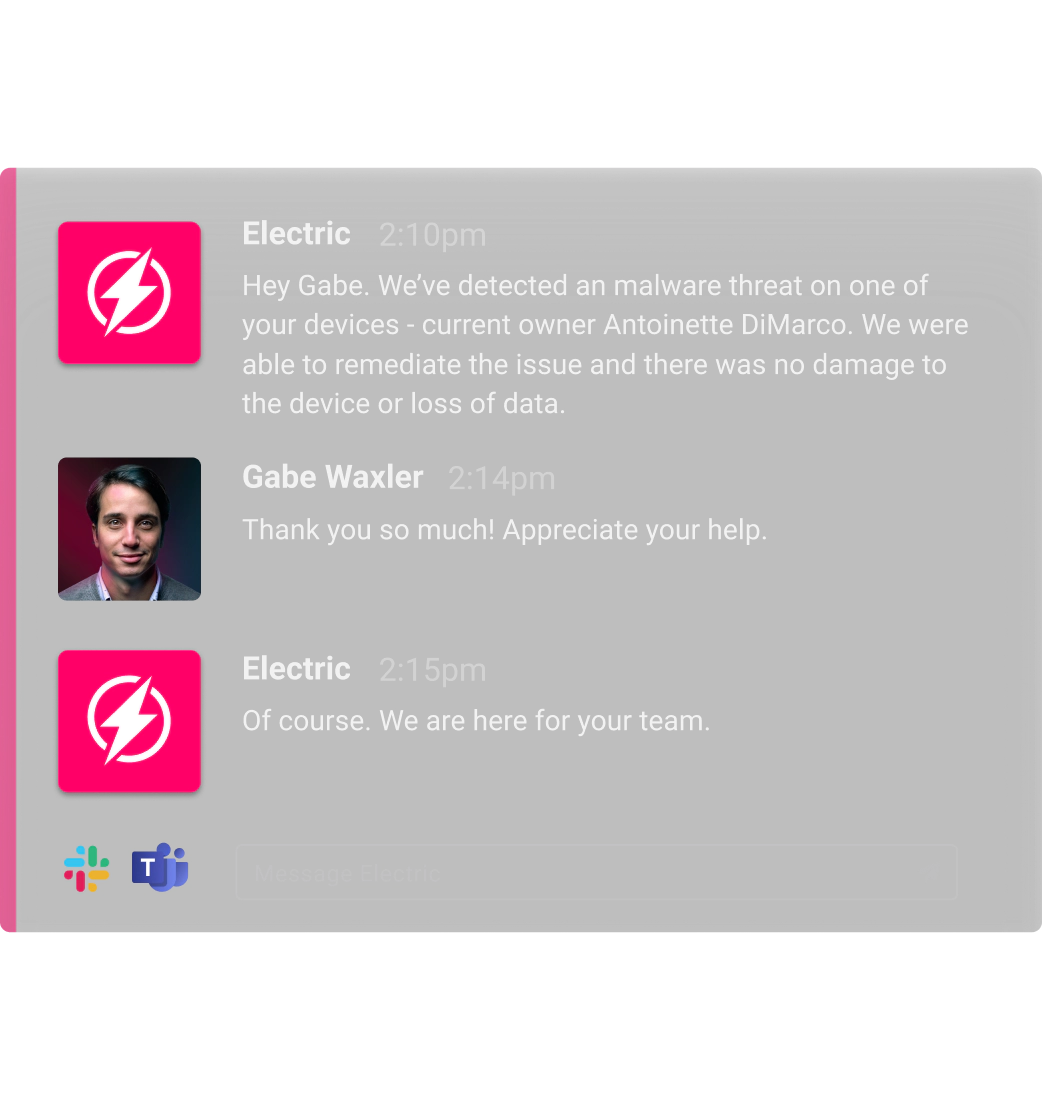 The world is complicated — IT should be simple
Electric handles your team's day-to-day IT needs, standardizes your security, and gives you everything you need to manage your networks, devices, and people. 
Unlike old-school managed service providers' slow response times and antiquated approach, Electric empowers you with full clarity into the status of your IT environment and strategic IT initiatives.
Accessible and reliable IT support
Say goodbye to complicated ticket submission processes, 48 hour response windows, and project managing IT support requests on your own. 
Electric integrates directly into your Slack Workspace or Microsoft Teams tenant, empowering your team members to reach out for IT support whenever they need it.
Our team of 100+ IT support technicians respond to your team's IT requests in 10 minutes or less.
Chat @Electric for:
Day-to-day troubleshooting

SysAdmin support

Requests for access to files, apps, and hardware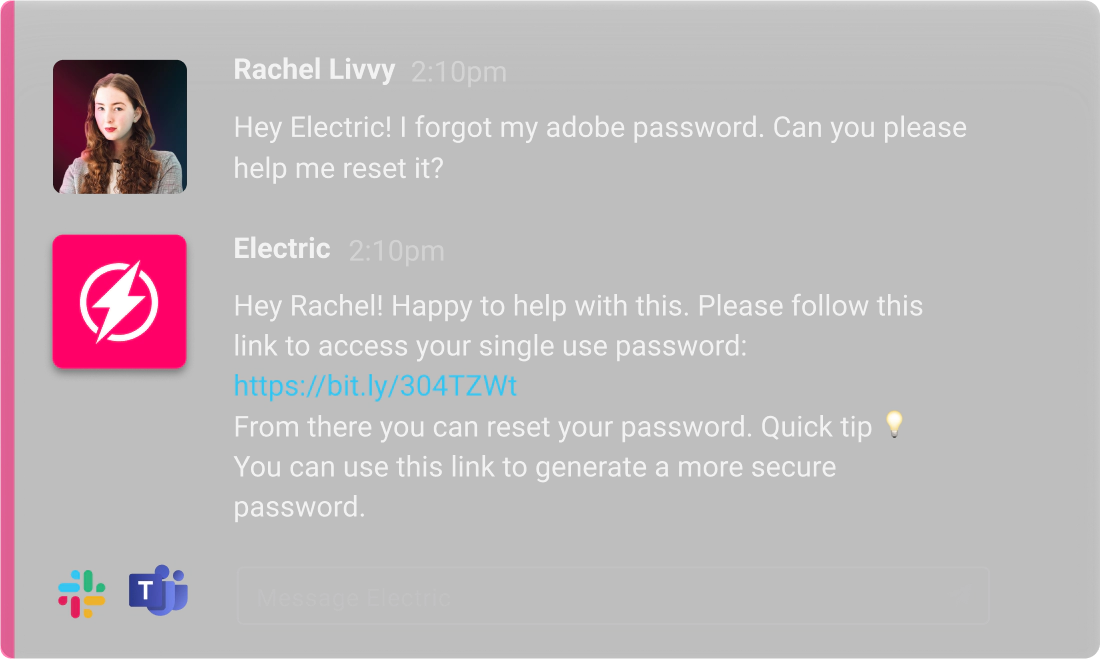 Electric visibility
Tired of feeling in the dark and scrambling to compile status updates on your IT environment? With the Electric Platform you have visibility into all aspects of your IT infrastructure in one place.
See support request volume by time frame, type, and requestor

Manage credential configuration for applications

Control department level provisioning profiles

Check out hardware detail

Onboarding and offboarding history and request status

Device inventory and detail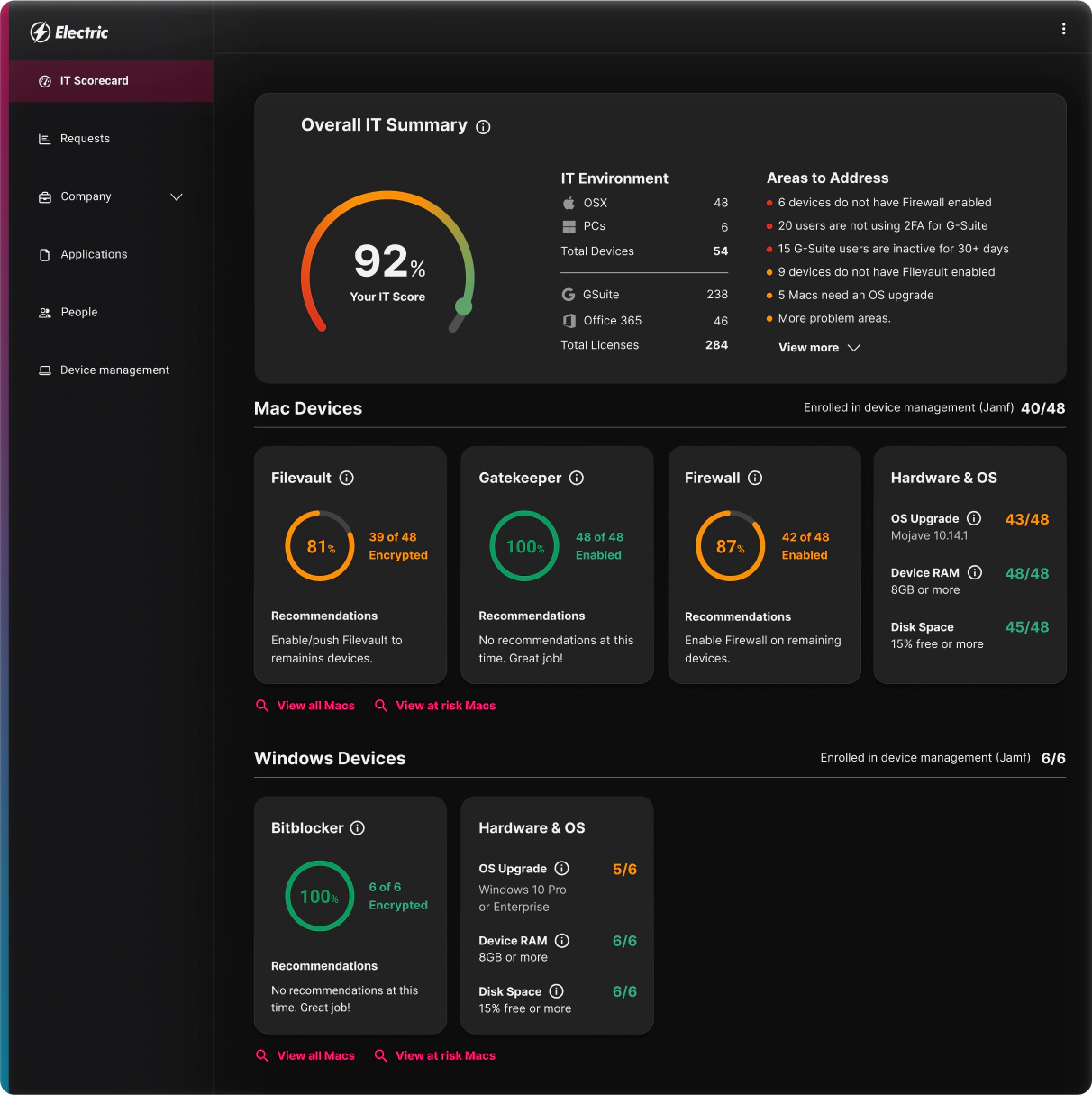 We thought about going with a local provider, but without a tool like Electric, we would have ended up where we started, trusting them with our IT needs, and not having any visibility on our end. Electric's platform gives us the visibility we need.
Ellen Hardy
Chief Operating Officer | TCI
Exclusive access to IT experts
Get access to an extraordinary team of over 100 IT specialists ready to take on your team's requests. Even better? We've partnered with key technology providers to give you above-and-beyond remote support.
Not sure which security policies are right for your SaaS applications? Don't know where to get started when it comes to device management? Electric is your IT North Star.
You're going to love working with us — and likewise, we're committed to your success.
Learn more about our wide array of IT management capabilities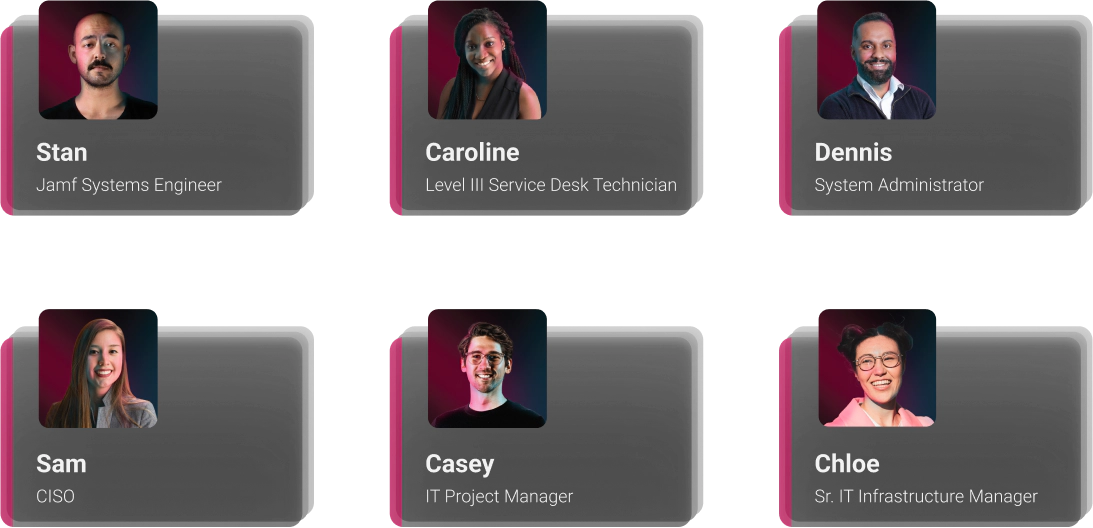 Support when and where you need IT
Now that teams are scattered across the country, you need an IT provider that isn't tied to your home town. Electric supports your team, whether they're remote, in the office, or both. 
We provide in-person support in over 180 cities across the United States — and the list is constantly growing.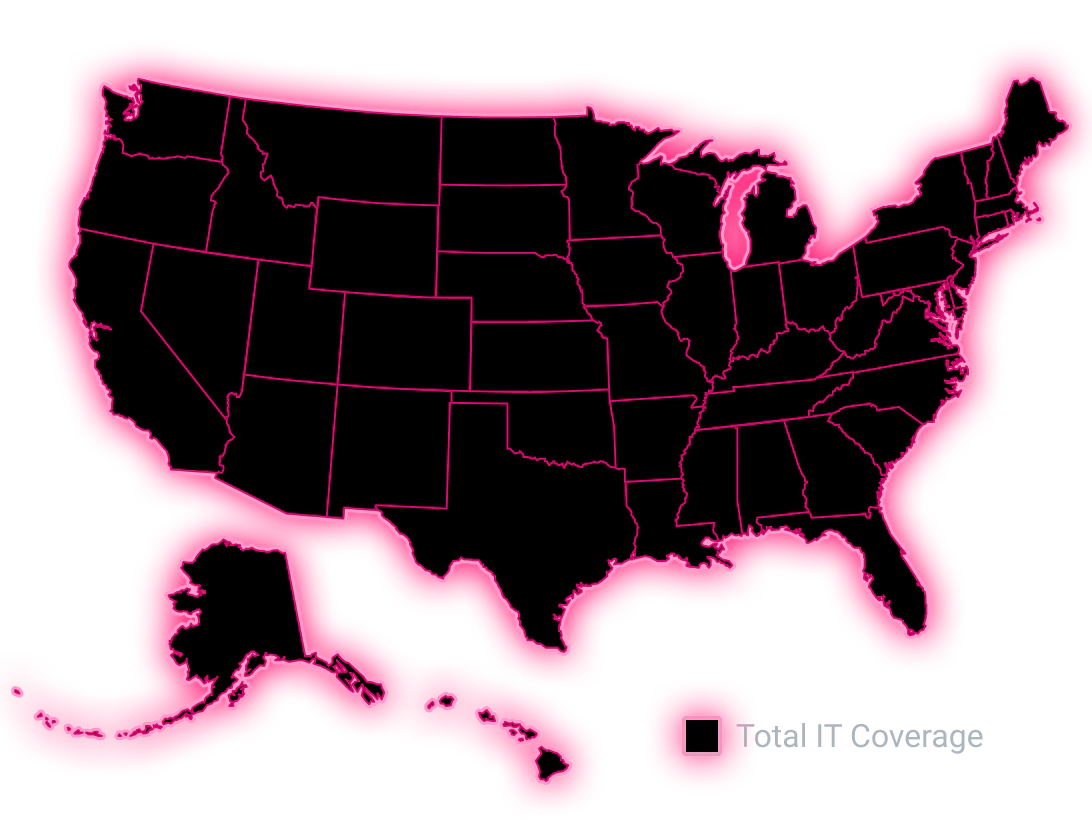 Proactive network monitoring
Electric's network monitoring solution proactively uncovers issues, diagnoses them, and alerts you, resolving network problems before they impact your operations. 
Experience an outage outside of business hours? We offer 24/7 Network Outage Phone Support, so you never have to go at it alone.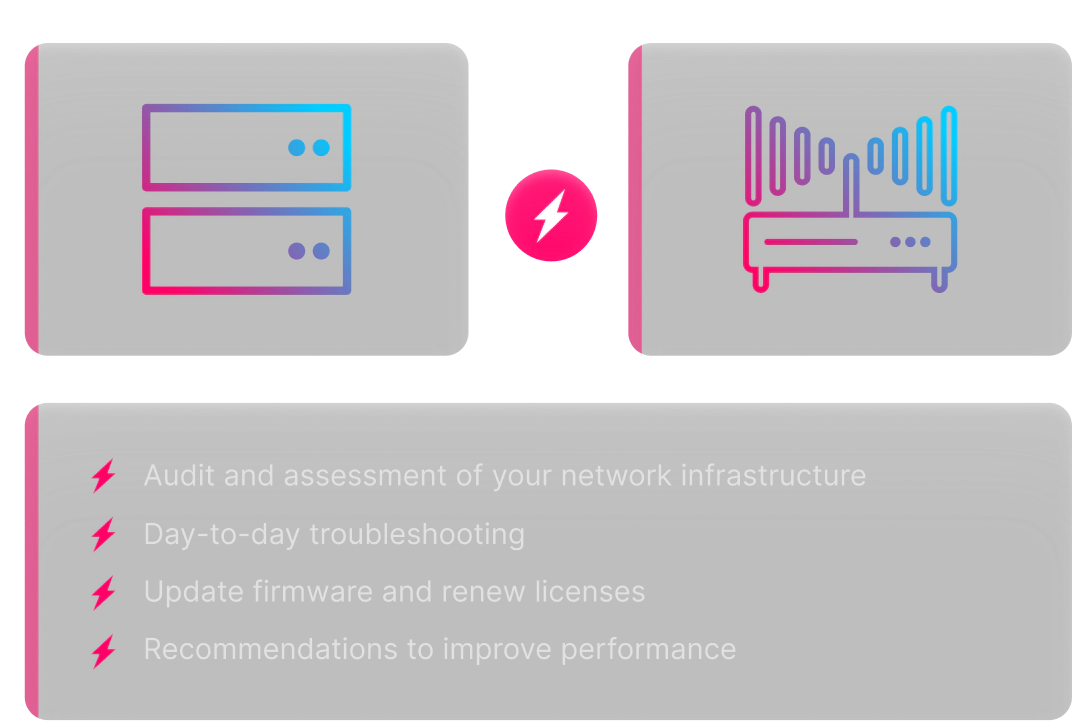 Electric's proactive network monitoring services alert us to potential issues as they come up, allowing us to resolve them before they impact operations, preventing any loss of revenue and enabling us to stay focused.
Steve Kelly
VP Marketing | Pacific Catch