Operations teams rely on Electric
Whether you have in-house IT expertise and support or not, you can turn to Electric to bridge mission-critical gaps. Don't let IT and security teams become failure points for your business.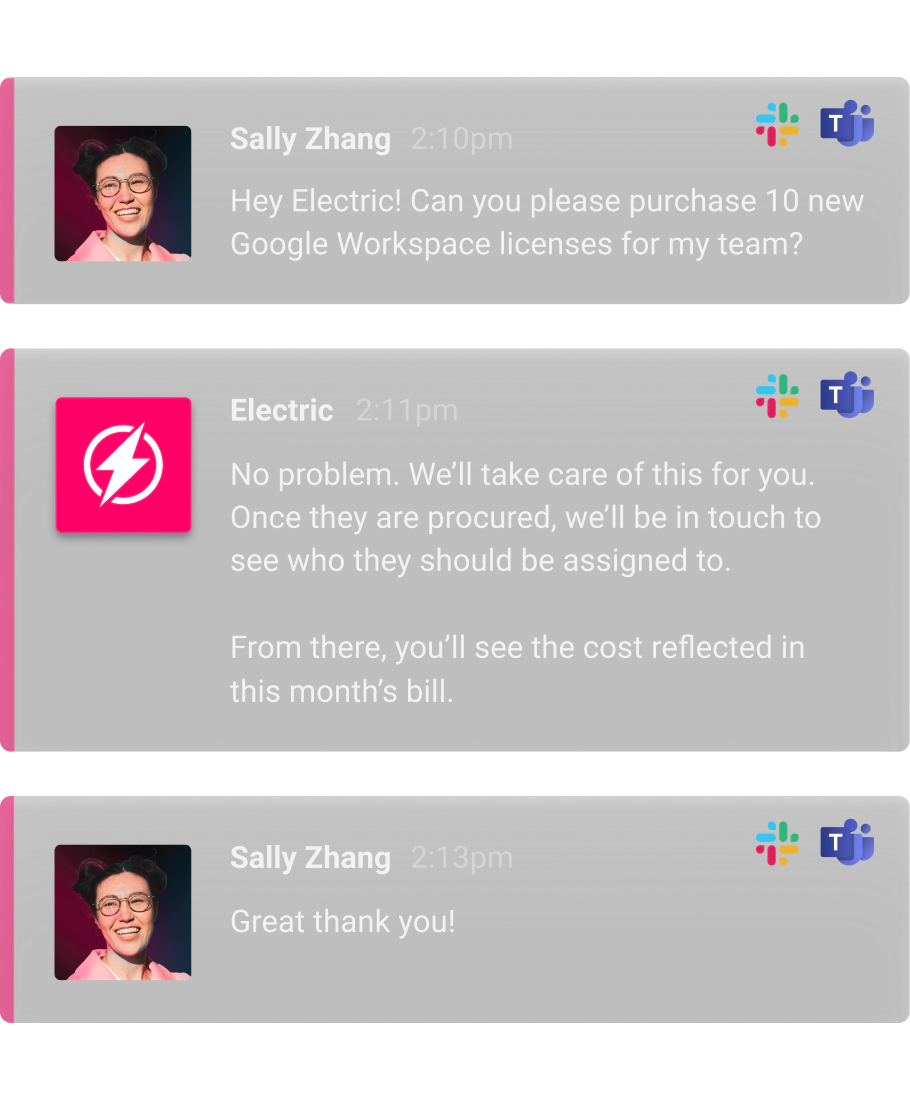 You can think of Electric as an IT Operations layer for your business

Support for every day IT support needs, so employees can remain productive.

Implementation muscle for standardizing IT processes that help internal workflows run smoothly.

Single pane of glass visibility into your IT environment, that's easy for even non-technical users to understand.
Why you need Electric
IT powers your business. It's what keeps your technical infrastructure operating to its full efficiency and output. Human beings have enough on their plate to ensure that business operations run smoothly. Nobody has time to fight fires or get stuck in busywork. Electric is a much-needed sigh of relief.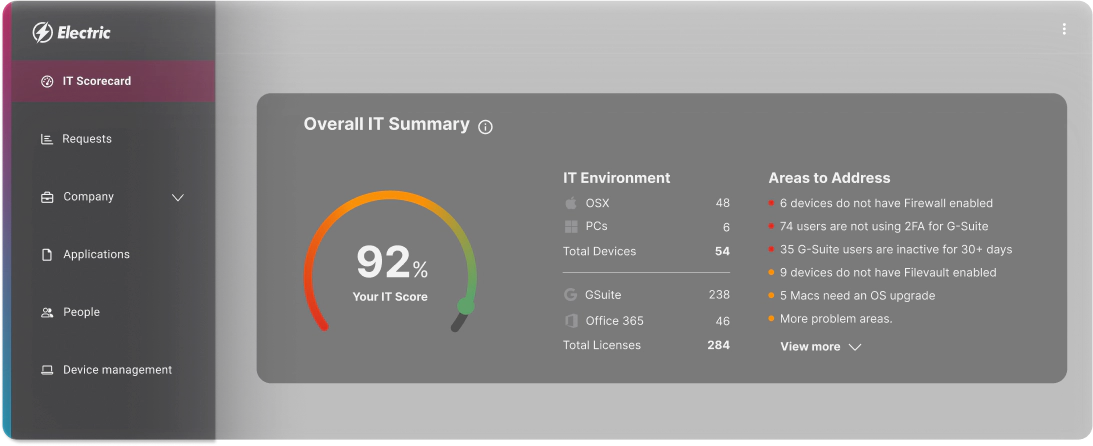 We love the fact that Electric is able to support all of our devices, both Macs and PCs. They've been able to provide us a level of visibility into the status and health of our devices that was not available to us before. Not only did we choose Electric for their capabilities, but we wanted to partner with them because we could tell that they are paving the way for the future of IT. The knowledge and expertise they've shared with our team has been invaluable.
Kim Kreuger
VP, COO | Overstreet Associates
A powerful operational foundation
With Electric you'll have access to the expertise of 100+ IT Specialists combined with best-in-class technology that you can consider an extension of your team.
Real-time support to keep IT tasks moving
Managing day-to-day IT support is a chore for everyone involved. But it's a must, especially in today's remote and hybrid work landscape. With compliance requirements becoming more prevalent and cybersecurity threats on the rise, IT management requires dedicated and expert level attention.
Keep in mind that your business only moves as quickly as your IT. The timely resolution of issues from troubleshooting errors to file access is essential to maintain employee productivity.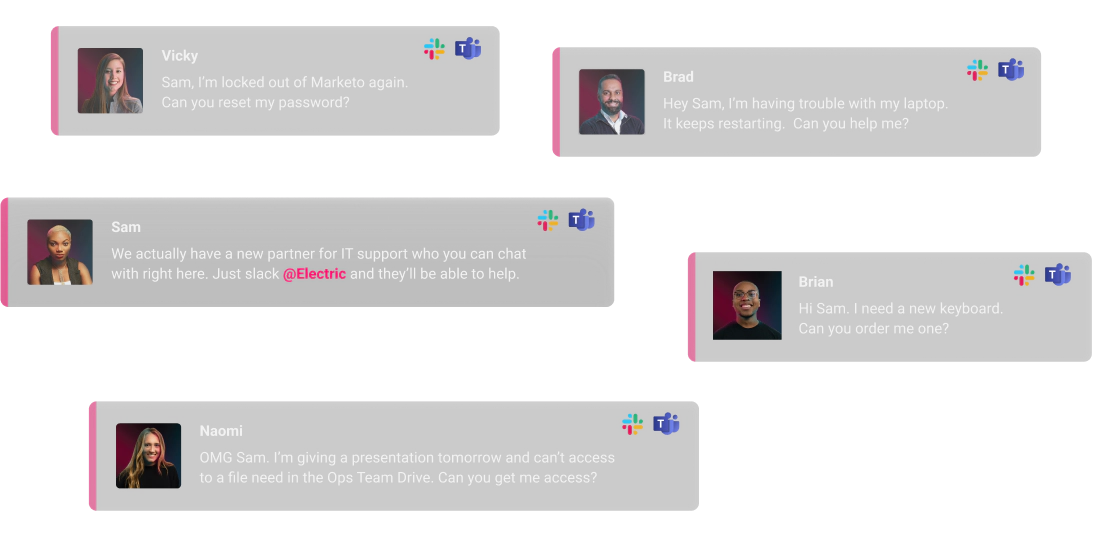 A conversational UX that makes sense for your company
Electric offers a high-quality support experience. Our platform meets people directly where they are working, integrating directly into Slack workspace or Microsoft Teams tenant.
The experience feels like an in-house help desk — only, people get the answers they need faster, more efficiently, and most cost-effectively. Backed by a team of 100+ IT Technicians, Electric guarantees an initial response time of 10 minutes or less.
Your team can chat @Electric for:
Day-to-day troubleshooting
SysAdmin requests
Requests for access to files, apps, and hardware
Learn more about our real-time support capabilities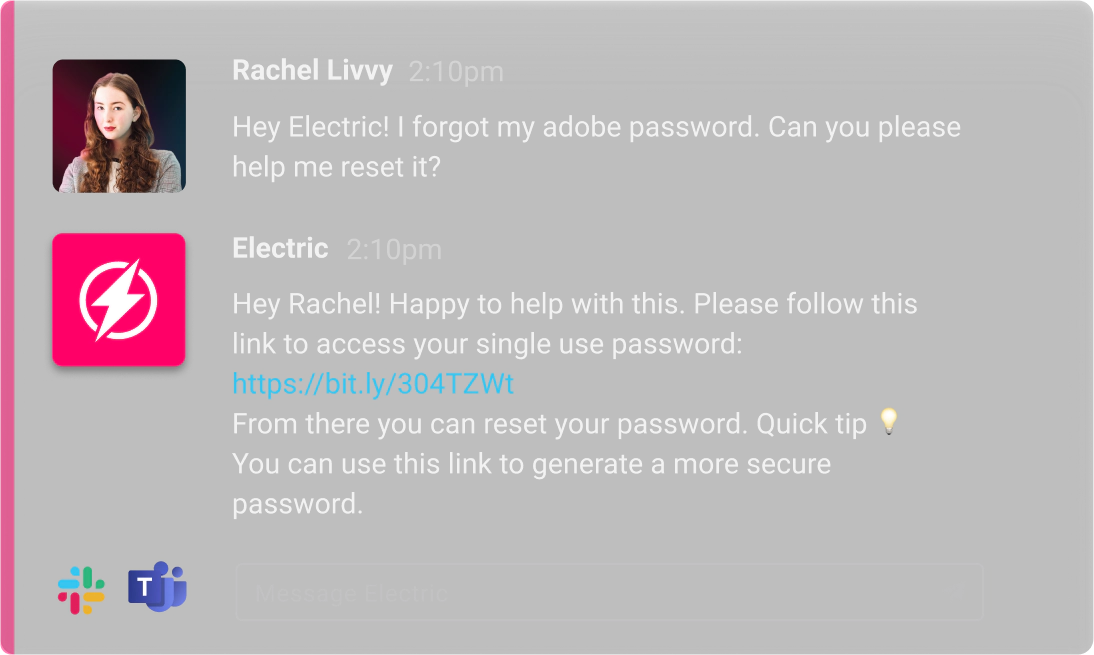 Streamlined internal processes
From manual on/offboarding spreadsheets to rogue password management, almost every organization is dealing with IT imperfections. Electric is here to help you with the IT standardizations processes that are tough to manage in-house.
Learn more about our IT management capabilities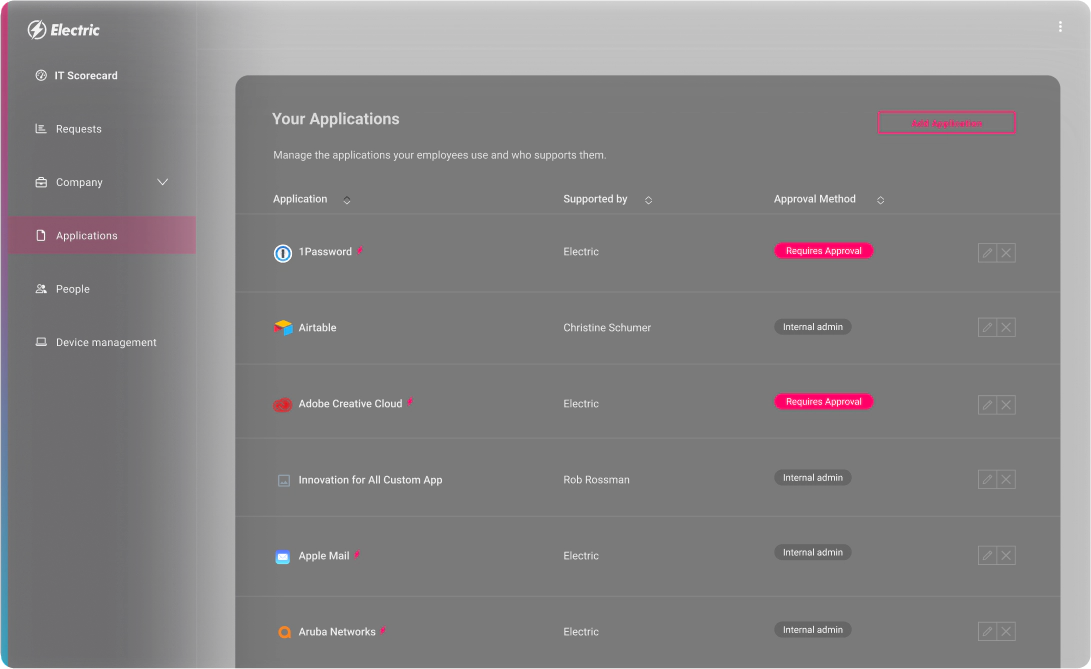 Improved visibility into IT environments

Your IT environment should be easy to navigate, regardless of your level of technical expertise. Electric's proprietary platform (Turbine) provides single-pane-of-glass visibility into multiple aspects of your IT infrastructure — all in the same place.
With Turbine, querying data and preparing stakeholder reporting is a breeze. We make it easy to look up:
Support requests volume by time frame, type, and requestor
Time to resolution for requests
Individual ticket and overall team satisfaction with the service provided
The status of open strategic IT projects with Electric
Credential configuration for applications
Department-level provisioning profiles
Hardware details (including servers & firewalls)
On/offboarding history & request status
Device inventory & details (serial number, RAM, etc.)
….and more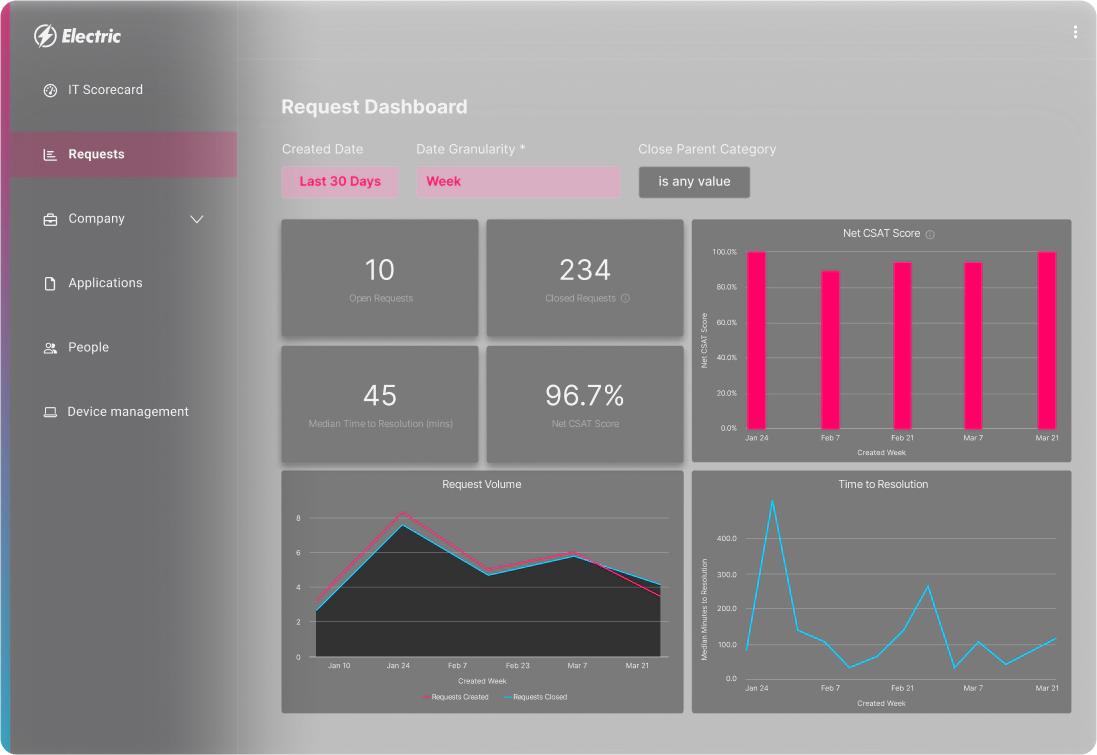 Consider Electric an extension of your team 
Don't let a cyber attack or sudden company growth spurt catch your IT operations off guard. Between our Service Desk, Professional Services, and Customer Success teams, you'll have access to 100+ IT management experts.