IT Management Software for Anyone
Gain single-point visibility into your device inventory, keeping you compliant
Get real-time, easy to understand (for non-IT folks), insights into the health of your devices and cyber security tips
Take action on your device security directly in platform and keep your device security up to date
Try Electric for Free Today:
*Required fields. We're committed to your privacy. Electric uses the information you provide to us to contact you about our relevant content, products, and services. You may unsubscribe from these communications at any time. For more information, check out our Privacy Policy.
Managing IT can be complex, with Electric it doesn't have to be.
We empower SMBs by giving them the tools to manage IT, regardless of technical expertise (or lack of). Our easy-to-use software allows you to handle your company's IT all in one platform.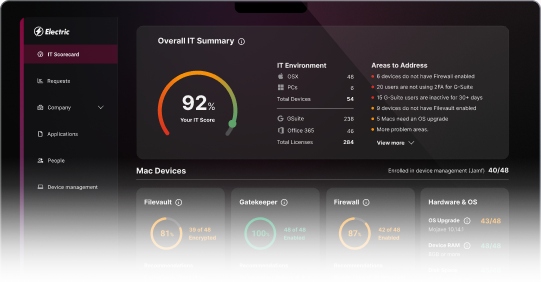 Sign Up
Fill out the above form and gain access to your free account.

Add Your Employees & Applications
Get employees and access info into one place for enhanced visibility.

Download The App
Gain important security control insights by downloading the Electric Desktop App.

Get Security Insights
See your IT scorecard and recommendations.
Electric Powers IT for Businesses.
Today, Electric successfully powers the IT for nearly 1,000 SMBs through our existing products & services.
900+
Customers across compliant industries
20+
Best in-class tech partners
50,000+
Devices secured and maintained
250+
Apps supported and managed
One Platform for All Your IT Needs
Try Electric for free today or upgrade to access enhanced tools.
Automate On & Offboarding
Add or remove application access in minutes and manage zero-touch device procurement & provisioning with the click of a button.
Manage Employee Access to Tech
Connect Electric to your HRIS system and seamlessly integrate all employee data throughout the entire lifecycle to optimize productivity while ensuring secure access to necessary hardware and software.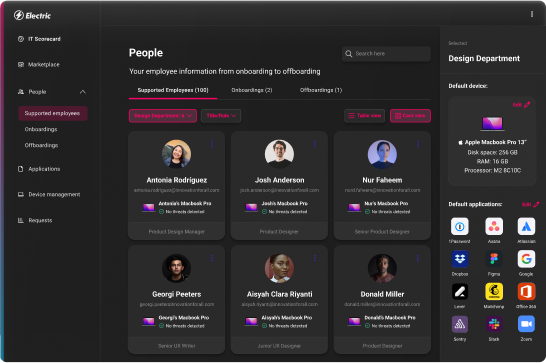 Deploy Cyber Security Policies & Apps
The power is in your hands. When you are ready to roll out a new security policy or application you'll be able to do so directly from the platform. Not sure where to start? You'll have recommendations to guide you.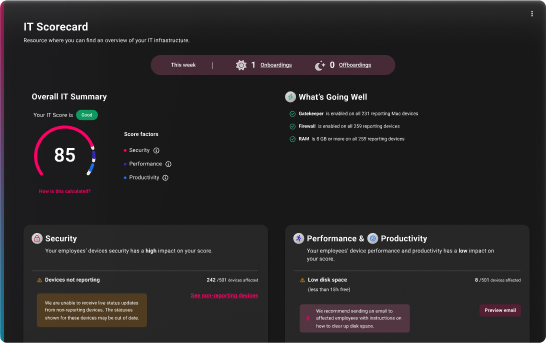 AI-Powered IT Assistant
Get access to our AI-powered IT assistant, Gigawatt. Have any IT-related questions, Gigawatt can help you troubleshoot by checking your device details and providing the appropriate support resources.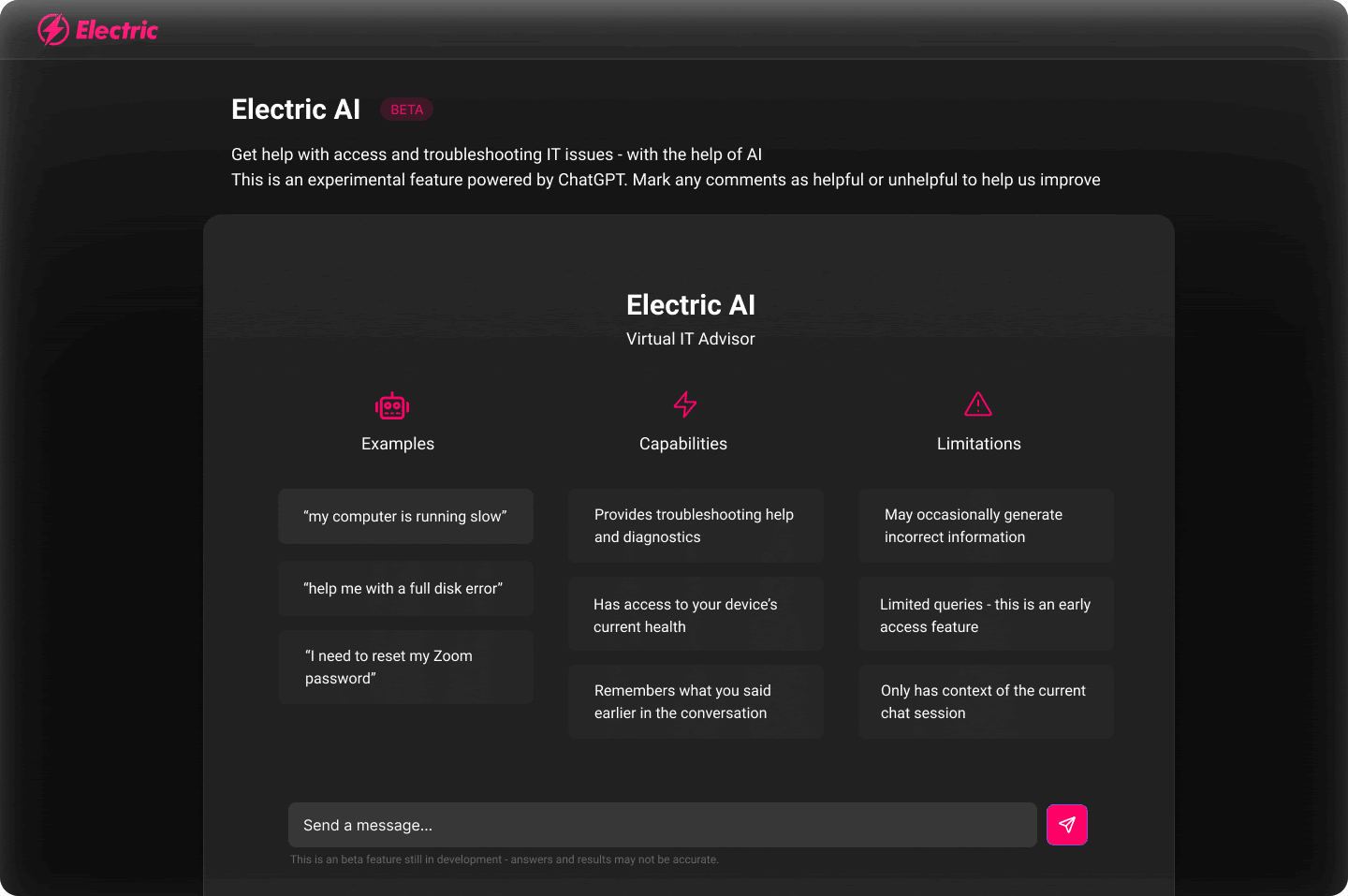 Why choose Electric?
Benefits of using Electric IT Hub
You'll save thousands of dollars by setting up your Jumpcloud Mobile Device Management (MDM) software with Electric. This software enables you to secure your employee's devices, automatically wherever they're being used.
Simplify and automate compliance all in one platform. Automatic security protocols all in a few clicks without needing employees to do anything.
The platform will give you an overview of your employee's device health and IT recommendations.

Electric's Turbine platform gives us the visibility we need to ensure our devices are protected and healthy, without needing an internal IT team. With Electric, we've found a modern solution that simplifies IT and aligns with our business goals, all the while saving us 70% on IT.
Ellen Hardy
Chief Operating Officer | TCI