Know exactly what's happening in your IT environment
IT used to be a black box where tickets go to disappear. Now, with Electric, you'll always have a clear view into the health of your IT environment — from security policy compliance to user satisfaction — so you're never left in the dark.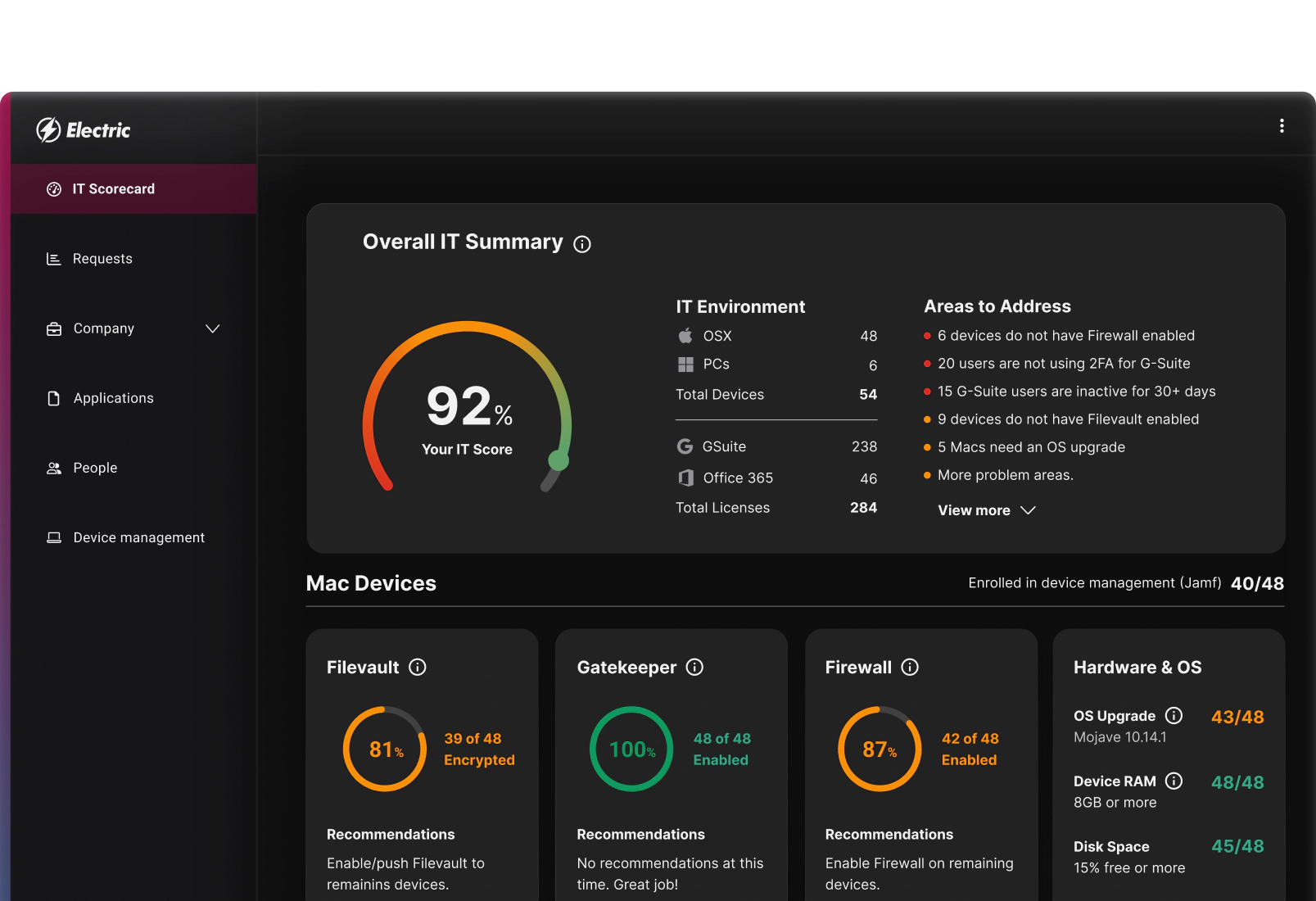 A clear lens into IT performance
Surface a clear picture of your devices, networks, people, applications, and support — all in one dashboard.
IT Scorecard
Track your IT score
Get an overall IT environment health score based on security policy compliance across your devices.
From there, we'll alert you to gaps and let you know what actions you can take to close them.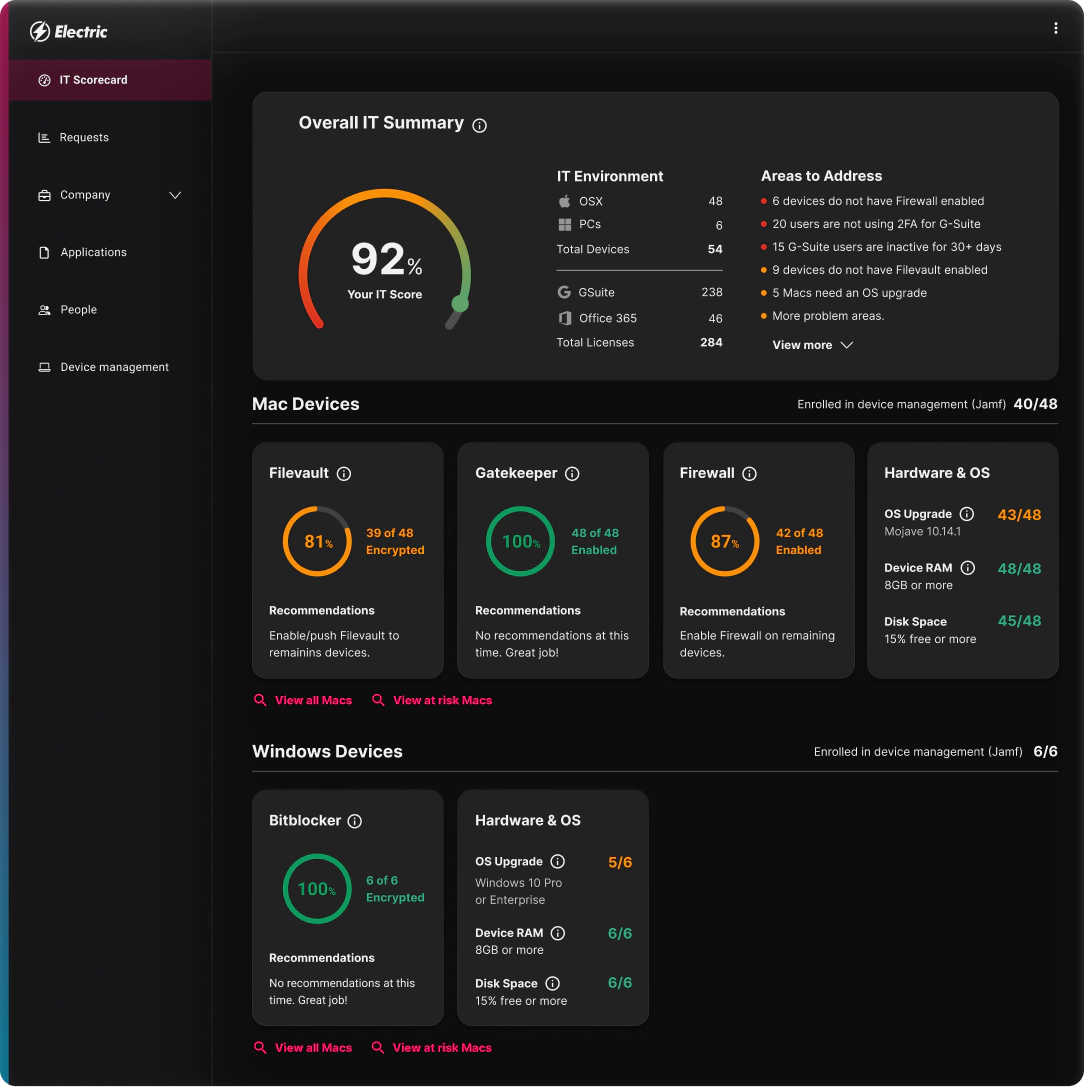 Device Management
Check-up on device health
Get visibility into your device inventory specs and filter these details by health status to see what devices might be putting your company at risk.
Obtain key insights on critical security and compliance controls like your firewall, disk encryption, and installation protection. You can also view device health insights like disk usage for your enrolled devices, and see the condition and specs of all stored devices.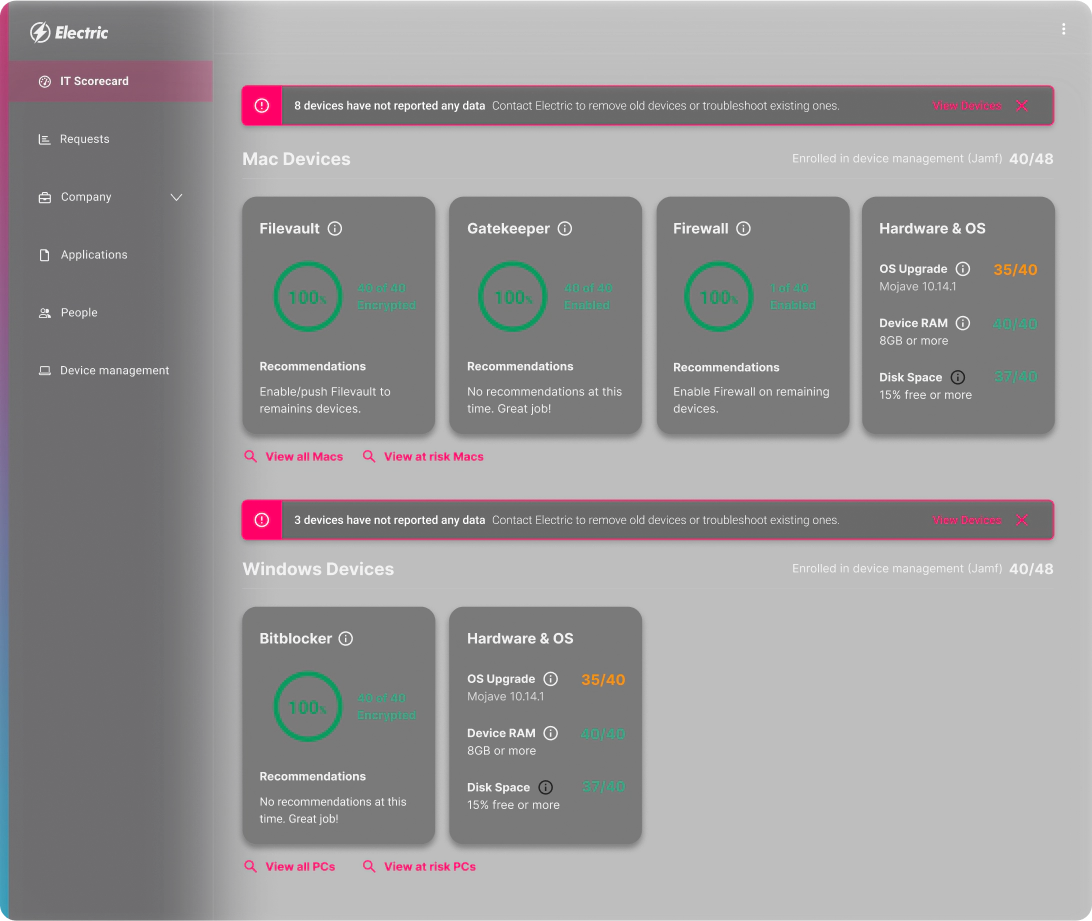 People
Manage your employees
View a list of all employees in your company from one location. From there, you can assign devices, and manage and track on or offboardings.
Get a granular view into these requests, seeing which apps, credentials, groups and hardware each new or leaving employee has.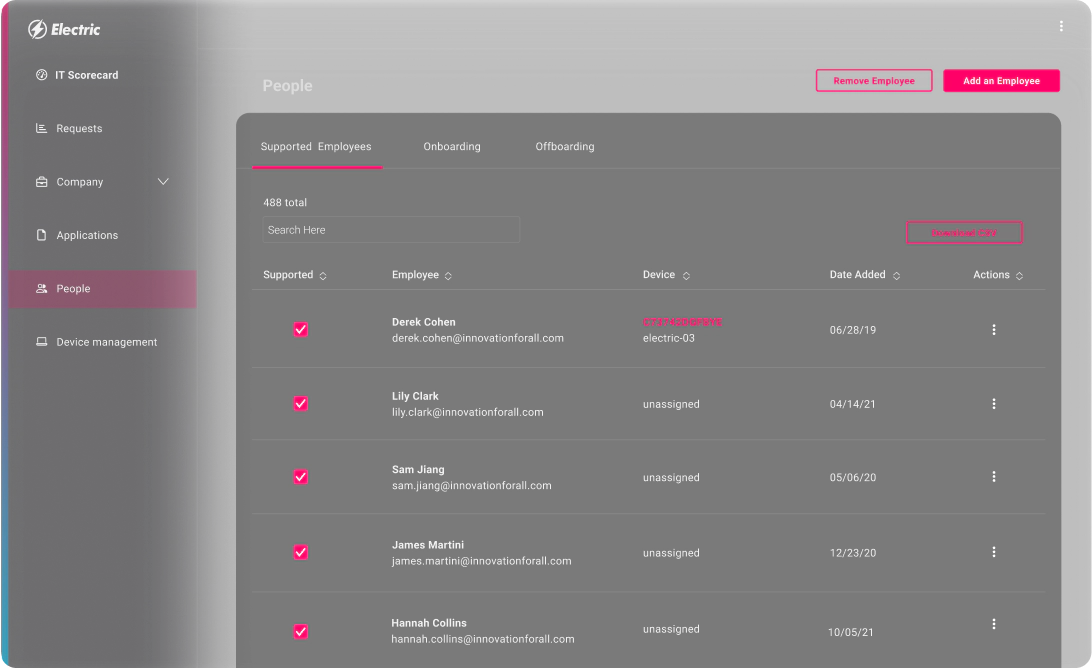 Applications
Keep tabs on your company's applications
View the full list of applications used by your organization. See which of those applications are supported by Electric vs. an internal admin on your team.
Need to make changes to application management? Make the change directly in your account.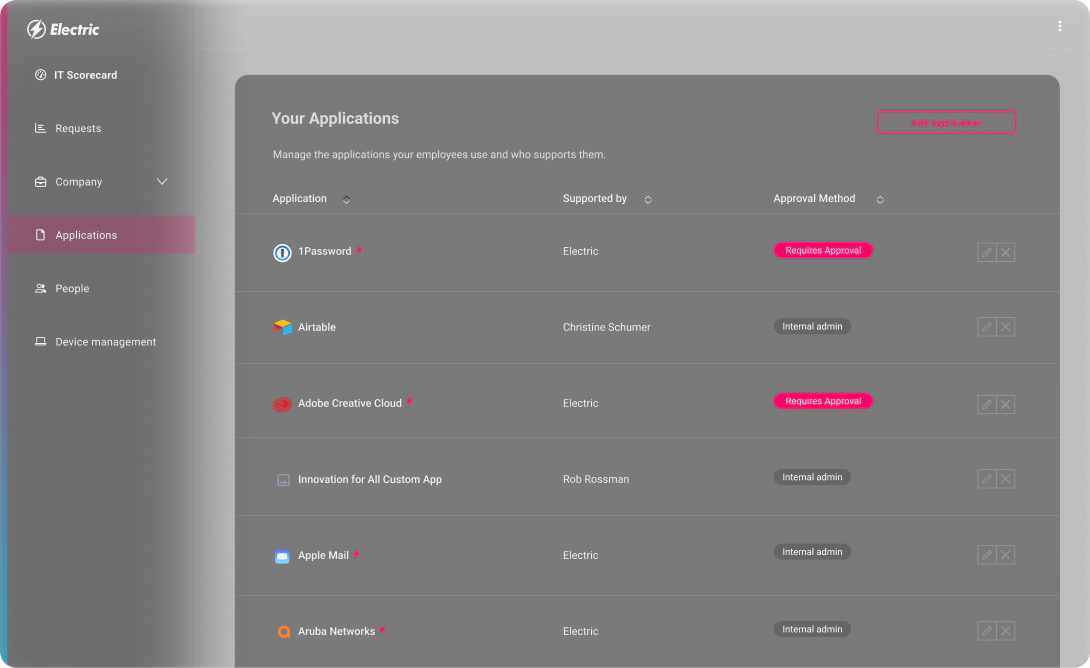 Requests
Measure IT support satisfaction
Keep full visibility into your team's IT support.
Browse the requests your users are making, check their satisfaction scores, and see how quickly they are getting the IT support they need.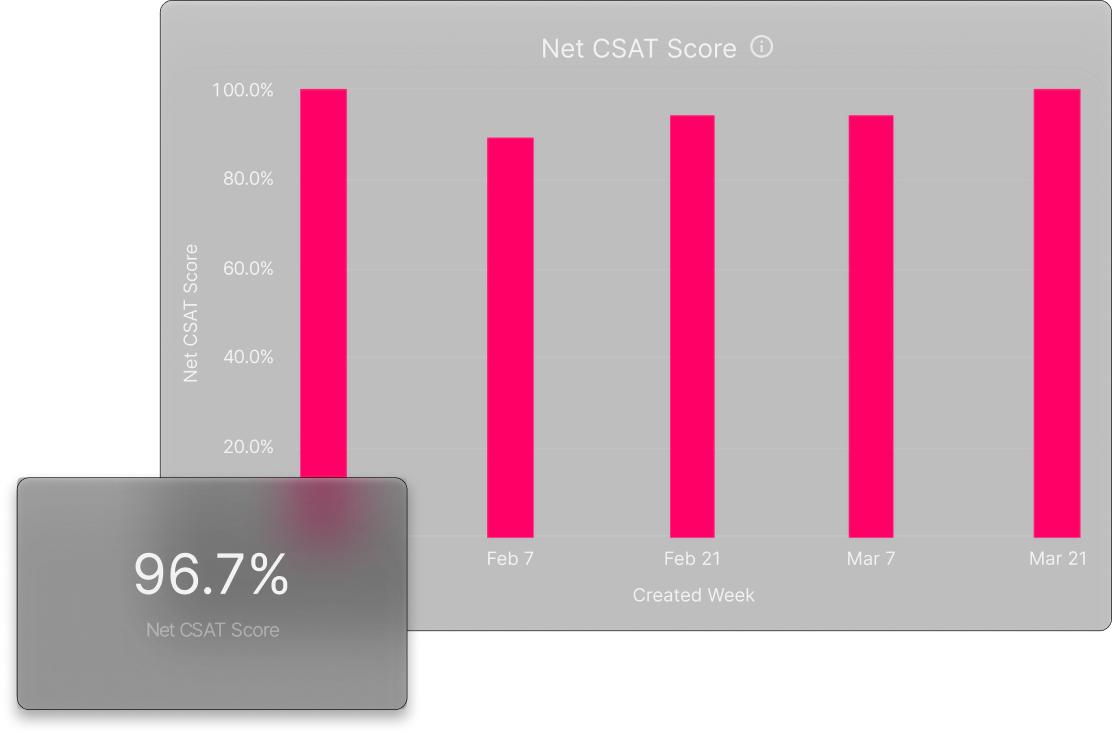 IT Scorecard
Get recommendations to tighten up security
Electric is a true partner, and we are continuously analyzing gaps within the organizations that we support.
For this reason, we're able to anticipate potential problems before they have a chance to come up — and offer potential solutions.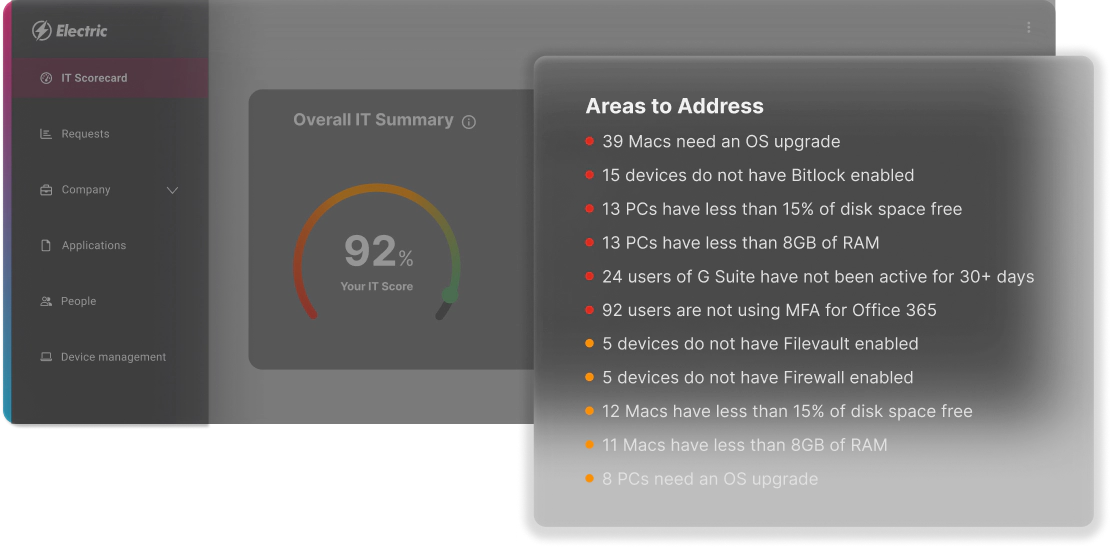 Electric's Turbine platform gives us the visibility we need to ensure our devices are protected and healthy, without needing an internal IT team.
Ellen Hardy
Chief Operating Officer | TCI