Electric is the hospitality industry's go-to IT partner
Having to constantly pivot your business model to these unprecedented times? We get it.
Consider Electric your go-to partner that will guide you through optimization of your technology to meet constant shifts in the hospitality market.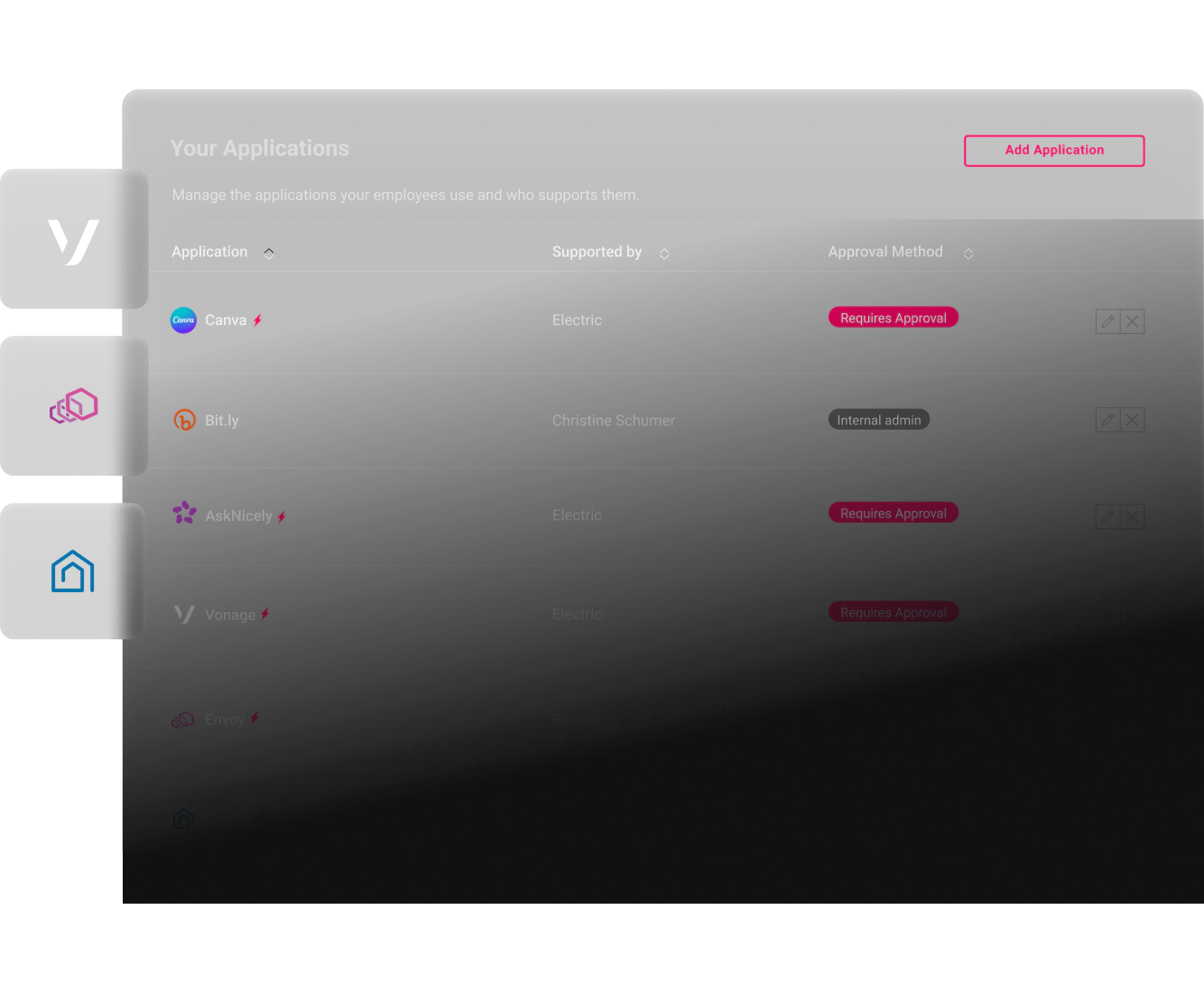 50%
Avg IT cost savings experienced by Electric customers
$5,000/device
Cost per device when they go unmanaged or mismanaged
$5,600/minute
Average cost to US businesses when a network outage occurs
Great guest experiences run on airtight IT — consider Electric your technology team's superpower to:
Streamline routine operations.

The last thing your team should be focused on is having to reply to daily IT tasks or maintaining security policies and business systems. In-house employees need to be thinking bigger and more strategically.

Access on-demand expertise.

Pass off day-to-day IT requests, including troubleshooting, SysAdmin, and approvals, to a team of 100+ IT specialists who are just a chat away. Our team of 100+ IT specialists who have an initial response time of 10 minutes or less, ensuring your employees get help when they need it and remain productive. Consider Electric an extension of your team.

Simplify employee onboarding.

On average, these requests take 8 hours to manage, from device procurement to application license creation and even shipping of devices to remote/hybrid employees. With Electric, you simply submit a request in 7 minutes or less, and Electric will handle the rest.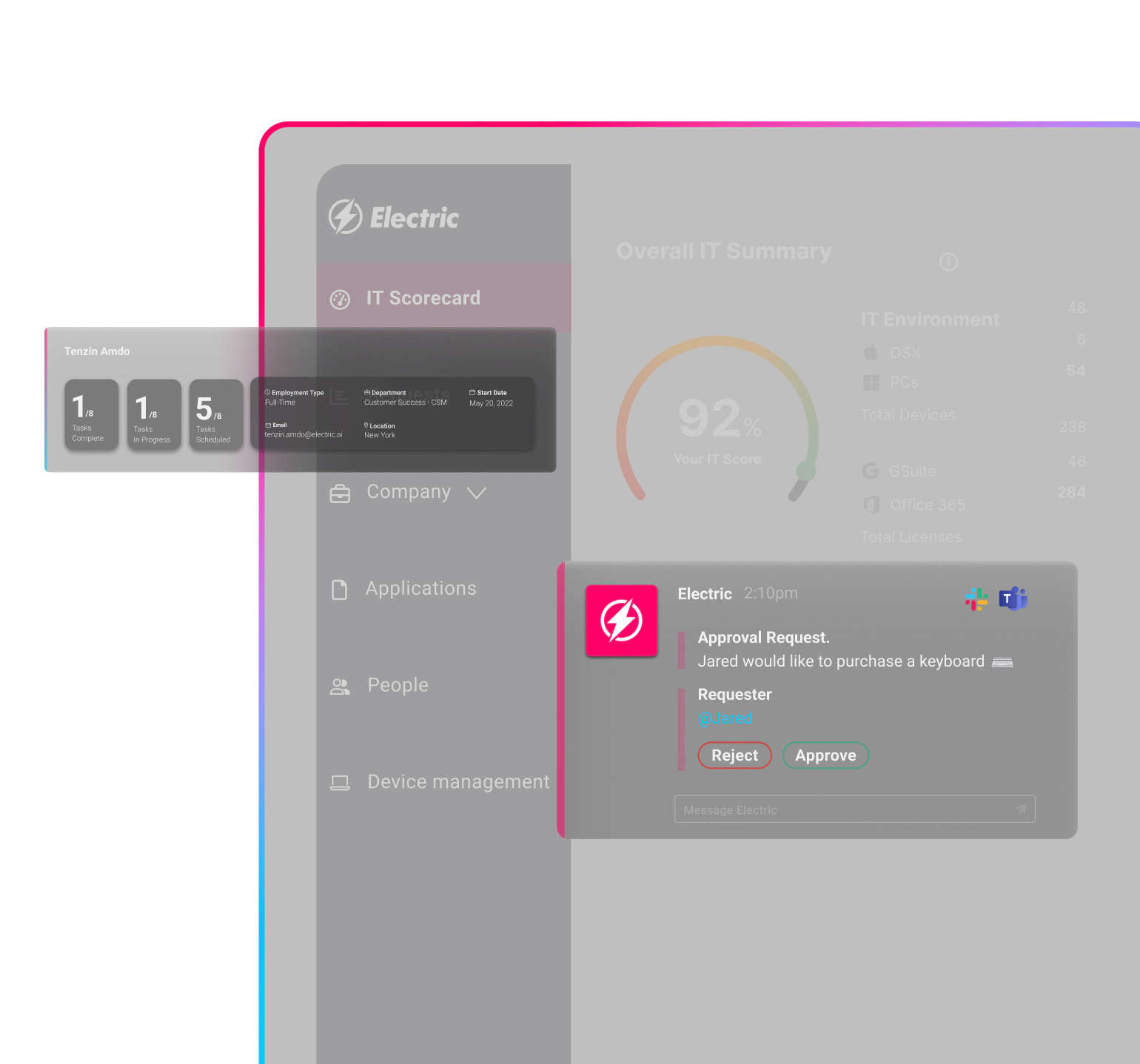 Electric helps hospitality businesses get ahead of IT challenges
Streamline and standardize your IT practices

Whether you have established IT processes & policies or not, Electric is there to lend support at every stage of your IT journey. Don't have any or limited internal technical expertise? No problem — we'll be there to not only implement and rollout the right IT practices for your business, but will talk you through your options. 

Gain true partnership.

Our partnership with your organization starts with a full evaluation of your IT environment, ensuring we have a baseline understanding of your business's unique needs and can provide support in everything from standardization of security policies to recommending the right firewall for your needs.

Discover extraordinary expertise.

Electric is powered by a team of 100+ IT specialists with a wide variety of certifications, including A+, Network +, CCNET, CCNA Security & CCNP. We receive ongoing training to support businesses like yours with a wide variety of IT management and security needs, including supporting your devices and networks spread out across multiple locations.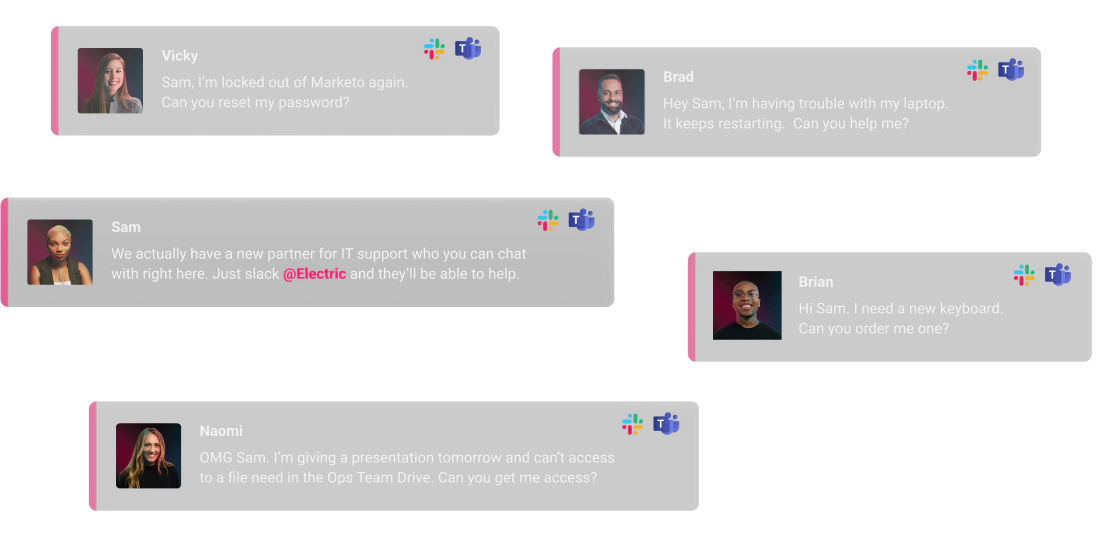 Our pricing plans adapt to your exact needs
Transparency is our top priority.
IT spend can become fractured across vendors or internal resourcing very quickly. Electric's subscription packages all IT services into one flat monthly fee. From device procurement to day-to-day support and even license procurement, we'll handle it all on your behalf and package into your monthly rate.
Our services come priced as one flat rate subscription with all aspects of our IT services baked in.

Transitioning from an 85% brick and mortar business to doing 100% of our sales online has been a major undertaking for my team. Having a remote IT partner in Electric has been invaluable to us. Their proactive network monitoring services alert us to potential issues as they come up, allowing us to resolve them before they impact operations, preventing any loss of revenue and enabling us to stay focused on achieving the level of hospitality and customer service that we aim to deliver.
Steve Kelly
Vice President, Marketing | Pacific Catch