Your new favorite device management solution
Electric makes it easy for you to get visibility into your devices — whether Apple or Windows –  and keep them healthy, secure, and up-to-date.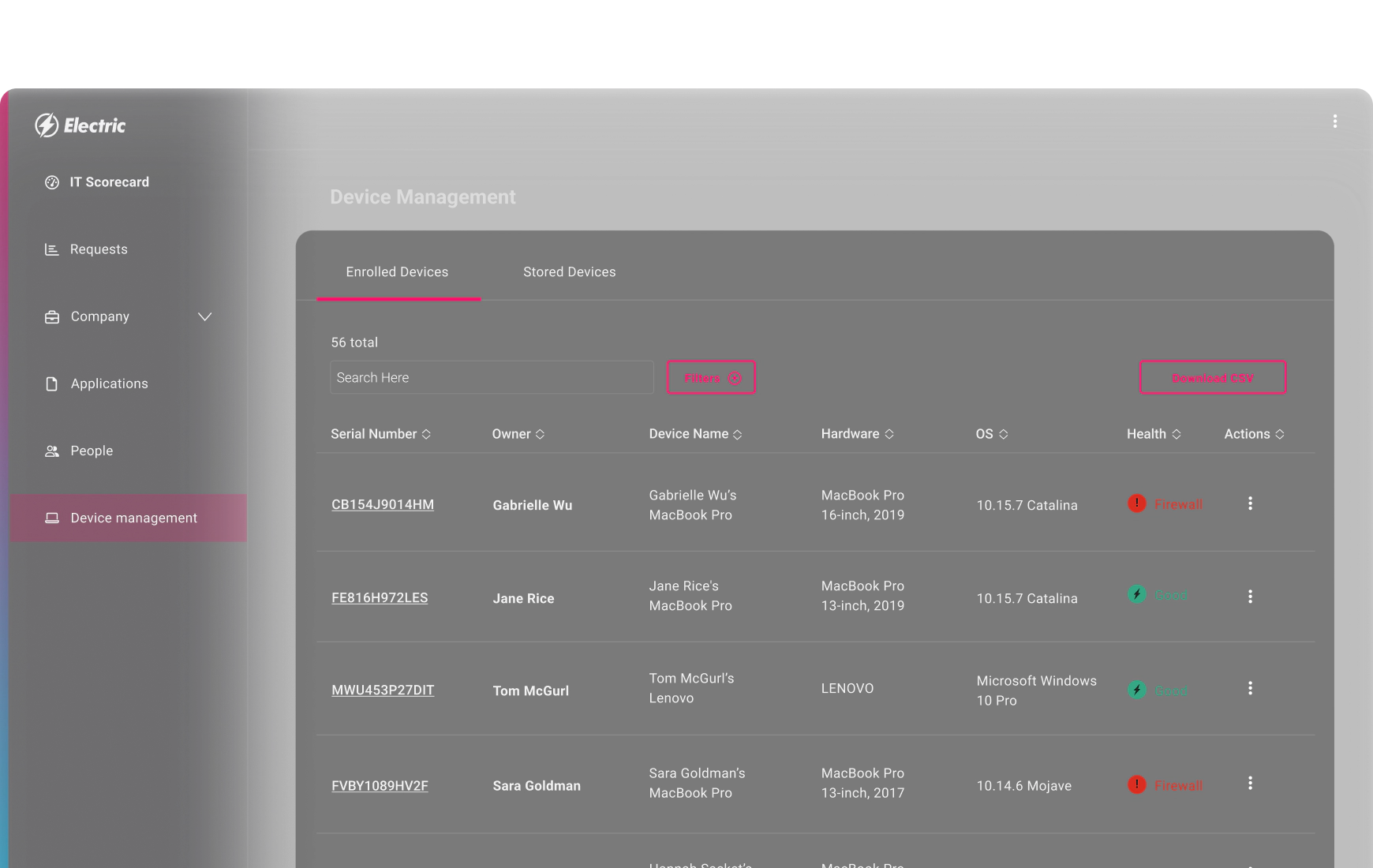 Put Electric's device management expertise to work
Electric's team of experts will simplify your Mobile Device Management (MDM) and Endpoint Management strategy.

View inventory and track device health

Roll out patches, upgrades, and policies proactively

Automate device provisioning and de-provisioning
Centrally manage your device inventory
Maintain a continuous, birds-eye view into your device environment. Inside Turbine, you'll have a full inventory of all enrolled and stored devices including the model, serial number, and OS version of each.
We'll also provide visibility into device health details such as battery capacity, application usage, processor speed, RAM, and policy compliance. If you store unused devices at our HQ, you'll also get visibility into their condition and specs.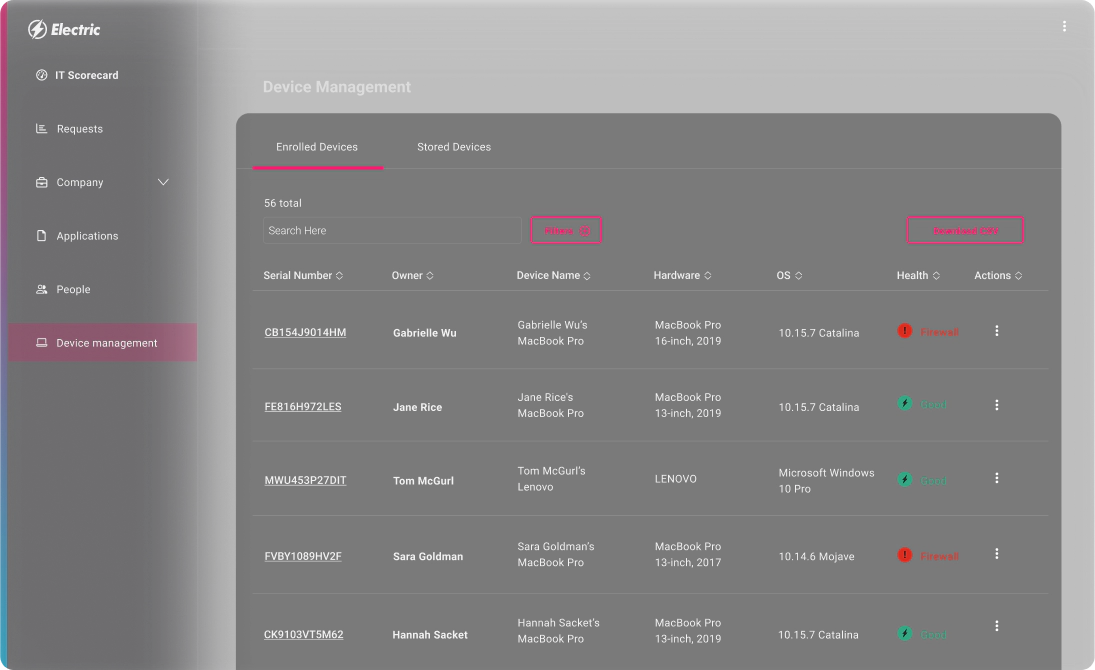 Manage device-wide rollouts
Device security standardization is crucial to protecting your company and customer data from cyber attacks and ensuring your organization remains compliant with the latest security requirements — it's a must for scaling businesses, especially.
Don't go at it alone. Electric can help you with the heavy lifting. We'll manage the distribution of patches, upgrades, and policies across your device environment. By suggesting proactive device actions, we can help mitigate any future device or compliance issues.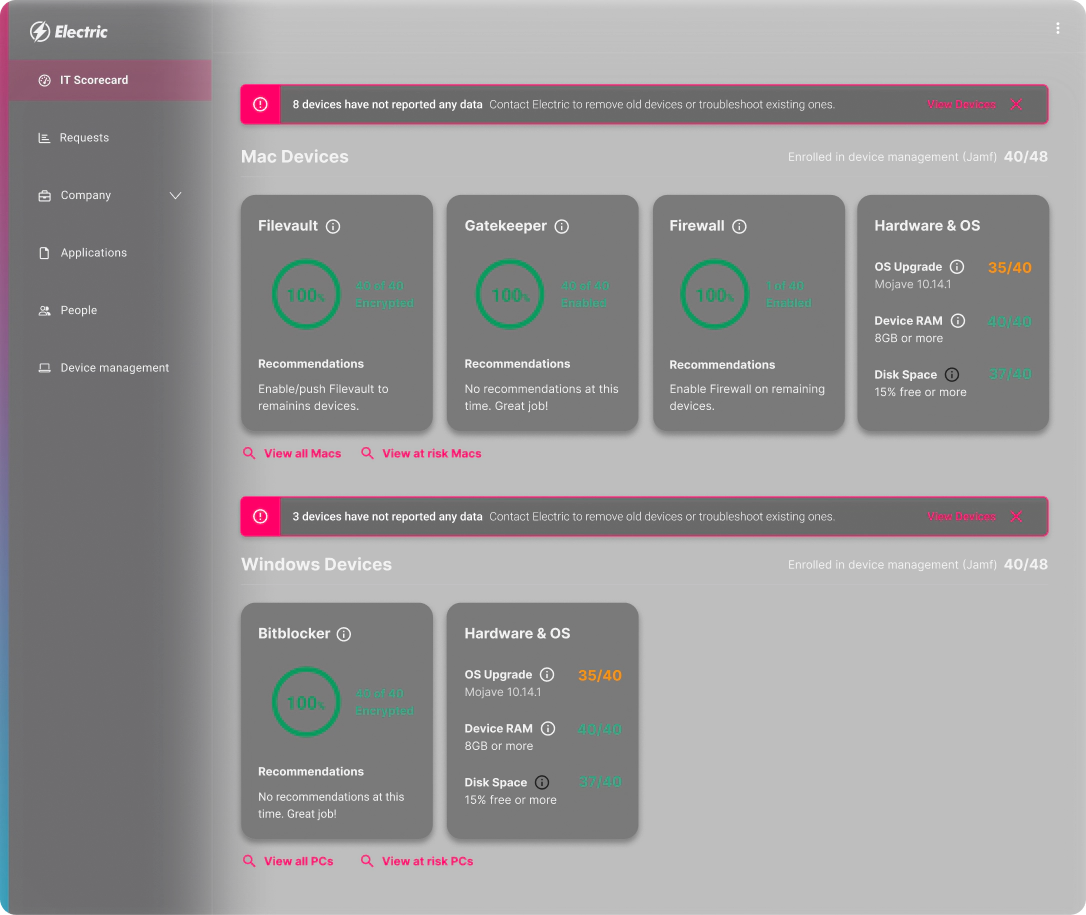 Automate device provisioning &
de-provisioning
Managing the transition of devices or provisioning of new devices can be a full-time job in itself. Electric fully automates these processes on your company's behalf.
We are able to remotely wipe or set up devices in a matter of minutes based on pre-established provisioning settings for your teams, including your device settings preferences, software requirements, and application access permissions.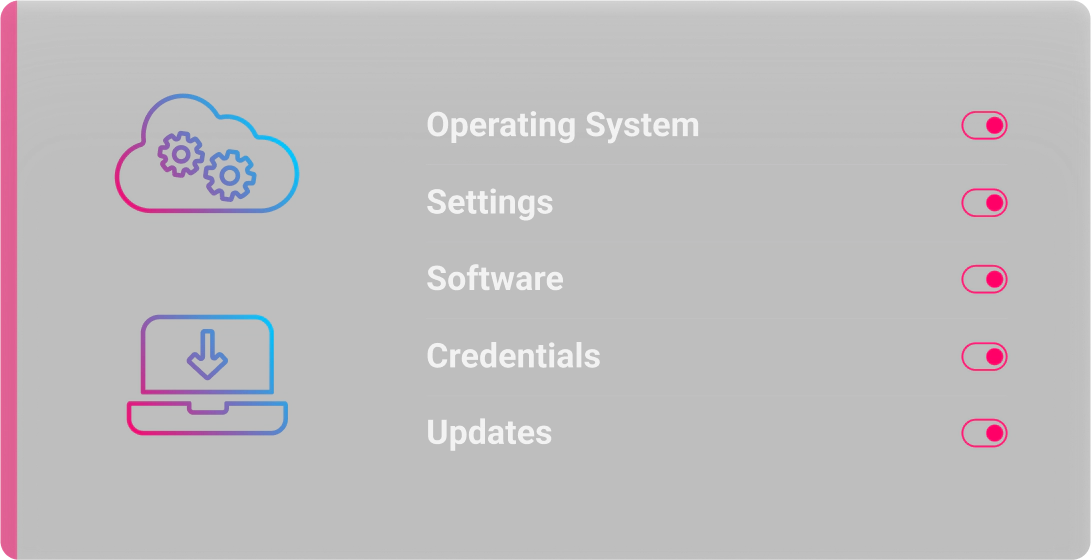 Leading solutions, priced and managed for small teams
We've partnered with leading mobile device management (MDM) solutions to extend even greater benefits to our customers.
Typically this software would cost your organization an average of $16,000+ upfront, 100+ hours of training for your admins, and the headache of managing your licenses, applications, operating systems, and tools across devices. Electric includes it in your subscription.

Over 30,000 companies rely on Jamf to support the management of 15M+ Apple devices globally.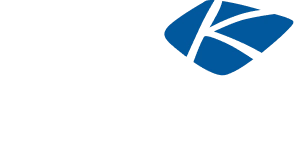 More than 40,000 companies in 20+ countries rely on Kaseya for the automated device management of PCs.

Electric's Turbine platform gives us the visibility we need to ensure our devices are protected and healthy, without needing an internal IT team. With Electric, we've found a modern solution that simplifies IT and aligns with our business goals, all the while saving us 70% on IT.
Ellen Hardy
Chief Operating Officer | TCI