Supercharging IT for HR and People Teams
When you're hiring and managing talent, you need to make a positive impression at every step of the way. Not to mention, you also need to be ready to execute on your security and compliance policy. Electric keeps these critical people-processes moving quickly.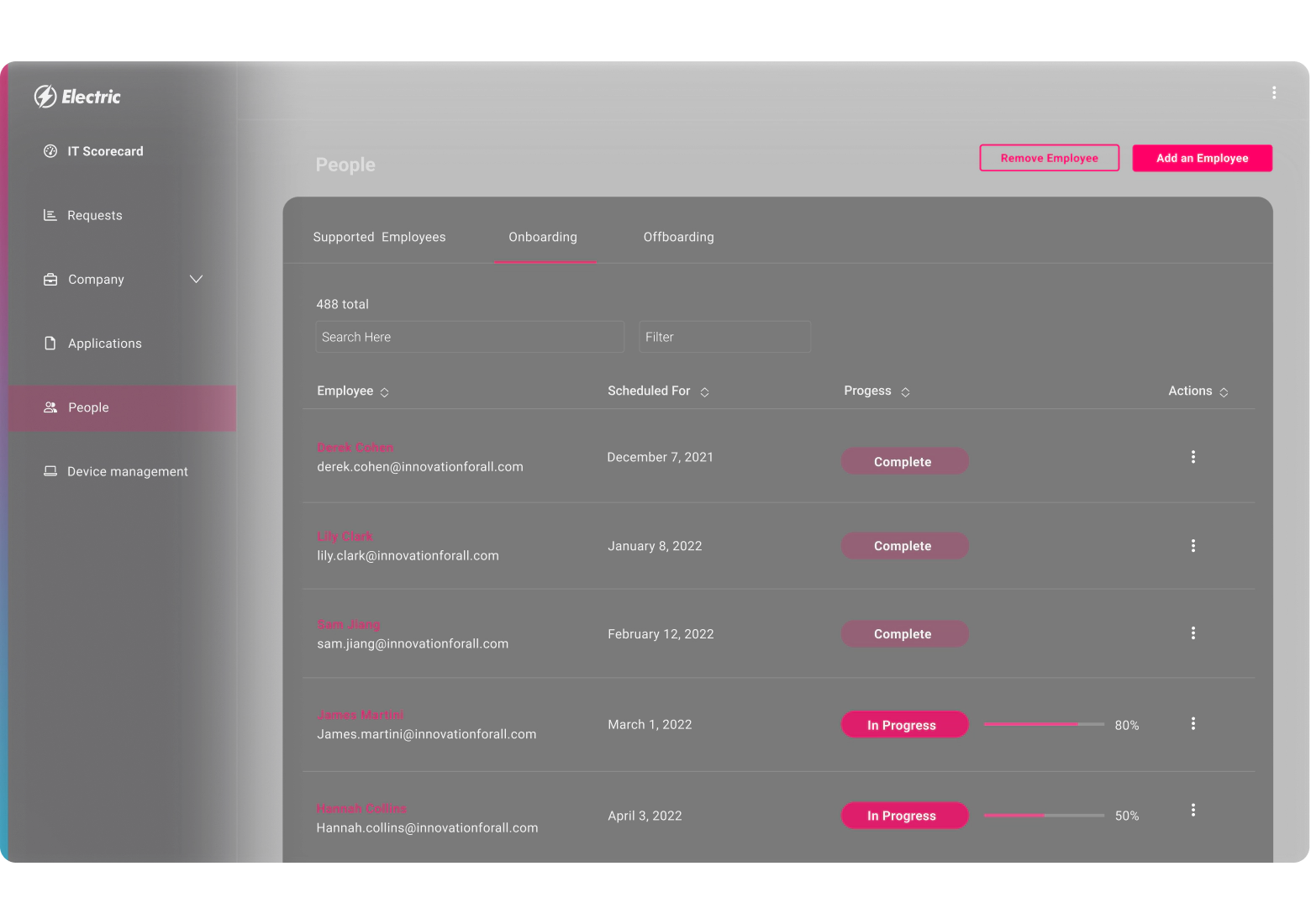 Get back to the people-side of your business
Your team deserves to shine for what it does best — supporting employees and growing your talent base. Setting up your team for success means unblocking everyone from operational IT work.
That's where Electric comes in. We'll handle everything from device procurement through credential management.

Electric has taken off so much of my day-to-day when it comes to dealing with employee requests and tech issues and network problems. I can actually focus on my job, which is to do HR, rather than help someone who is locked out of their email because they forgot their password!
Kath F.
Operations Manager | Look Listen
Electric makes workplace experiences better
No more wasted time. Take busywork off everyone's plate. Resolve business critical requests in a matter of minutes.
Here's where Electric makes the biggest impact:
Onboarding and offboarding simplified
Everyone has access to exactly what they need, for every people management scenario.
Device procurement and provisioning
Application, software, file, and email alias access
Credential management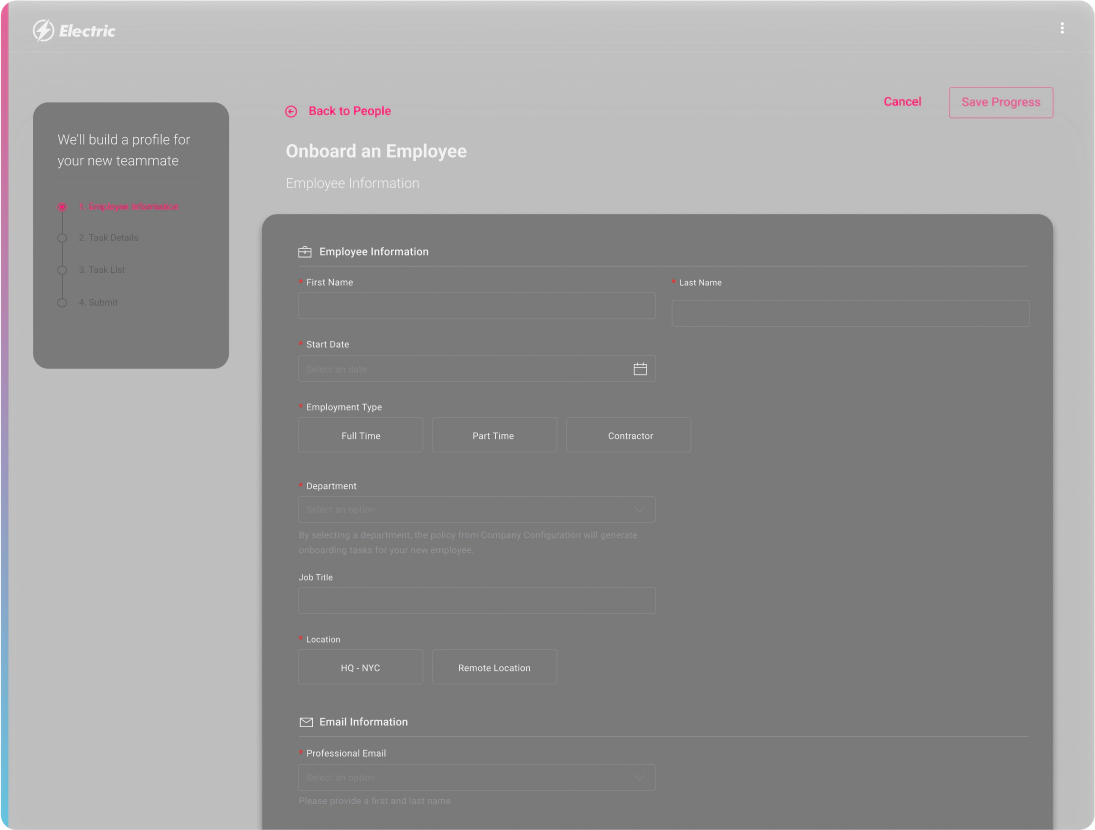 Procurement and provisioning handled
Your team gets their devices, provisioned and delivered directly to them, wherever they are.
Device and accessory orders placed on your behalf
Devices provisioned and de-provisioned per your specifications
Devices stored in a secure location at Electric HQ
Devices shipped to local and remote employees
Your team's device requests managed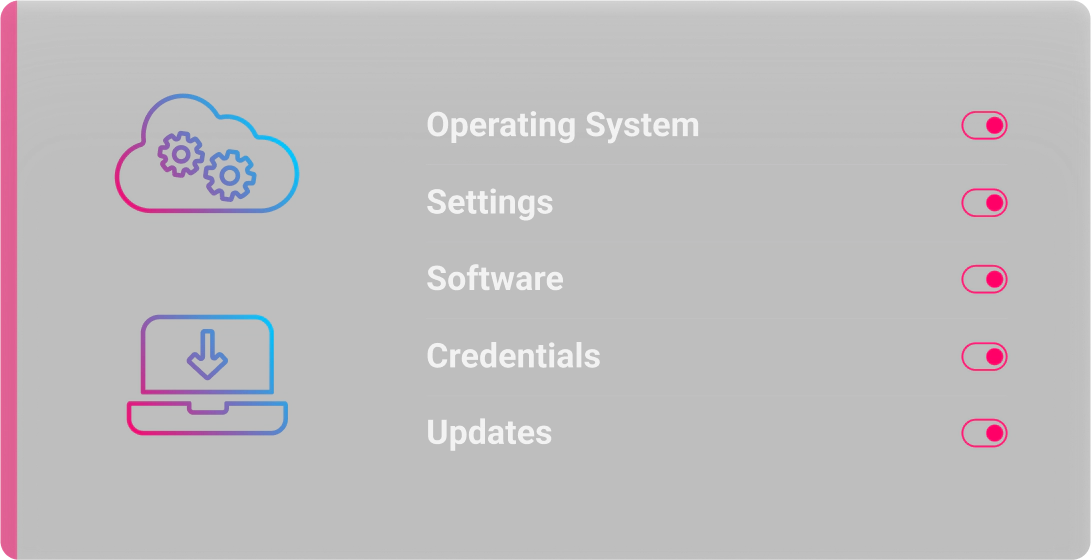 Seamless and secure departures
Team member transitioning out? No problem. Electric collects and wipes their device so it's ready for the next team member.
Boxes and return labels coordinated for device returns
Devices deprovisioned remotely or onsite
Devices wiped and locked on your request
Google Drive data transferred to other accounts
Emails forwarded and calendar info shared with other accounts
Application credentials revoked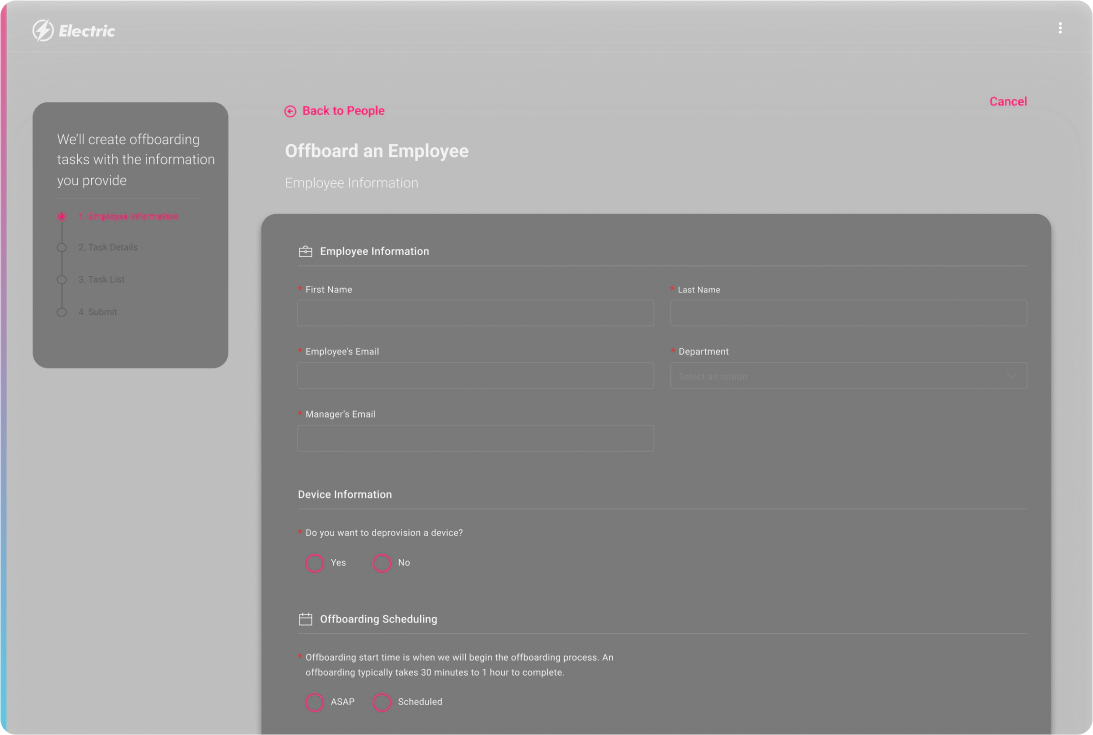 Centralized tracking and management
Need to see all of the onboarding details from last quarter? Want to check on the status of an offboarding you recently submitted? Electric makes it easy to pull reporting for important metrics and details.
Status of open onboarding and offboarding requests
Full audit trail of onboarding and offboarding requests made by your admins
Department-level view of access to email aliases, files, and applications
Executive view status updates
Task-by-task views of individual onboarding and offboarding progress