As the use of technology in small businesses becomes more and more advanced, two C-level roles dedicated to its effective management are now commonplace. Today, many organizations employ a CIO, a CTO, or both, to provide tech leadership. If you are considering adding one of these roles to your leadership team, it's crucial to understand their definitions and differences in order to choose the best fit for your business. Keep reading for everything you need to know.
Definition of CIO vs CTO
The role of a Chief Information Officer (CIO) primarily entails overseeing the internal use of information technology systems in a business. Typically, CIOs report to the organization's CEO or COO and may serve as members of the board of directors. CIOs play a significant role in organizations that leverage data and technology in day-to-day operations.
A Chief Technology Officer (CTO) is an executive-level manager who oversees the use of technology to drive revenue and deliver customer services. CTOs require the business knowledge needed to align the organization's tech-related decisions with its business goals. Besides managing technology-related issues, CTOs typically direct the product development and engineering teams in an organization.
CDO vs. CIO vs. CTO
CIO and CTO roles have some similarities, which makes it unsurprising that the terms are sometimes mistakenly used interchangeably. The confusion becomes even more apparent when you add a CDO to the mix. Depending on the organization, this title can refer to either a Chief Digital Officer or a Chief Data Officer. 
According to a recent PWC report, only 6% of organizations have a CDO. As big data transforms from a theoretical concept to practical reality, more firms are investing time and money in fortifying their analytical ability. As a result, the CDO role is expected to become even more prominent in the coming years.
CIO Job Description vs. CTO Job Description 
Here's a look at the job descriptions and responsibilities of CIOs and CTOs:
CIO Job Description
CIOs are responsible for an organization's computer and information technology systems. Their main duties include recommending software upgrades, assessing current processes, and advising the management team on the best IT-related processes. For CIOs to perform their roles effectively, they need in-depth knowledge of current and future trends in the IT field.
A Chief Information Officer should also be highly professional, analytical, and have excellent organizational skills. When recruiting a CIO, one of the key considerations will be the candidate's ability to help in storing, evaluating, and implementing data strategies to achieve the organization's goals. 
In most CIO job postings, these are the important responsibilities listed:

Develop IT strategies and goals and ensure operations in the IT department run effectively and smoothly

Provide leadership within the IT department

Implement and oversee IT-related projects

Manage changes in the organization's technology department and uncover strategies for optimizing IT-related processes

Supervise the organization's computer and network systems and ensure optimum performance

Troubleshoot IT-related issues and implement strategies for regular maintenance

Build and adopt tech platforms for improving the user experience
CTO Job Description
Technology is the force behind the success of modern businesses. For this reason, CTOs bring progressive ideas to an organization and find advanced tech solutions that help the business to grow. Chief Technology Officers are responsible for managing the development and distribution of technology to the organization's external customers and vendors to streamline operations and grow revenue.
A CTO's main responsibility is enabling the organization to realize its financial objectives using an innovative technology approach. These professionals are primarily hired to manage the organization's internal business operation processes while developing tech-enabled solutions.
Typically, CTOs' roles differ from one organization to another, so the responsibilities of your CTO will depend on your needs and industry demands. 
Generally, CTO job postings list the following responsibilities:

Formulate strategies for how tech is utilized within the organization and enable the attainment of its business goals

Outline the organization's technology goals and research and development timelines

Amass the technological resources required to meet the organization's short-term and long-term goals

Oversee the provision of technological resources to various projects being undertaken by the organization

Ascertain that the organization's technological practices comply with the relevant regulatory standards and legislations

Pinpoint and oversee the implementation of innovative technologies, which give the organization a competitive advantage in its industry

Oversee system infrastructure to guarantee efficiency and functionality
CIO vs. CTO: The Key Differences
The table below outlines the key differences between the roles of CIOs and CTOs in an organization: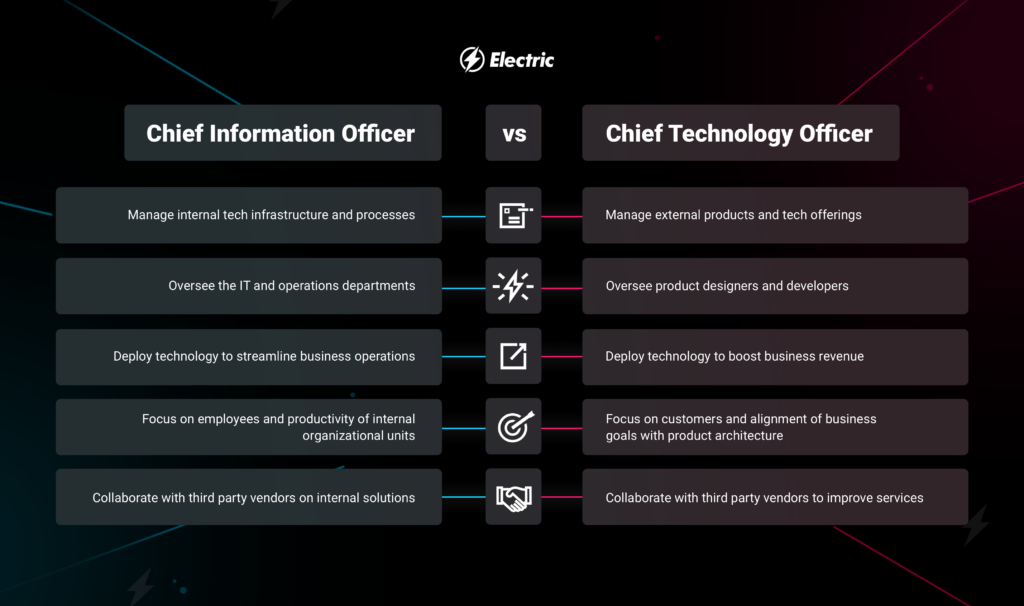 Improve the Management of Technology in your Business
If you are in the process of identifying opportunities to improve your tech stack and streamline the use of technology in your business, hiring a CIO or CTO can be a good place to start. However, competition for talent in this area is fierce, and remuneration for these roles is considerable – particularly if you are operating on a tight budget. To learn more about the technology supports available to your organization, contact Electric today. We offer managed IT support with proven ROI to help power your business's success.