The pandemic has revolutionized multiple organizational structures. According to Stanford University research, at least 42 percent of the entire U.S. working population is now working from home full-time. This means that companies need reliable remote IT support for their teams now more than ever. With remote IT support, more employees will be able to take the plunge and transition smoothly into working remotely, whether on a part-time or full-time basis.
Remote IT support provides businesses with round-the-clock technical support, server maintenance, operating system support, and network management. Thus, more companies are willing to spend the remote IT support costs to ensure that their businesses run optimally despite their employees working away from the office.
What Is Remote IT Support?
Remote IT support refers to a system that allows IT support service providers to solve a client's technical problems by connecting to their computer via a network or the internet. With remote IT support, you should call, email, or chat with your IT services provider and have your problem solved within minutes.
You can leverage remote IT support to diagnose and solve both hardware and software problems on connected devices located remotely. Remote support software provides technical assistants with access to network resources, files, and applications on a remote machine so that they can help you whenever you are in need.
Watch: The Leadership Series | Turning the Great Resignation into the Great Rejuvenation
84% of workers have reported at least one workplace factor that negatively impacted their mental health. Failing to invest in a more fulfilling employee experience and ignoring demands for autonomy and flexibility at work will put your business at risk. Gain actionable advice in this webinar on how to improve your workplace wellbeing.

Why Do Companies Choose Remote IT Support?
Remote technical support ensures basic issues, such as configuration changes, troubleshooting errors, updates and patches, antivirus support, or installation, are resolved fast and efficiently. Remote IT support services are also usually available on-demand, 24/7 to ensure your team stays productive and motivated as they are not stuck waiting for support.
Other benefits of remote IT support include:
Save costs associated with on-site technical visits

Access to multiple IT experts

Minimal downtime due to improved response time to all tech-related issues

Proactive technical support and system maintenance

Convenience and increased employee satisfaction
How Much Does Remote IT Support Cost?
The average remote IT support costs range between $60 and $100 per workstation and $100 and $400 per server. You must also consider the different models of IT support pricing to land on one that suits your company best.
If you are looking for more holistic IT support, managed IT services are preferable. Although remote IT pricing changes from company to company, the rates are predictable and depend on specific factors that make up the pricing structure.
Remote IT Support costs include:
Number of users: The price is higher for more users due to more locations, applications, and other critical infrastructure.

Technology complexity: You are charged depending on your core business applications, the number and type of devices you use, working hours, as well as your preferred firewalls, routers, and access points.

Supported apps: Your IT support provider will charge on a per-application basis. This works because some applications will require more monitoring, maintenance, and support than others.

Number of locations: The complexity and costs of IT support increase with a rise in the number of offices or remote workers.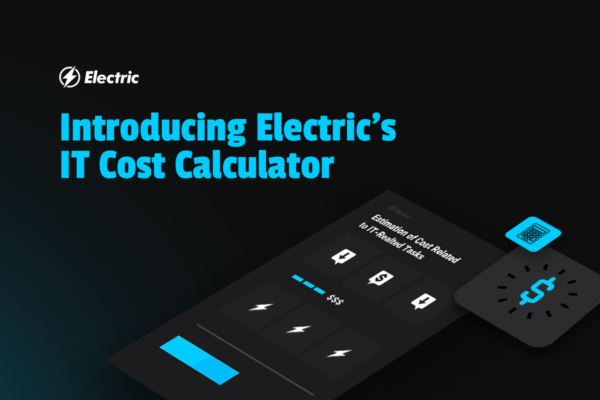 How Much Could You Save With Remote IT Support?
Use Electric's free cost calculator to find out, based on your number of employees and the number of SaaS apps you use.
Calculate Your Costs
How Much Is IT Truly Costing Your Business?
To determine how much IT is costing your business, check out our free tool, the IT Cost Calculator, which allows you to have insight into an estimation of the hours spent on IT-related tasks required to support your organization.
From this estimation, we can then calculate the total corresponding costs related to IT-related tasks. All we need from you to conduct the estimation is your number of many employees and organizational SaaS applications.
From there, we use factors including $96.15 as the hourly cost of remote IT support (times the estimation of hours spent on IT tasks), $6,600 mobile device management setup fee, and $4,302 a mobile device management annual fee to determine the total cost of your IT environment.
Example of Remote IT Pricing
Take, for example, a small healthcare organization with 200 employees that uses 50 different SaaS applications. In this scenario, over 300 hours are spent on IT each month, across tasks like:
IT support and sysAdmin requests
Installing and managing app updates
Provisioning and de-provisioning devices
Onboarding and offboarding activities
Managing and tracking cybersecurity
The time and resources involved in this level of IT support is beyond the capabilities of one, or possibly even two, full-time employees. When you account for the hourly cost of performing these tasks in-house, alongside the setup fees and annual costs of mobile device management, this small business faces a total bill of $384,370 for their in-house IT environment in just one year.
Compare this to the annual fee for a managed IT provider like Electric, and this organization could save almost $100,000 by switching to remote IT pricing. Check out our cost calculator for a full breakdown of these savings, and to get estimated remote support pricing for your business.
What Are the Models for Remote IT Support Pricing?
When outsourcing IT support, you will come across two primary service fee models that are most suitable for SMBs: the managed IT services or the break-fix model. The two models are similar; however, they differ in several ways as discussed below.
The Break-Fix Model
If you opt for the break-fix model, you will only receive IT support costs for specific devices upon request. It is the more reactive approach whereby the IT technicians can only fix problems and not provide ongoing maintenance. You agree on an hourly pay rate with some room to negotiate, depending on the time and materials used on a specific project.
Managed IT Services
When using this model, your IT support company assumes the role of your in-house IT department. Thus, providing proactive remote monitoring, backup, support, and maintenance. This model provides you with a secure and robust remote working environment by responding to issues quickly and preventing potential system failures. Most managed IT service providers work on a monthly fee basis, dependent on the number of devices they will be working on.
3 Consequences of Not Having Remote IT Support
According to a report by Gartner, IT downtime costs companies an average of $5,600 per minute. These numbers are higher now and can turn in millions for large businesses. It remains significantly less for SMBs, as revealed by an IDC report that estimates the cost to range between $137 and $427 per minute.
For many SMBs with remote work cultures, IT downtime is a growing menace. These costs are beyond what you know or see, and here is a breakdown of downtime costs.
1. Lost Revenue
Revenue loss is the most common indicator of the effects of downtime. You can calculate lost revenue by multiplying the cost-per-minute by the minutes of downtime. It is also dependent on several factors, such as business size and model and the industry risk index. For instance, media, communications, government, banking, finance, manufacturing, healthcare, and utility industries are the most vulnerable.
2. Decreased Productivity
IT-related outages affect employees by leaving them with nothing or little to do and forces IT experts to abandon or postpone other crucial tasks to manage and resolve the incident quickly. Employee morale also takes a hit due to multiple customer complaints, pressure, not to forget overwork when the systems are up and running again. Downtime may also disrupt the supply chain, which causes delays in multiple departments.
3. Reputation Damage
Due to delays, unavailability, and missed deadlines, customers and prospects can lose their confidence in your business. This will result in unprecedented losses, lack of trust, and a damaged reputation. Rebuilding your reputation is expensive, not to forget that gaining new customers will cost you between five and twenty-five times the amount it costs to retain the old ones.
What about the ROI of Remote IT Services?
Electric commissioned Forrester Consulting to conduct a Total Economic Impact™ (TEI) study to examine the potential return on investment (ROI) enterprises may realize by deploying Electric's remote IT services.
The purpose of this study is to provide readers with a framework to evaluate the potential financial impact of IT managed services on their organizations. Ultimately, the study determined that Electric customers experience a 105% ROI on their services. So when you look at remote IT support costs, remember that when using the best solution the investment pays for itself.
As the world continues to navigate the complexities of remote and hybrid workforces, Electric is here to support your organization. Electric can keep your business moving with Electric's chat-based, lightning-fast IT support. Send us your requests and we'll handle the rest, so you can get back to work.