It's Monday morning, and you're trying to connect to the office from home. You've tried multiple times, but you keep getting the same error. Who do you call for support? The IT department or Joe in accounting who seems to know a lot about computers? Your business may have an official or unofficial IT department, but there's usually a "go-to" person when you need help. That is IT support.
In today's environment, technical support needs more than Joe in accounting. Businesses may need additional IT resources to support a remote workforce, or they may require assistance with cybersecurity and network performance. Whatever your business needs, an IT support and service provider can help ensure your company is covered.
What is IT Support?
In its simplest form, IT support is about offering assistance to employees and the wider organization for technology-related issues. Its purpose is to provide users with answers to problems they may be experiencing. In a business environment, IT support can also encompass the setup, installation, and configuration of equipment, plus much more.
What Does IT Support Do?
Business IT support is more than fixing problems and answering questions. IT support services include optimizing network performance and securing against cyberattacks. With IT support and services, an organization can realize the full potential of its network and follow best practices for securing its digital assets.
IT service providers can be responsible for the setup, installation, configuration, and maintenance of network equipment, whether that is a computer in the office or at the kitchen table. They can proactively monitor equipment performance to avoid downtime from equipment failure. They are prepared to help with disaster recovery and backup plans. Business IT support can be whatever a business needs to ensure continuous operations.
Some of the most common IT support responsibilities can include:
Troubleshooting and resolving IT issues
Providing technical assistance to employees
Updating and maintaining company systems and networks
Installing and configuring software
Managing user access permissions and credentials
Rolling out patches and updates
Procuring and provisioning devices
Assisting with data backup and recovery
Check out our helpful infographic for more!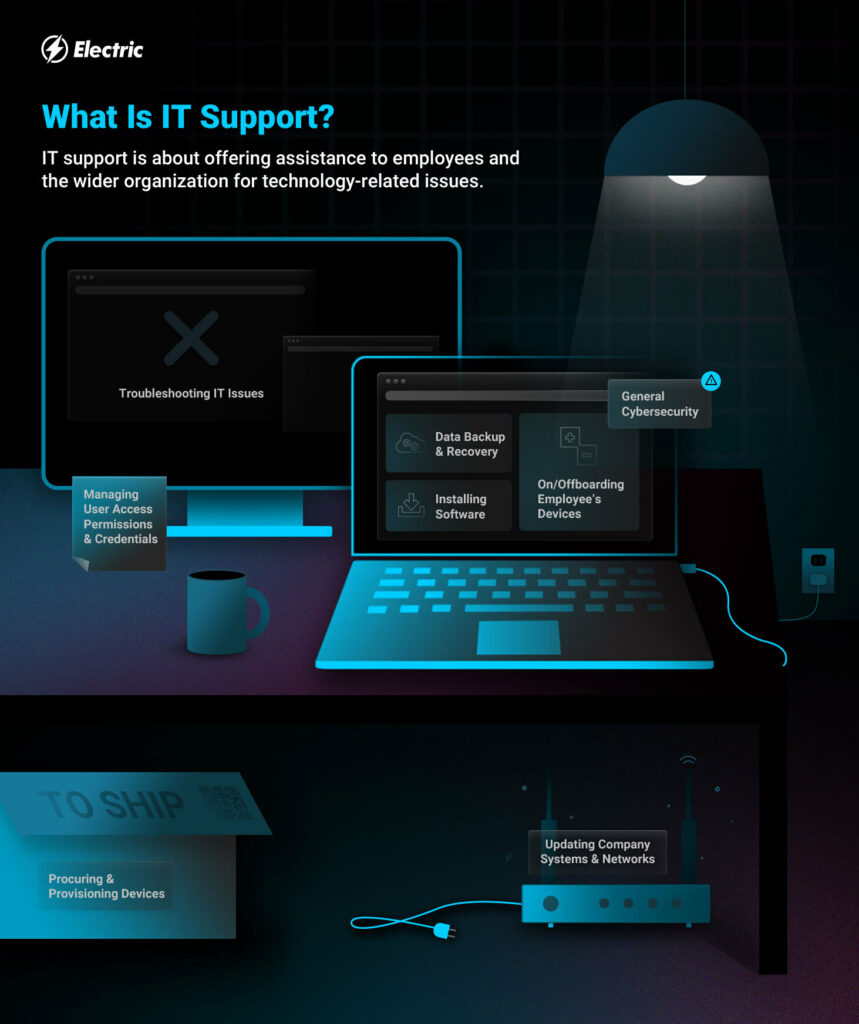 What Do IT Support Technicians Do?
Supporting company networks requires multiple specialties. For example, technical support specialists may analyze, evaluate, and troubleshoot network problems. These technicians play a crucial role in maintaining the network and backing up digital assets.
Support personnel are responsible for providing technical help to non-IT computer users, often by responding to phone, email, and chat-based requests for help. You may also require dedicated cybersecurity support specialists, who use their expertise to ensure your network, applications, and data are secure, and can even help with meeting compliance security standards.
Here are a few of the tasks an IT support technician may do.
Ask questions to diagnose a problem
Recommend problem-solving steps
Train users on how new technology works
Install and configure network components
Monitor and maintain computer systems and networks
Troubleshoot system and network problems
Support applications as required
Add users to a system and provide credentials
Mange open customer requests
Establish working relationships with end-users
The types of technical support depend on the organization. Some companies may want involvement in round-the-clock operations. Others may be looking for help-desk support during business hours. No matter the need, IT support personnel can adapt to serve your business requirements.
Technical support follows a tiered system, where the levels of support are tied to the expertise required to address the problem. The higher the level, the more expertise is needed.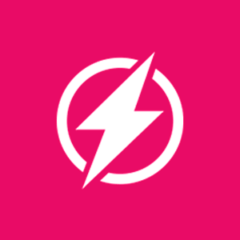 All of your IT managed in one place
With Electric, you can manage your people, devices, networks, and applications in one platform. Your team gets access to over 200 IT technicians to solve their day-to-day IT requests.
Contact Us Today
What is Level 1 Technical Support?
Level or tier 1 support is the person on the other end of a phone call, online chat, or an email string. They are tasked with identifying the problem and providing the most common resolution methods. Tier 1 staff play an essential role in problem resolution. They are the people who define the problem and acquire as much information as possible to resolve it. If they are unable to resolve the issue, it is transferred to a Level 2 support specialist.
What is Level 2 Technical Support?
Level or tier 2 support requires someone with more technical knowledge. If a level 1 technician cannot resolve the issue, they transfer the issue to level 2 personnel. They, in turn, work to resolve the issue. In most cases, end-user problems can be fixed at a level 2. If an issue cannot be resolved at level 2, it is escalated to a higher tier.
Rarely does a problem go beyond a level 2. Issues beyond a level 2 are relegated to the creators of the application or hardware. These are glitches that require software updates or patches to fix. Hardware-level problems may require new components.
Why IT Support is Essential in 2023
Supporting an in-house IT department is expensive, and there are far fewer qualified applicants than there are open positions. 73% of IT leaders say they struggle to recruit in this space, while turnover remains high. Such volatility in recruitment and retention makes external IT support a more viable option for many organizations.
Cybersecurity threats also continue to grow. 47% of small businesses in the U.S. have fallen victim to a cyber attack, 67% of which have experienced more than one breach. Phishing, password hacking, and adware are among the most common forms of attack against small businesses, and the methods employed by attackers grow more sophisticated by the day. Without adequate expertise and support, organizations are left vulnerable.
Downtime from such attacks is costly. According to Gartner, the average cost of downtime is $5,600 per minute. For some technology-intensive operations, the cost can be much higher. With properly monitored systems, breaches can be prevented and equipment failures can be identified and fixed before they cause an issue.
Find the Right IT Support For Your Business
Finding the right IT service and support provider can go a long way to protect your digital assets and boost your bottom line. Electric provides centralized IT management for small and medium-sized businesses, with access to employee IT device insights, device procurement for employee onboarding and assistance with employee offboarding, MDM software for your team to assist with keeping your device and employees' devices compliant and secure against cyber threats, and much more. Get in touch to learn more about our IT Support solutions.