Key Takeaways
Instrumental and classical are the top genres for productivity, according to tech workers. 

Tech workers who listen to R&B while working have the highest average annual incomes.

Tech workers who listen to hip-hop while working are the most likely to have received a promotion (33%) or raise (26%) in the last year.

The top pop artists in productivity playlists on Spotify are Taylor Swift, Harry Styles, and the Weeknd.
The Soundscapes of Success
We've all had those sluggish moments at work where we struggle to be productive. But could the solution be as easy as pressing play on your favorite tunes?
To learn what kinds of music can get you back into the zone, we've identified common songs and artists found in thousands of productivity and focus-related Spotify playlists. We've also surveyed over 1,000 tech employees to learn more about the type of music that makes them tick. Read on to see how your favorites stack up.
Advantageous vs. Detrimental Music
Music taste is subjective, but are some tunes better suited for the workplace than others? Let's see what our survey respondents had to say.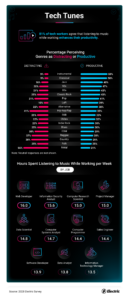 Over 80% of respondents believe listening to music while working enhances productivity. Tech workers ranked instrumental (59%) and classical (58%) as the top two most productivity-inducing musical genres. On the other hand, workers said listening to metal (55%) and hip-hop or rap (41%) was too distracting.
As it stands, fast-paced tunes weren't deemed as effective as slower-paced jams for boosting work efficiency. But whether the beat was fast or slow, web developers listened to 16 hours of music per week while working, the most among all the tech job types we surveyed.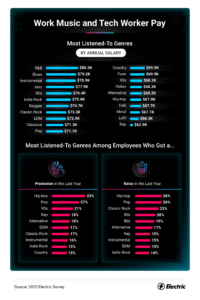 Maybe they're mixing some R&B into their playlists — after all, employees who listen to this genre reported earning the most in a year ($80,300). But hip-hop and rap seemed best for our respondents' careers, as listeners of these genres were the most likely to receive a promotion or raise within the last year. Though many found this genre distracting at work, those who didn't thrived.
Plug In, Tune Out
While hip-hop and rap listeners might get their next promotion or raise quicker in the tech industry, other genres reigned supreme in productivity and focus playlists on Spotify. Also, check out the top 20 most popular songs to see if there are any you'd like to add to your playlist.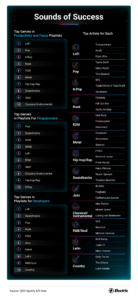 According to Spotify API data, the top genres most often listened to for productivity and focus at work were:
LoFi

Pop

K-Pop
Tomppabeats was the most popular LoFi artist, with over 1.3 million active monthly Spotify listeners, while Taylor Swift was the go-to for pop music (over 82 million). And although K-Pop wasn't prevalent among developers and programmers, BTS was the top choice of K-Pop listeners, currently pulling in over 37 million monthly listeners. We found that developers enjoyed LoFi music the most, whereas programmers primarily listened to pop.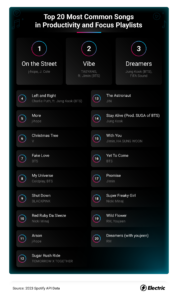 If you're ready to craft your best productivity-boosting playlist, consider adding some K-Pop. This genre dominated the Top 5 most common songs found on Spotify's productivity and focus playlists:

"On the Street," by j-hope and J. Cole

"Vibe," by TAEYANG, ft. Jimin (BTS)

"Dreamers," by Jung Kook (BTS) and FIFA Sound

"Left and Right," by Charlie Puth, ft. Jung Kook (BTS)

"More," by j-hope
The Faces of Productive Music
Let's look closer at some familiar artists to see where they rank within productivity and focus playlists enjoyed by the working masses.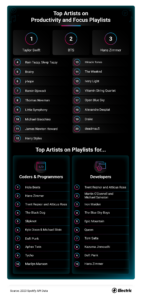 Taylor Swift and BTS continued their work music reign; they were the top two artists featured on productivity and focus playlists. But on those curated specifically by developers, Trent Reznor and Atticus Ross were the most listened-to artists. Fun fact: These two musicians have worked closely in the past, most notably as members of the rock band Nine Inch Nails and as winners of the Academy Award for Best Original Score for The Social Network in 2011. Meanwhile, programmers jammed out to Hola Beats and Hans Zimmer the most, the latter being a legendary music figure in his own right.
Finding Your Work Groove
When using music to increase your focus and productivity, what works for one person may not work for another. Whether you prefer classical or pop, instrumental or vocal, finding the right music to help you be productive at work is subjective. So, experiment with different genres and playlists, and feel free to customize your music choices to suit your unique needs and preferences. You might even find you enjoy a genre you've never listened to!
Methodology
For this study, we utilized the Spotify API to identify songs and artists in thousands of playlists related to productivity and focus. We compiled a total of 2,356 playlists that were found when searching: "productivity," "focus," "developers," "programmers," and "productivity for programmers." In total, these playlists contained 190,328 songs. We also surveyed 1,021 tech employees to explore how listening to music impacts their productivity at work. The majority of salaries were reported between $35,000 and $100,000 and cover a wide variety of roles and experience levels.
About Electric
Electric offers IT solutions for businesses of all sizes. Our innovative platform streamlines IT infrastructure and automates tasks for enhanced efficiency and security.
Fair Use Statement
We're happy to share our fascinating findings on the most popular songs, genres, and artists found in productivity playlists! However, please keep in mind that our research is available for non-commercial use only, and if you do choose to share it, please be sure to provide a link back to our original article.