May 2021 Product Release Update
The Electric Product Team is always working to improve our existing offering to our customers. Check out what the product team has been working on this past month and a preview of what's coming up in June & July of 2021.
The focus this month has been threefold
Empower you to be able to take more actions directly in Turbine

Continuously improve the TTR (time to resolution) on your user's tickets.

Ensure you always have the most up to date information on our product status at your fingertips .
We're doing this by making critical back end changes that will have fantastic user experience results and developing functionality that allows you to complete your routine tasks quickly and easily.
Our goal with Turbine is to make managing your IT needs as easy as a couple clicks. Ambitious? Yes, but these upcoming releases bring us one step closer to making our goal your reality.
Released This Month
Migrating Real-time Support to Kustomer
This month we transitioned our real-time support back-end to a best-in-class ticket routing system, Kustomer. We'll also be moving email-based support to this system, to ensure all of your requests are routed through one location. This will not change how you or your users receive support from Electric. However, you will notice faster resolution times (a time savings of 5 to 10 minutes per request on, on average!) and an overall enhanced real-time support experience, since all ticket types will live in one place.
Update from last month: We're currently testing the platform with our internal team, and will begin transitioning customers in the coming weeks. At Electric, we drink our own champagne first to make sure it's just right for you.
Learn About Outages Faster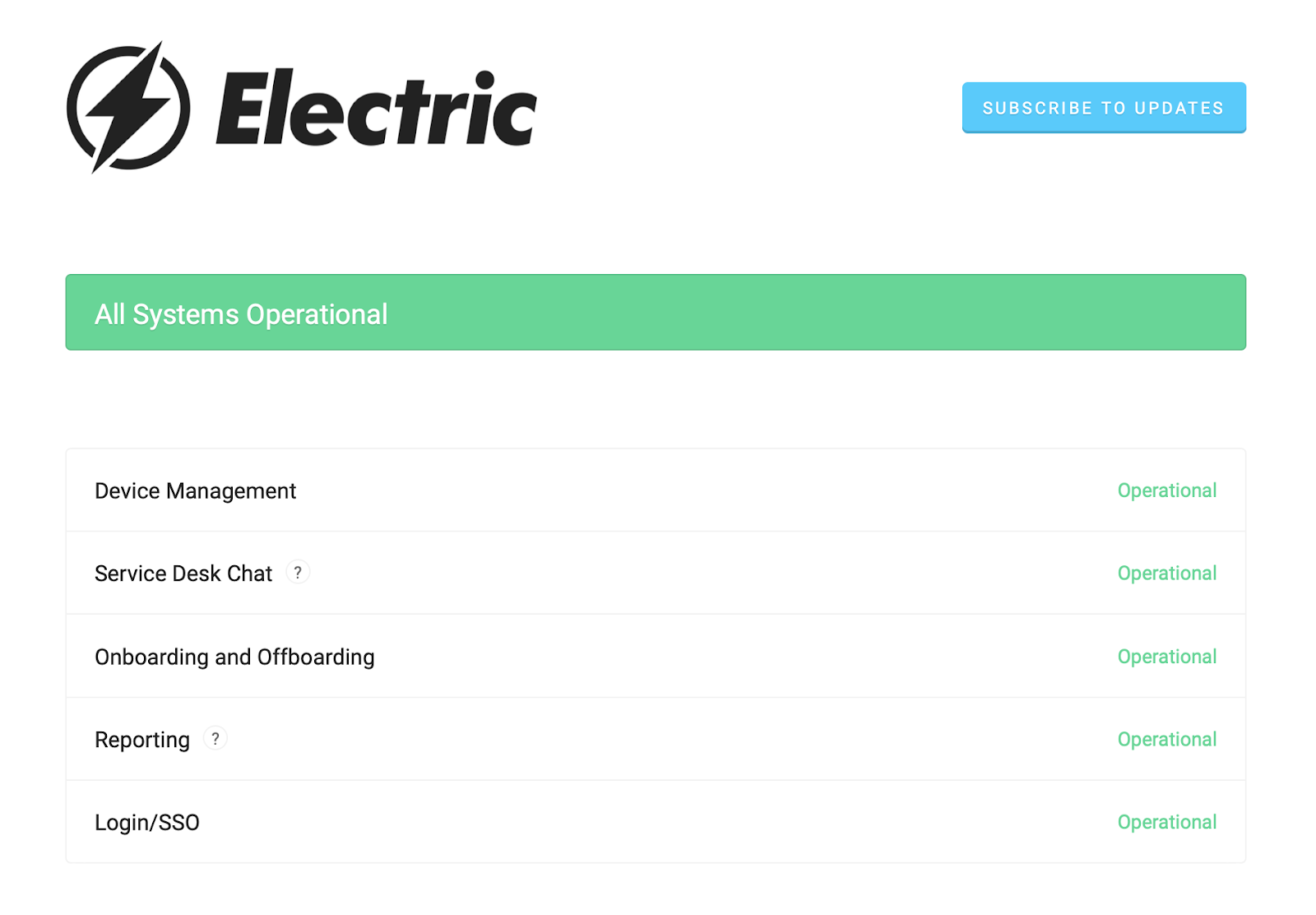 We love telling you about great new features but we also want to keep you in the know when things aren't working quite right. Our new Status Page does just that. This will be a source of truth for bugs, outages or performance issues with Electric apps. Subscribe here to receive email updates, so you'll know right away if there are any issues.
Upcoming Releases
Remote Device Actions
This year more than ever, the business world has come to appreciate the power of remote device management for managing remote workforces. Whenever speaking with you, our Electric customers, about which service you value the most it always makes the top 3. And, we've heard you when you've asked us to put more of the power of device management, back into your hands. That's why in June, we'll be turning the keys over to you – allowing you to lock and unlock devices directly from Turbine. No more need to message Electric to have us manage on your behalf.
Seamless Account Provisioning Through Google and Automation
For customers with Electric-managed Google accounts— we have some exciting news for you! We are making account provisioning for new employees streamlined through Google automation.
Ok, so what does this mean exactly? Well, as you are making an onboarding request, you won't have to remember the name of the calendar, email group you'd like a new user to be added to. Simply select it from a drop-down list that is pulling directly from your Google or Okta account.
Okta Integration in Turbine
And while on the subject of integration — Okta users: you asked and we listened! In June, we'll be working on integrating Okta onto Turbine Onboarding forms. This means, when setting up users, you'll no longer have to type out the groups you want them added to. Instead, they'll be integrated into Turbine, and you'll only need to select them from a dropdown.
Onboarding 2.0
Taking the time you spend on on/offboarding from 3+ hours/per employee (on average) to less than 8 minutes, is something we pride ourselves on at Electric. We want you to be able to pass this work off on us and get back to work that will be strategically impactful for your business.
However, we don't want to rest on our laurels here. We've gotten a ton of feedback on ways to improve this experience and we are excited to be rolling out functionality that addresses many of them over the next several months. Here are just a few updates to get excited about in the coming months:
Eliminating the need to fill out calendar and application-level permissions & settings for each request.
Making it easier to view the progress of each request.
Allowing you to schedule onboarding tasks to align with your internal timelines.
Providing you with the ability to create drafts of your requests.
Offering enhanced shipping support for offboardings.
If the product release information above sounds like it could provide leverage to your organization and you're not already an Electric Customer, then contact us to discover how we can start making IT simpler for your team.