May 2022 Product Release Update
The Electric Product Team is always working to improve our existing offering for our customers. Check out what the product team has been working on this past month and a preview of what's coming up in June & July. 
As power users of Electric, our customers' approvers are constantly chatting with our team over the Electric app. Well, we noticed that their approval requests were starting to get lost in the ongoing conversation, so we set out to fix this. Introducing the "home" tab a new feature available to our customers using Slack. This new tab offers our admins more flexibility to view and manage your approvals all in one place, separate from their convo with Electric. 
Speaking of user experience enhancements, we've introduced two small changes to our products and services that will make a massive impact. First, we're putting the aspects of Turbine, aka the Electric Platform,  you use most, front and center, with our updated navigation bar. Secondly, Electric admins will start to experience faster turnaround times and more seamless management of their employee onboarding and offboarding requests. How? We've made some internal process enhancements based on their feedback. 
Learn more about how to use the new "home" tab and our other enhancements below. 
Released This Month
New "Home" Tab for Managing Approvals
Slack utilizing customers, your approval requests (exp. "Hey Angela. Do we have permission to give Dorian an Adobe license?) now have a dedicated section of the Electric app – the "home" tab.  No more getting lost in the conversation. No more backlog of unmanaged approvals. Simply hop over to the "home" tab to view + manage your approval requests, at your leisure. Don't worry about having to constantly toggle between tabs, as new approval requests come in we'll drop you a note in the "messages" tab and leave a red notification image on your home tab. 
Microsoft Teams utilizing customers, stay tuned for this update inside your Electric app.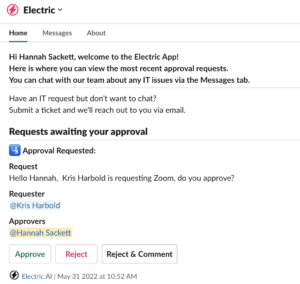 Turbine's Bold New Look and Navigation 
Have you noticed our new look in Turbine, aka the Electric Platform? Over the coming months, we'll be making incremental changes to the look and feel of Turbine. Why? Both to keep up with evolving user interface preferences and to make our platform accessible for all users. As we continue to iterate, our design team will be continuously including the inclusive practices of eAccessiblity into their work on our platform and our site. 
In addition to these visual enhancements, we've also updated our navigation bar, putting the platform you use most front and center. For example, you'll notice that we've moved our "People" page up to make it more easily accessible. As well, we've changed the name of our "Requests" tab to "Request Trends" to make it more clear what the page is used for.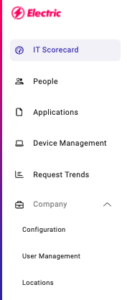 Enhanced Employee On/offboarding Request Management 
Managing employee onboarding and offboarding requests on your behalf is one of our top priorities at Electric. We are committed to taking this work off your plate and providing the most seamless user experience. In that spirit, we've taken your recent feedback to improve how we route and process these requests. And guess what? We've been able to reduce our TTR (or time to resolution) on your requests by 5%. Nothing's changed on your end. Just sit back and enjoy the enhanced experience. 
Upcoming Releases
Zoom Automation for Offboarding Requests 
The latest SaaS app integration Electric is focused on is with Zoom. By integrating with your SaaS applications, Electric will be able to speed up your request completion & eliminate user or agent errors. When launched, Electric will integrate with your Zoom account to ensure that all departing employee accounts are deleted on the requested offboarding date, ensuring your licenses remain secure. Once deleted the license will be wiped of the departing employee's data and made available for use by new or existing employees.
Select Devices to Be Deprovisioned During Offboarding 
We recognize that entering device information for onboarding requests is too manual. You currently have to grab the device name and serial number from the "Device Management" page and copy it into the request. Offboarding requests will now pull in all devices assigned to the email address of the employee who is attached to the request. Yet another way in which we are working to make the request submission process as automated as possible! 
Automated On/offboarding Requests Using User Info 
Our mission to automate your employee onboarding and offboarding request process continues. Sure, it only takes 5 to 7 minutes to fill out these request forms, but how can we reduce that even further? Using the user information you've provided us. When submitting an onboarding request, we'll now tell you, right within the form, if the company email you've requested is available or if you need to select a new one. Avoiding errors and further conversations with Electric. As well, when submitting an offboarding request, you'll be able to select from a list of enrolled users in Turbine. Once selected, the employee information fields will be automatically filled in. 
Your Apps Can Have Multiple Admins 
Having a single point of failure for any process is never a good idea. This includes naming admins for your non-Electric managed apps. So, we are going to now allow you to name multiple users as app admins. What does this mean for day-to-day management? When an onboarding or offboarding request requires a task for a non-Electric managed app, a notification will go to your group of admins to manage. That way, if someone's on vacation or out sick, you have other admins to take on the work. 
If the product release information above sounds like it could provide leverage to your organization and you're not already an Electric Customer, then contact us to discover how we can start making IT simpler for your team.