September 2022 Product Release Update
The Electric Product Team is always working to improve our existing offering for our customers. Check out what the product team has been working on this past month and a preview of what's coming up in October & November. 
This month was all about optimization, from how we use your data to provide you with valuable insights to further automating how you submit requests. Most notably we've kicked off the expansion of the reporting section within the Electric Platform, aka Turbine. You'll notice that in addition to viewing your IT request data, you'll now be able to view your hardware request data. Want to know the status of your recent provisioning (aka device setup) request? Need the tracking number for the recent laptop you ordered through Electric? Head on over to your brand new Hardware Requests Dashboard. 
Learn more about your new Hardware Requests Dashboard and our other September 2022 product and service releases below. 
Also, be on the lookout for a very exciting product & service release announcement right before Elevate, our annual conference on Oct 27th! Save your seat here. 
Released This Month
Hardware Request Data is Now in Turbine 
We've added a new reporting dashboard to your Electric Account, this time focused on your hardware requests. Want to know the status of your recent provisioning (aka device set up) request? Need the tracking number for the recent laptop you ordered through Electric? All of this information is now available, in real time, for you right within your Electric Account. No need to reach out to your customer success manager.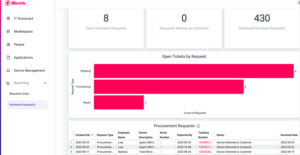 Head over to the Reporting Tab in your account to check it out. Also, stay tuned for additional dashboards that will be added between now and the end of the year. 
Identify A New Employee's Manager in Your Onboarding Request 
Ready to onboard a new employee? As you open the onboarding request form, you'll notice there's a new manager field. Here you'll be able to identify who the new employee's manager will be by selecting from your list of supported users. 
This information will live in the request and be connected to that user. Why? Because, coming soon, we'll be introducing user profiles which will allow you to see all of the IT data, security policies, applications, permissions, and devices connected to each user!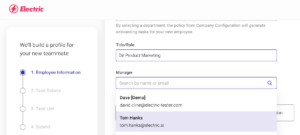 Offboard an Employee from the Supported Employees List 
There's now a new way to kick off an offboarding request, right from the supported employee's list in your account. Simply enter the employee's name in the search box and then select "offboard employee" from the list of user management options. 
Why start an offboarding this way vs. just clicking the "start an offboarding" button at the top of the page? By selecting "offboarding employee" from the employee record, their contact information will be auto-populated for you within the request form, saving you time.  

Remove Google Workspace or O365 Sections From Your IT Scorecard 
Does your company use either Google Workspace or O365 but not both? You'll now be able to remove the section for the app you don't use, from your IT Scorecard. Simplifying your view and making it easier for you to see your data and recommendations. 
This is also a fantastic tool for those who use an alternative SSO (single sign-on) tool like Okta to handle their MFA (multi-factor authentication). Removing these sections will ensure your IT score is reflective of your unique approach to IT security. 

Upcoming Releases
End User Hub 
We're launching a brand new way to engage with Electric's IT support, allowing users to choose how they want to receive support by either submitting a ticket OR starting a chat.  
The Electric User Hub will be your new go-to for all IT support needs. Need a password reset? Want to request a new mouse? Skip the back and forth with an agent. Simply submit your request directly in the User Hub and get back to work. Have a request that requires more real-time support, click the "I want to chat with an agent button". Customers from our alpha launch saw an average of 30% reduction on their time to resolution for tickets. 
This will be available in Beta for all core package customers starting Oct 27th. Tune into Elevate, our annual conference for more details. Save your seat here. 
Returning Your Device via a UPS QR Code 
Returning devices will now be as simple as scan, drop, and go. Users that need to return their devices will be sent a QR code which they can then take to the UPS location of their choice. From there, simply scan the code and hand over the device. UPS will handle the packaging and shipment from there. 
We are thrilled to be partnering with UPS to provide you with this service. This will be available to a select group of beta customers in October. It will then be available to all customers in November. 
On/offboarding Insights Dashboard 
Ever wonder just how many employee onboarding and offboarding requests your company submits to Electric each month? Or, what your most common onboarded or offboarded applications are? We are now using your employee onboarding and offboarding request data to provide you with insights. They will include month-over-month request trends, frequency of application inclusion in those requests, and even insight into your annual employee growth. 
This is yet another example of how Electric will make your IT data more readily available to you. Just log into your account and see it in real time. As well, access to this information will allow you to better predict IT spend on applications and devices. 
Malwarebytes Insights Dashboard 
For those customers who've purchased Malwarebytes with Electric, you'll now be able to see how this software is working for you. Malwarebytes is regularly monitoring for malware threats that might compromise your devices, putting your critical company and customer data at risk. This dashboard will show you all of the threats against your devices and remediations we've made, as well as the trends across devices. You'll be able to easily see which devices are at higher risk and be able to easily take action. 
This will be available to customers beginning in November. Not yet using Malwarebytes to protect your devices against malware threats? Reach out to your customer success manager or contact us at accountmanagers@electric.ai. 
If the product release information above sounds like it could provide leverage to your organization and you're not already an Electric Customer, then contact us to discover how we can start making IT simpler for your team.