Changes in the way we work have had significant implications for business cybersecurity, not least when it comes to network monitoring. A working network is the backbone of any business, and through continuous monitoring, a network should ensure reliability, maximum staff performance, and robust security.
What is Network Infrastructure?
Let's start with the basics. Your company's network infrastructure includes all the hardware and software resources of your entire network, including routers, switches, wifi, firewalls, and servers, each of which require careful configuration and maintenance.
Your routers connect devices to the internet.
Switches connect the devices in your private network, like computers, printers, and more, to allow them to communicate with each other.
Wifi access points connect your laptops, tablets, and phones to the rest of the network.
Firewalls protect your private network by controlling incoming and outgoing traffic to untrusted networks.
Servers host applications, databases, and data files that get delivered to users through a network.
And of course, there are all your PCs, printers, phones, and tablets. When you consider this reach, the importance of network monitoring quickly becomes apparent. The best way to ensure that all of these devices are running efficiently is through proactive network monitoring.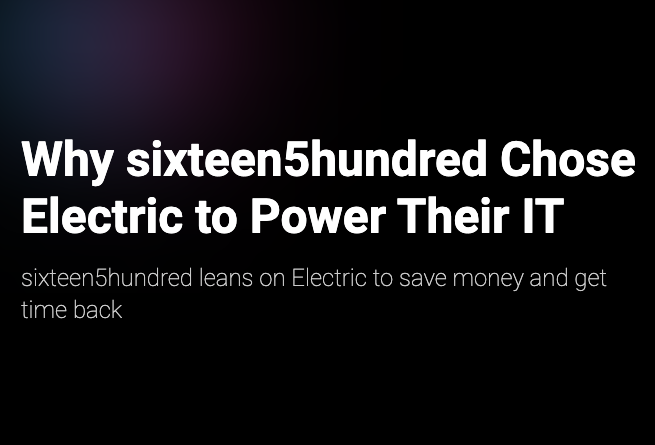 See Why sixteen5hundred Chose Electric
Electric helps sixteen5hundred with:
Real Time Support
Device and Inventory Management
Employee Onboarding and Offboarding
Read the sixteen5hundred Caste Study
What is Network Monitoring?
Network monitoring is the continuous analysis of a network to detect and correct any performance issues. Network monitoring involves collecting network statistics to determine the quality of services offered by the network. Continuous monitoring and review of your network includes monitoring network hardware and software devices like routers, firewalls, switches, servers, and WiFi.
Network monitoring is important because it helps you point out the exact location of any network problems, or prove that the network is not the source of a problem. Continuous monitoring can also help you to identify potential issues before they occur, so you can proactively solve problems before they impact users. For example, you can detect and troubleshoot problems like network slowdown before it affects business operations.
With more and more businesses operating remote or hybrid work models, it is vital to ensure your business network performs optimally for off-site employees. Remote network monitoring is important to ensure your network does not have performance issues and is secure enough for employees to access sensitive company resources.
Why Network Monitoring is Important: 3 Benefits of Network Monitoring
Continuous network and device monitoring helps you to troubleshoot not just hard failures but slowdowns as well. Troubleshooting issues early ensures business continuity and little or no downtime, as well as network monitoring benefits like:
1. Identifying Issues Anywhere in the Network
Network monitoring and assessment is a way to quickly locate a problem in the network. Monitoring your network's performance can show you the cause and source of a network problem, where and when it occurred. It can also tell you who needs to fix it. When you actively monitor your network, you can detect any performance changes that could be problematic to users before they occur.
2. Better Use of IT Resources
A network outage is a productivity killer. To fix it, an under-resourced IT manager would be required to divert attention from one business critical project to another with little notice or preparation. A key benefit of network monitoring systems is that they reduce manual work for IT teams. This gives back valuable time to your IT department, which can instead be allocated to more critical projects.
3. Providing Historical and Baseline Data
With the availability of baseline data, network monitoring tools can continually and automatically compare data. In case of performance degradation, an alert is sent to you, and you can immediately address the problem. Historical data gives you a comparison point to determine optimal network performance or identify poor performance. It also enables you to troubleshoot network problems from past events.
How Can I Monitor My Network?
The first step to get started with network monitoring is to identify which devices need to be monitored, and what performance metrics to measure. Here are some baseline metrics you'll want to track:
Bandwidth usage: Your network should send as much data as it can without being overloaded. A network monitoring tool can identify how much bandwidth is typically used versus how much is currently being used.
Throughput: This measures the percentage of data packets that are sent in a specified timeframe.
Latency: This is the time it takes between requesting data and receiving that data. Latency performance issues can be challenging to measure, so it's important to have a monitoring tool in place.
Packet loss: This is the number of data packets that are lost during data transmissions.
Retransmission: This is a measure of how often data packets are lost and need to be retransmitted to complete a request for data.
Network availability/Uptime: This lets you know if your network is currently available. Your network monitoring tools can alert you when the network goes down, and how often.
Connectivity: Make sure your network connection is operating at top performance at all times.
What to Look for in Network Monitoring Software
Like any other kind of software, small businesses shouldn't just pick up any off-the-shelf network monitoring tool. Here are some important factors we recommend you keep in mind:
Usability
Network monitoring applications come in different shapes and sizes. They range from a basic command line interface to web-based dashboards with alerts and real-time analytics. Before settling on any vendor, you should make sure that your IT staff has enough hands-on time with the product and are comfortable using it.
Scalability
Your network may just consist of a few devices at one location, but will that always be the case for your business? Be sure that you understand the maximum network size that a monitoring vendor can support.
Current Infrastructure
If you're like many startups and small businesses, you're probably using multiple vendors for your switches, routers, and other components of your network infrastructure. Your IT team will need to determine if the network device monitoring software that you are considering is compatible.
Current IT Systems
It's unlikely that a network monitoring system will be the only IT tool that your company uses. It will probably need to be integrated into a larger system that includes application management, device management, and analytics. Your IT team will need to find out how well your preferred network monitoring software will fit into the suite of tools that you already have.
Important Changes to Network Monitoring
Network monitoring has undergone significant changes as a result of the pandemic. Examples of recent innovations in network monitoring are:
Software Defined-Perimeter (SDP) Technology
While SDP technology existed prior to the pandemic, the wide scale shift to remote work catalyzed its rapid adoption.
Software-defined perimeter technology removes internet-connected devices and applications from public visibility and reduces the surface area for attack. In this model, users have access only to authorized applications to reduce threats from compromised devices. SDP technology also delivers results that are more efficient than vulnerable legacy technologies like VPN.
SASE
Secure Access Service Edge (SASE) combines software-defined wide area networking (SD-WAN) with network security services to provide dynamic secure access to company resources. As a cloud platform, it connects and secures any type of edge device (such as a branch office, mobile device, IoT system, etc.) based on a user's identity and real-time characteristics like device and location.
Electric's Network Monitoring Tools
Electric can save your business time and money by simplifying your network monitoring. Want to gain better visibility of performance and improve efficiency of your network management? Contact us today.