IT solutions for every aspect of your business
A flexible and scalable IT partner, whether you have an in-house IT team or not. Consider Electric an extension of your team.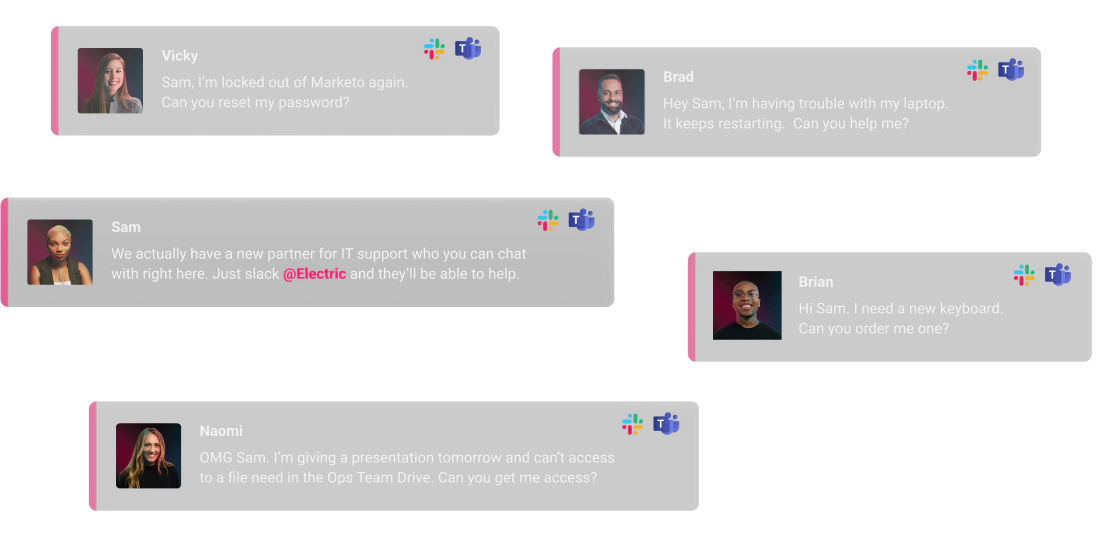 Electric for Operations Teams
Your team has enough on its plate ensuring your business runs smoothly, without having to play a "de facto IT manager/team" role or establish IT management processes. Lean on the expertise of Electric's 100+ IT Specialists and homegrown technology to help fill any technical knowledge gaps you have internally so that you can get back to the work you want to do.
Lean on Electric for:
Real-time IT support that will keep your team productive
Guidance in establishing and/or streamlining IT processes
To gain visibility into your IT environment
How Electric partners with Operations Teams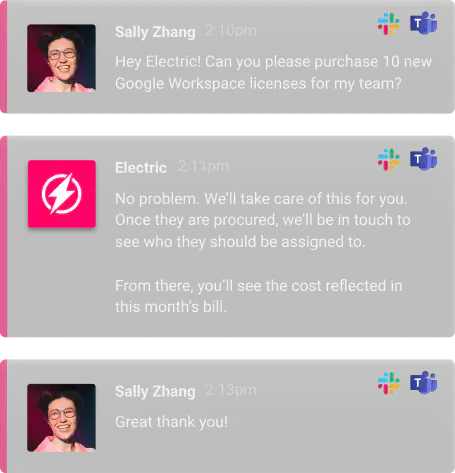 Electric for HR/People Teams
Ensuring employees are set up for success on day one with the device and business tool access they need, shouldn't mean you are buried in hours (or even days of operational IT work. Your team was built to manage people, not IT. Let Electric to handle the grunt work so that you can focus on what you do best.
Lean on Electric for:
Simplified and streamlined on/offboarding
Procurement and provisioning/de-provisioning of devices
Improved visibility into your on/offboarding history
How Electric partners with HR/People Teams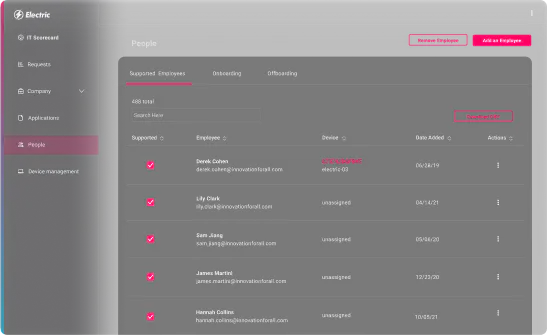 Electric for IT Teams
Your team powers your business. IT is the engine that keeps business tools functioning, team members effective and productive, and ensures your org's data remains secure. So, your team's value shouldn't be measured simply by how many tickets you can close. Let Electric take lower-level IT tasks and cross-departmental requests off your plate, giving you time back to focus on strategic, business-critical work.
Lean on Electric for:
Real-time IT support
Streamlining your on/offboarding
Support for strategic projects
To help fill in-house technical knowledge gaps
How Electric partners with IT Teams