Extra IT brainpower, on-demand
IT Teams power business. So why is closing tickets your most important metric?
There's a bigger picture IT story that's worth leaning into.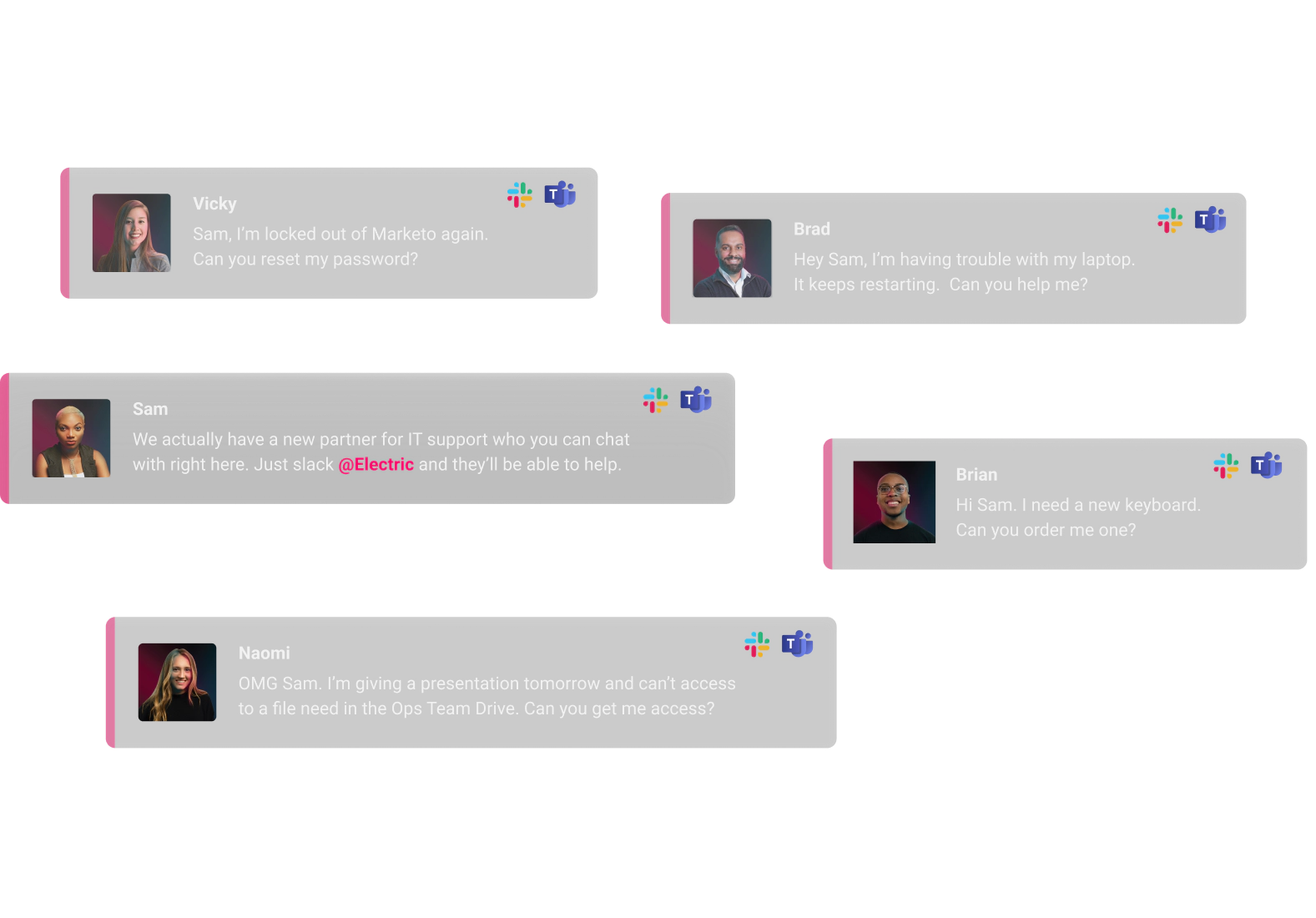 Your time is worth more
IT is the engine that keeps business tools functioning, employees productive, and data secure. Your brainpower is mission-critical to ensuring that operations keep moving forward.
Let Electric take on the lower-level IT tasks and cross-departmental requests that bog down your team, especially employee onboarding and offboarding. We want to give you and your team its time back so you can focus on the work that enlivens your team.

My dream is to not be bothered with day-to-day support and approval requests so that I can focus my team's time on strategic growth projects for the business. Electric has been able to make this dream a reality for me.
Derek Parham
CTO | JOOR
Get lower-level tasks off your plate
Instead of resetting that team's password for the 8th time, tell them to "Chat Electric." We'll take it from there. Our team of 200+ IT Technicians can handle IT support requests across your entire org.
With Electric by your side, you'll have full visibility into every request. Through the Electric platform, you and your designated Electric Admins can view and filter IT request data by category, user satisfaction rate, time to resolution (TTR), and category of issue or request.
 Our real-time support is:
Accessible where your team already works (Slack or Microsoft Teams)

Lightning-fast (10 min or less initial response rate)

Human (No bots here & we'll always introduce ourselves!)
Learn more about our real-time support capabilities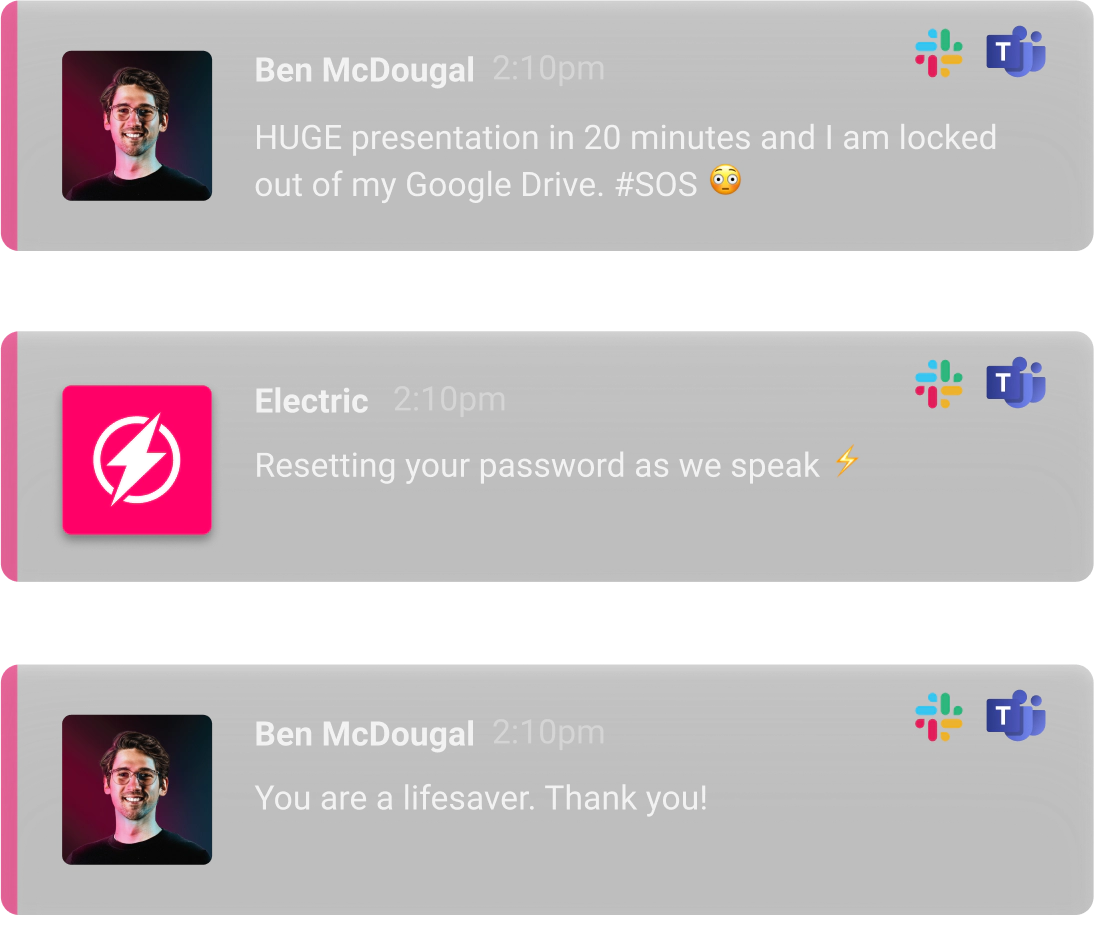 Streamline onboarding and offboarding processes
Employee onboarding and offboarding processes are crucial to the health, security, and momentum of your business. But managing these requests can become a time sink. There's a better way.
You control the parameters around which devices, applications, communication channels, and file access should be in each departmental profile.
Support for your strategic projects
Need to update your network? Not sure how to approach a security questionnaire? Put the power of Electric's Professional Services team and national partner network to work for you.
We'll start with project discovery, build a scope of work, and oversee the project's execution. With each project, you'll work with a dedicated Project Manager who will source the best possible partner for the job and manage that relationship on your behalf.
Partner with Electric for projects like:
Office moves

Network upgrades, build outs, & modifications

New server & NAS installs

Email and data migrations

Security questionnaire support

Implementing identity management

Conferencing and hardware install

Workstation setup

Small on-site project
Learn more about our strategic project support capabilities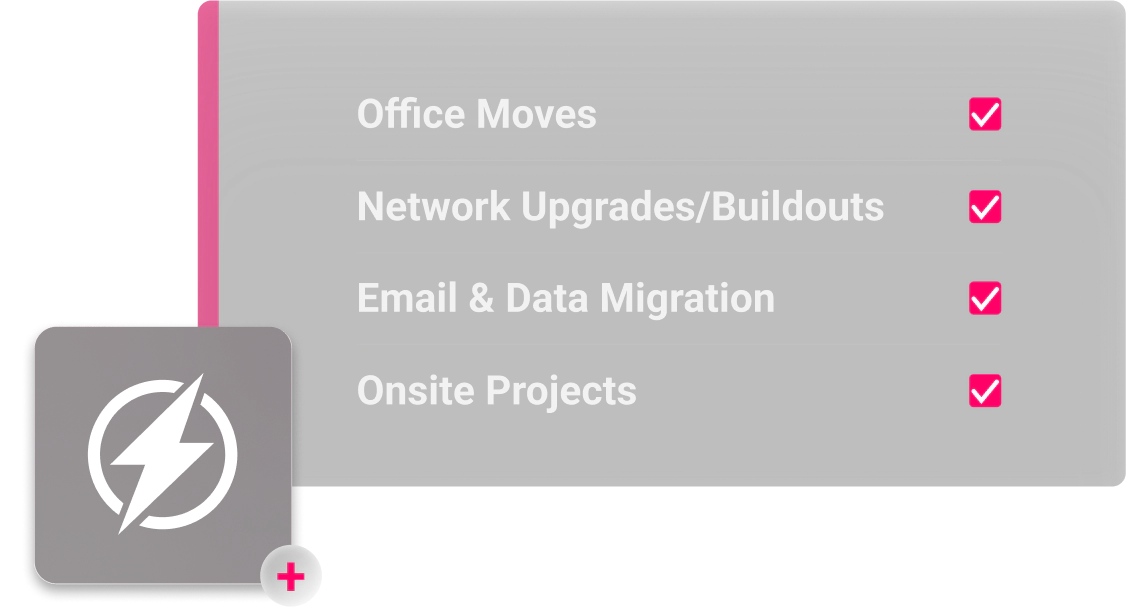 Leverage our expertise
Get access to a high-performance IT team without the "best-in-class" cost. Consider our expertise an extension of your own.
Between our Service Desk, Professional Services, and Customer Success teams, you'll have access to 100+ IT Specialists standing behind you. We've also partnered with key technology providers that help us provide you with improved IT request response time, remote troubleshooting, and visibility into your IT environment.