Key Takeaways
San Jose, San Francisco, and New York City have the highest paying tech jobs, with salaries averaging at least $135,000 per year.

The most in-demand tech positions employers want to fill are information security analyst (for an annual wage up to $167,000) and IT support specialist (up to $103,000) — both of which require as little as a bachelor's degree. 

The top two cities with the most people searching for tech workers were Miami and Orlando, FL — a state known for its large percentage of retirees.

Miami has a high demand for basic IT support, with the most common online search query there being "how to copy and paste."
With continuing advances in cloud technology and artificial intelligence, as well as cyberattacks increasing in recent years, recruiting for specialized workers in the IT industry remains robust. But which U.S. cities and states offer the highest pay and have the most demand for these positions? To answer these questions and more, we collected and analyzed job posting data, average hourly rates for freelancers, and nationwide search volume of IT-related questions from 2022 to 2023. 
Which Cities Pay the Most for Cybersecurity Positions?
To begin, we looked at which cities are paying the most for cybersecurity positions and what types of cybersecurity jobs companies are most eager to fill. 

With data breaches on the rise lately, it's no surprise that cybersecurity positions have drawn the highest pay in and around Silicon Valley (the heart of technological innovation), especially in San Jose and San Francisco, CA. Other metro areas with high concentrations of tech workers also reward them handsomely, like New York City, where we found that cybersecurity freelancers charge a whopping $157 per hour ($47 above average). However, the cost of living there is also high, with the average rent for a Manhattan apartment reaching around $5,000 per month last year.  
Individual companies offering the top salaries for these positions included enterprise data platform ActionIQ, artificial intelligence pioneer OpenAI, software firm NVidia, and social media app giant TikTok.
Drilling down further, we found the hottest current positions within the cybersecurity field (and their average annual salaries) were:
Information security analyst ($99,000)

Cybersecurity engineer ($119,000)

Cybersecurity analyst ($106,000)

Security engineer ($125,000)

Security analyst ($97,000)
Most people can land one of these high-paying jobs with a bachelor's degree focused on computer science or cybersecurity. And there's no shortage of available roles. The top 10 companies with the most openings for cybersecurity jobs were:
Deloitte

Costco

VMware

The Federal Bureau of Investigation (FBI)

TikTok

Booz Allen Hamilton

Canonical

Splunk

IBM

Capgemini
Searching for High Paying IT Support Jobs
Next, we identified which cities are offering the highest pay for IT support jobs and which jobs companies are most looking to fill.

IT support basically means assistance with any hardware or software need. And while the pay for this work doesn't come close to that of cybersecurity, we found the highest IT support salaries offered in many of the same metro areas. Here are the top five cities where IT services cost the most:
Washington, D.C. ($96,000)

New York City ($94,000)

San Francisco ($92,000)

San Jose ($90,000)

Los Angeles ($86,000)
With more businesses realizing the truth of the mantra, "all companies are tech companies," it's little wonder that organizations have been most eager to fill roles within these support niches:
IT support specialist (with an average annual salary of $77,000)

IT support technician ($58,000)

IT help desk technician ($60,000)

IT support engineer ($79,000)

Technical support specialist ($81,000)
On average, IT support freelancers have been charging $85 per hour. But that rate was exceeded in New York City, where the highest average hourly rate was $106, followed by California ($97) and Florida ($90).
The Search for IT and Cybersecurity Talent
So, which states have the highest demand for these IT and cybersecurity workers?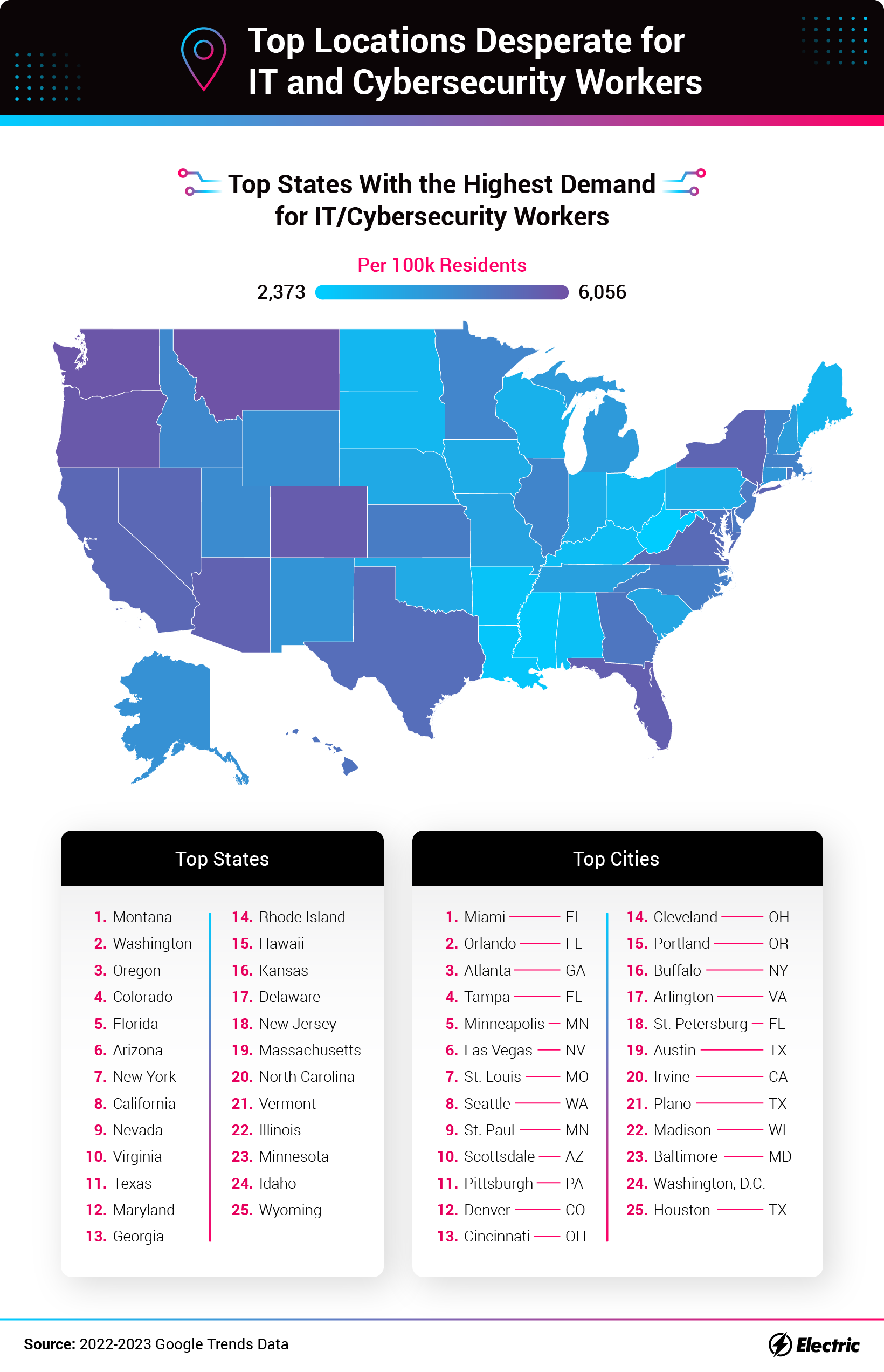 From 2022-2023, the three states in the most desperate need of cybersecurity and IT help were in the northwestern corner of the U.S. Montana had the highest number of online searches for these workers per 100,000 residents, followed by Washington and Oregon. 
Meanwhile, the three cities with the greatest need were in the South Atlantic region: Miami had the most tech talent demand, followed by Orlando and Atlanta. Florida is a popular retirement destination, and the many non-tech natives there might explain why our top two cities need a little extra tech help.
From Novice to Knowledgeable
Finally, we wanted to know which cities are asking the most questions about basic IT and what those queries consist of.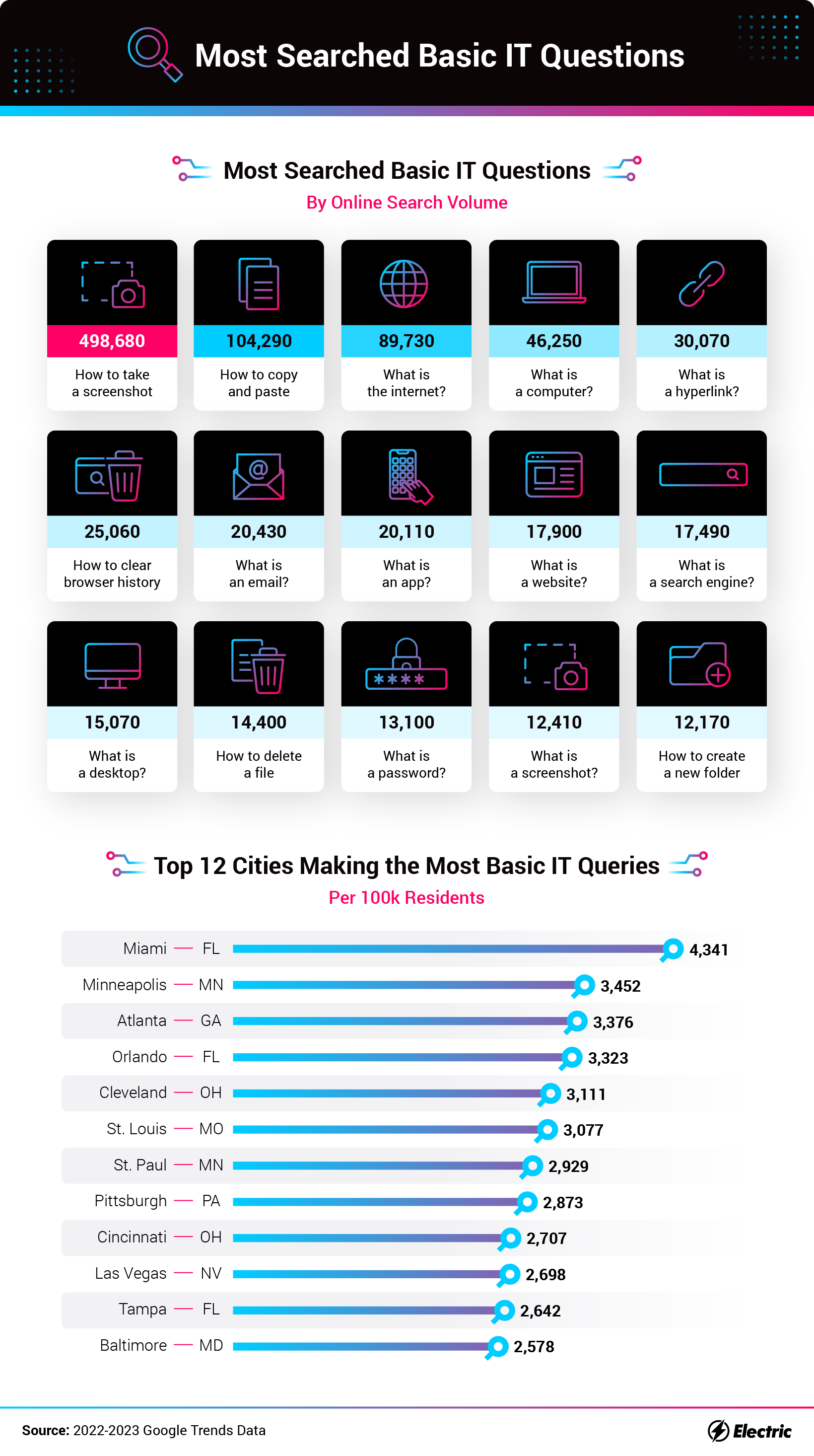 It's probably no coincidence that the city with the highest demand for cybersecurity and IT support workers is Miami. This city also happens to need the most help with basic IT questions. Miami-Dade County has a population of over 2.7 million residents, with more than half a million of them aged 60 years and older making it the home to more elderly residents than any city in Florida. This could further explain the greater need for help with tech issues that are often easily resolved by most young professionals with minimal training, such as questions like "What is a computer?" 
Minneapolis, Atlanta, Orlando, and Cleveland also ranked highly for basic queries, such as these top three most commonly searched:
"How to take a screenshot"

"How to copy and paste"

"What is the internet?"
When it comes to computer technology, it's clear that many seek assistance with even the most fundamental things.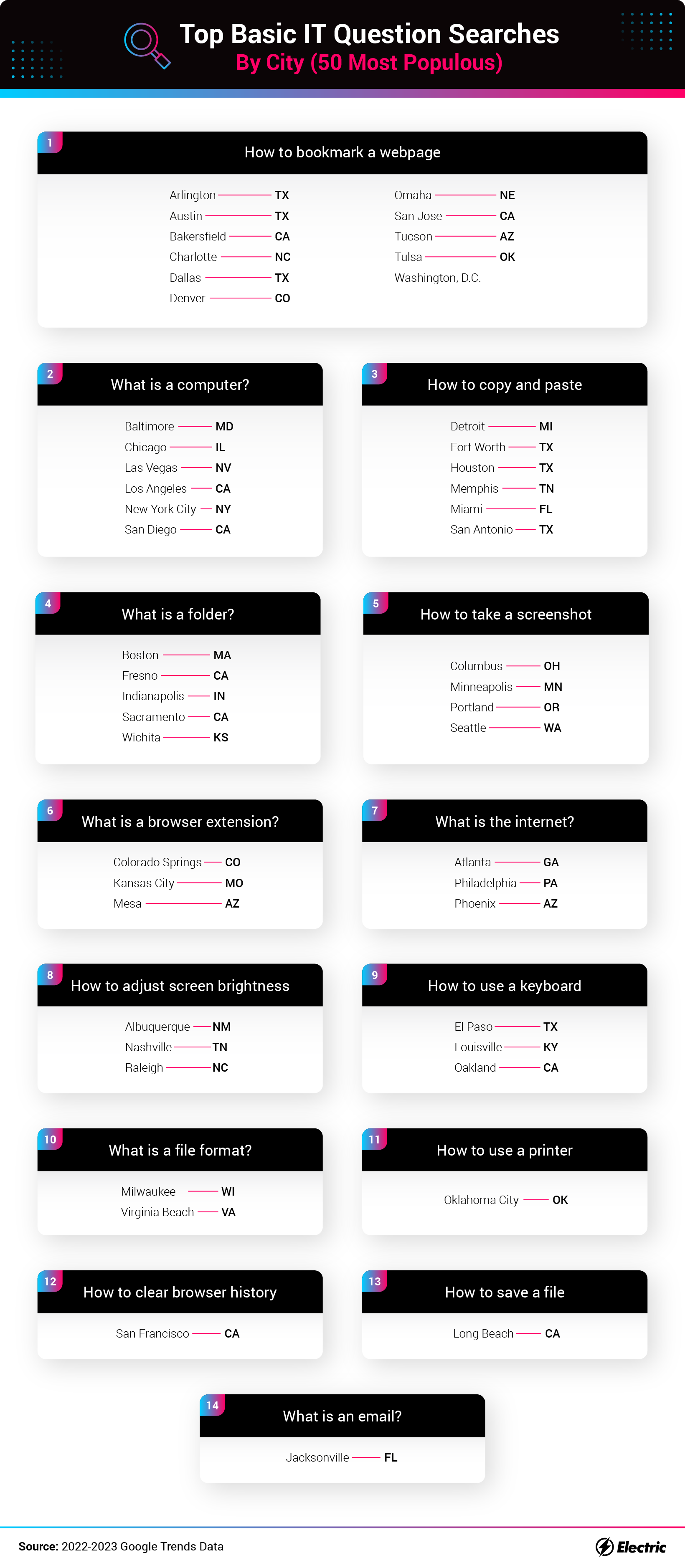 Who knew that an IT question as basic as "how to take a screenshot" would be the one searched most by residents of the sophisticated tech industry hub, Seattle? Or that those of Atlanta, Philadelphia, and Phoenix have most wanted to know, "What is the internet?" Even more surprising, people in Baltimore, Chicago, and Las Vegas have asked, "What is a computer?" more than any other basic question. And those in Detroit, Fort Worth, and Houston mainly wanted to know "how to copy and paste." With populations this computer-illiterate, there's sure to be a low bar for entry into IT support roles in these locations.    
Roadmap to Better Opportunities
Pay and demand for cybersecurity and IT support jobs have appeared to remain high. California's Silicon Valley, New York City, and Washington, D.C. offer the top pay for these positions. But demand for these workers' skills is strongest in the northwestern U.S. and southern cities like Miami, Atlanta, and Orlando.
Our study is a roadmap to help tech workers (including those impacted by recent tech layoffs) find the most generous pay and the locations where they're in the highest demand. And based on the questions people are asking the internet, those roles shouldn't be too hard to fill.
Methodology
For this campaign, we analyzed 1,437 job postings related to cybersecurity and IT support from Indeed. The average salaries displayed above were determined by considering the lowest and highest salary ranges mentioned in each job posting on Indeed. We also analyzed the average hourly rate of 200 freelancers working on cybersecurity or IT support from Upwork.
We also used Google Trends data from 2022 to 2023 to analyze search volume data for cybersecurity and IT support positions as well as questions related to IT across all 50 states and in the 50 most populated cities in the U.S.
About Electric
We offer real-time IT support to more than 50,000 end-users and centralized IT management to more than 1,000 customers, slashing IT spending by 50% for small- and medium-sized businesses. 
Fair Use Statement
If these findings have led you to reconsider the top locations for cybersecurity and IT support positions, please feel free to share them for any non-commercial purposes. We just ask that you include a link to this page providing credit for our research.