Finding the perfect candidate to join your team is no easy task. After an extensive recruitment process and several rounds of interviews, it can feel as though your job is finally done once an offer is accepted. In reality, however, a signed contract should signal that a whole new series of tasks is about to begin. To set your new employee up for success in their role, you need a comprehensive onboarding process. From team introductions and employee swag, to company devices and system access, this employee onboarding checklist covers all of the essentials for welcoming your new hire to the team.
Download the Employee Onboarding Checklist as a Google sheet, or keep reading for more!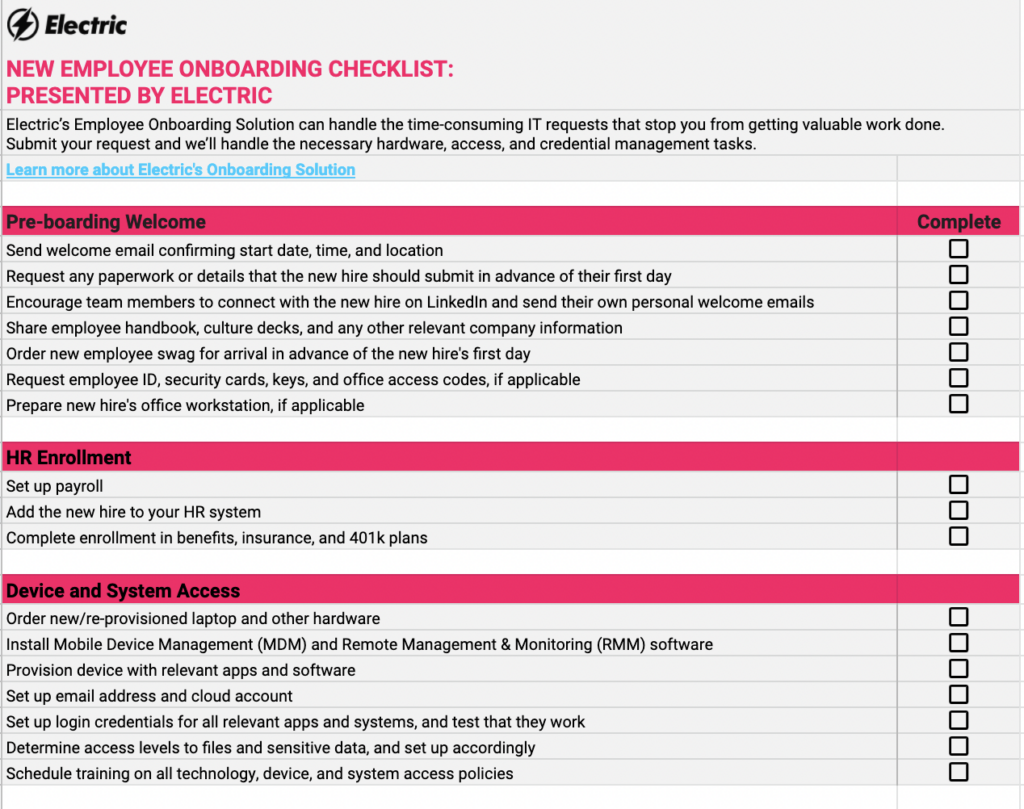 The Ultimate Employee Onboarding Checklist
Pre-boarding Welcome
Send a welcome email confirming the new hire's start date, time, and location

Request any paperwork or details that the new hire should submit in advance of their first day 

Encourage team members to connect with the new hire on LinkedIn and send their own personal welcome emails

Share your employee handbook, culture decks, and any other relevant company information

Order new employee swag for arrival in advance of the new hire's first day

Request employee ID, security cards, keys, and office access codes, if applicable

Prepare the new hire's office workstation, if applicable
HR Enrollment
Set up payroll 

Add the new hire to your HR system 

Complete enrollment in benefits, insurance, and 401k plans
Device and System Access
Order new/re-provisioned laptop and other hardware

Install Mobile Device Management (MDM) and Remote Management & Monitoring (RMM) software

Provision device with relevant apps and software

Set up email address and cloud account

Set up login credentials for all relevant apps and systems, and test that they work

Determine access levels to files and sensitive data, and set up accordingly

Schedule training on all technology, device, and system access policies
Remote Employees
Ship all equipment and employee swag to arrive prior to day one

Send remote welcome pack, such as a lunch delivery gift card to enjoy virtually with their new team

Set up VPN access

Ensure all welcome meetings and training sessions are set up virtually

Schedule additional training on remote work policy

Schedule virtual team-building sessions 

Schedule additional manager check-ins during the new hire's first day, week, and month to ensure they are supported
Day One
Greet the new hire on arrival and provide a tour of the office amenities, if applicable

Share a roadmap of the onboarding process, including all scheduled meetings and training sessions

Check that all equipment and credentials are working as expected

Introduce the new hire to their team and the wider company via email and/or messaging apps

Assign an onboarding buddy outside of the new hire's immediate manager or team members

Book a welcome lunch and/or virtual coffee dates for informal introductions
Week One
Schedule 1:1 meetings with fellow team members

Carry out HR orientation and system training

Provide company overview, values, and culture training

Schedule job-specific training

Schedule recurring feedback sessions between the new hire and their manager

Provide cybersecurity and device management policy training

Schedule 30, 60 and 90-day check in plan
Month One
Ensure the new hire and their manager meet weekly to discuss any questions or concerns

Schedule an end-of-month review to exchange feedback and outline the remaining onboarding tasks

Set goals for the coming months and request any additional resources or equipment the new hire may need

Plan ongoing team-building activities and 1:1 meetings
Month Three
Perform a three month review and sign off on completion of probationary period, if applicable

Discuss progression plans and further training and educational opportunities for the new hire

Schedule 6 and 12 month reviews
Streamline your Employee Onboarding Checklist
Getting new hires up to speed can place a huge strain on your internal resources. But, without a structured onboarding process in place, you risk reduced employee productivity and elevated levels of turnover. Take the manual work out of employee onboarding with Electric's Employee Onboarding Solution. Simply submit your request and we'll handle all of the necessary hardware, access, and credential management tasks. In one central hub, you'll be able to customize your requirements and view the status of all onboarding and offboarding requests. Get in touch to learn more!