Engineering and IT are often viewed as interchangeable functions in small businesses. Both departments deal with technology, so the confusion is understandable. However, this misinterpretation can lead to blurred lines of responsibility, and an unrealistic expectation that engineering should manage IT.
Software engineering and IT are, in fact, very distinct functions that require different expertise, experience, and skill sets. Merging the two departments can seem like a scrappy solution for businesses with limited resources; but in reality, this approach stunts performance in both areas.
Drawbacks of Assigning IT to Your Engineering Team
A lack of appropriate IT resources can have serious implications for business growth and team productivity. Below are four of the most common outcomes of assigning IT management to the engineering team.
Lack of Ownership
Your engineers were not hired to manage IT, and the work involved is not what they are accustomed to doing. IT is their secondary concern, which means it won't receive the focus or attention it needs. At best, minor IT issues will be resolved when your engineering team has time. But, without dedicated ownership, your IT environment will never reach optimum efficiency.
Lack of Expertise
Engineers are experts in their respective fields, but they are unlikely to have the knowledge required to effectively manage an entire company's IT. Your engineering team will not develop the same degree of automation as an expert IT team, they won't always use the best technology, and your IT won't be as secure as it should be. Yes, engineers will be able to take care of the basics, but advanced IT support requires specialist knowledge and experience.
Lost Productivity
When one team is responsible for both engineering and IT, neither function is managed properly. Context-switching between tasks, juggling multiple priorities at once, and dealing with interruptions all drain your engineering team's productivity. Investigating IT alerts or errors can also be incredibly time-consuming. Ultimately, this distracts from the software-building work that engineers are hired to do.
Employee Frustration
Naturally, these issues can also cause frustration for your engineering team. Usually, one or two people end up handling IT tasks, tickets, and general administration, despite being hired for a different role. Not only will these team members not enjoy this work, it's also a poor use of their time and expertise. In a competitive market for engineering and IT talent, this approach can have a serious impact on employee retention.
Benefits of Dedicated IT and Engineering Resources
An engineer might cover your rudimentary needs, but true IT innovation can only be achieved with expert management. Benefits of separate, dedicated resources for engineering and IT include:
Greater Efficiency
Device management, remote monitoring, zero touch provisioning, automated account provisioning for software – the IT industry has evolved rapidly in these areas to improve overall business efficiency. With the right resources, IT can streamline key processes and boost productivity.
Reliable Support
IT support runs much more smoothly when managed by qualified professionals. Ticket resolution has a quicker turnaround, processes are more streamlined and better automated, and security measures are far more robust.
Engineering Momentum
Of course, software-building projects also progress at an accelerated pace when your engineering team is free from IT distractions and interruptions. Not only can this expedite your product roadmap, it also fosters a more rewarding work environment for employees.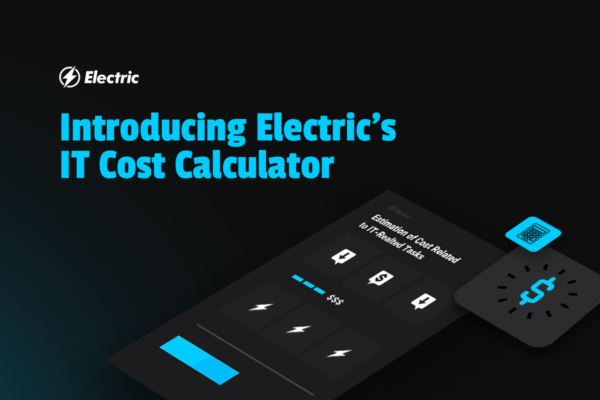 How much is IT truly costing your business?
Try Electric's free cost calculator to find out.
Calculate Your Costs
Why You Should Consider Outsourced IT
While the benefits of dedicated IT resources vs. an engineering team are many, it can be challenging for small businesses to build the necessary team in-house, especially when budgets are limited. In this scenario, outsourced IT management offers a cost-effective solution. Other benefits include:
Scalability
Outsourced IT offers a degree of flexibility and scalability that's almost impossible to achieve with an in-house team. Recruiting internally is expensive, and can take months for just a single hire. With outsourcing, it's quicker and easier to scale as your IT needs grow.
Expert Knowledge
Outsourced IT also gives you access to more advanced knowledge and expertise. Your capabilities are entirely different when you can rely on a team of network engineers, a team of security engineers, and a team of system administrators, to name just a few of the resources available with outsourced IT management.
Robust Cybersecurity
The expert knowledge that comes with outsourcing is particularly beneficial when it comes to enhanced security measures. Securing an entire organization's network, firewalls, endpoints, software, and data is hard work. It requires profound expertise in areas that are outside the scope of work of engineering teams, and in-house IT teams can struggle to manage security effectively alongside their other responsibilities.
Take IT Tasks Off Your Engineering Team
Let your engineers get back to the jobs they were hired to do. With Electric, IT responsibilities are taken off their hands, without the need to hire a full team of IT professionals in-house. Our centralized IT management and real-time IT support gives you access to over 200 technicians to solve your day-to-day requests. And, we can help you standardize security across your devices, apps, and networks. Get in touch with our team to learn more.