As technology plays an ever-increasing role in day-to-day business operations, it's essential to have experts on hand to keep your devices, apps, and systems running smoothly. IT support specialists play a critical role in this ongoing upkeep. Whether you need help updating a device, or want to grant customized employee access to company resources, an IT support specialist can offer the assistance you need.
If you're thinking about hiring an IT support specialist, or partnering with an external IT support provider, this blog post outlines everything you need to know.
What is an IT Support Specialist?
An IT support specialist is a technical professional who provides assistance to employees (or customers) experiencing IT problems. These issues might include computer crashes, password resets, connection difficulties, or other challenges related to your business hardware or software.
The IT support specialist might be an individual within your IT department, or in larger organizations, you could have a team of IT support specialists in-house. In some businesses, this function is outsourced to an external team of IT support specialists.
As business technology evolves almost every day, it's highly beneficial for small business leaders to have access to knowledgeable IT support specialists they can rely on. Ensuring consistent uptime of your business technology boosts productivity and keeps you competitive. A good IT support specialist knows what kinds of systems are available, how they work together, and what is needed to maintain them. They should also understand how employees interact with these systems so they can identify problems and offer solutions quickly.
What Do IT Support Specialists Do?
An IT support specialist provides assistance to users in a business when they encounter technical difficulties. Traditionally, this support was provided in-person at a physical office helpdesk. Today, however, IT support specialists can perform their duties over the phone, via instant messaging platforms like Slack, or by remotely accessing the computer in question.
Although their tasks will vary from day to day and business to business, an IT support specialist's responsibilities might include:
Troubleshooting issues with laptops and mobile devices
Attending to problems with other equipment, such as printers
Resolving user issues with email accounts, file-sharing systems, or cloud storage services
Monitoring and maintaining routers, switches, and other network infrastructure
In addition to these practical skills, an IT support specialist usually has robust knowledge of various types of hardware and software, a good understanding of cybersecurity best practices, and a wide breadth of experience across multiple SaaS platforms.
What is the Difference Between an IT Specialist and IT Support?
While many businesses use these terms interchangeably, there are some differences between IT support and IT specialist roles. Usually, it comes down to the type of task they perform. For example, if you experience an IT issue that requires rapid troubleshooting, you will likely need IT support. On the other hand, if you need an expert that can provide strategic IT recommendations as you scale, an IT specialist might be more suitable. In situations when you need the input of both, it can be more cost effective to outsource to a managed IT provider that has a team of varied specialists for you to leverage.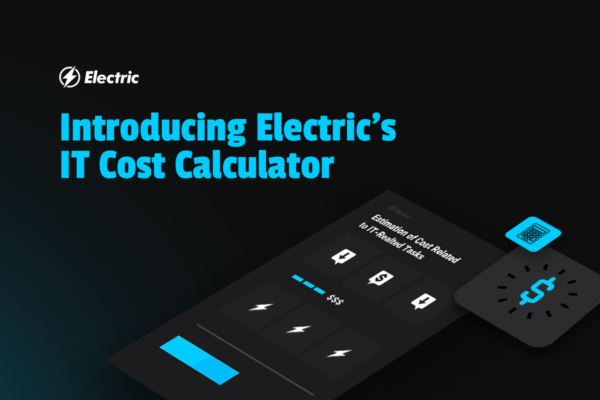 How much is IT truly costing your business?
Use Electric's free IT cost calculator to find out today.
Calculate Your Costs
What Should an IT Support Specialist Know?
An IT support specialist should know how to quickly identify the cause of a technical problem, isolate the issue, and resolve it efficiently. To keep the relevant team members or stakeholders informed, an IT support specialist should also know how to communicate status updates clearly and set realistic expectations for a solution.
An IT support specialist's knowledge should also cover a wide range of devices, operating systems, and software, especially if your business uses a varied tech stack and you only have a single specialist on your team. For more in-depth knowledge of specific technology, it's beneficial to have access to a number of specialists in different areas.
The Pros of Hiring an IT Support Specialist
Managing your tech setup can be a big job, especially if you're unfamiliar with all of today's advancements in this space. The pros of hiring an IT support specialist include:
Optimization of your tech stack
Expert troubleshooting and ticket resolution
Increased productivity and efficiency
Reduced downtime
Improved insights into recurring technical issues
The Cons of Hiring an IT Support Specialist
Unfortunately, hiring an IT support specialist in-house can be beyond the means of many small businesses. Cons include:
Cost of recruitment
Ongoing labor costs
Limited knowledge and resources if reliant on a single specialist
Limited support outside of business hours
These drawbacks can make hiring an unrealistic option, but there is an alternative. With outsourced IT support, you gain all the benefits of an IT support specialist, and you'll have access to more in-depth knowledge and a larger team of experts. All of this, without the cost of recruiting in-house.
Get Expert IT Support for Your Business
Businesses of all sizes are turning to managed IT providers to take on their support needs and maximize the value of their tech stack. With Electric, your team gets access to over 200 IT technicians to solve your day-to-day IT requests. We're just a chat away, with an initial response time of 10 minutes or less. Contact us today to learn more about our real-time IT support.