With many small and medium-sized businesses still feeling the effects of The Great Resignation, talent retention is now a top priority. Employee turnover is costly for small companies, and filling vacant positions can take months. Keeping workers happy and engaged is undeniably good for business, but employee values have changed significantly in recent years. To reduce turnover and nurture top talent, employers have to rethink traditional talent retention strategies.
This article outlines five surprising ways that IT can contribute to employee retention, alongside other established engagement tactics.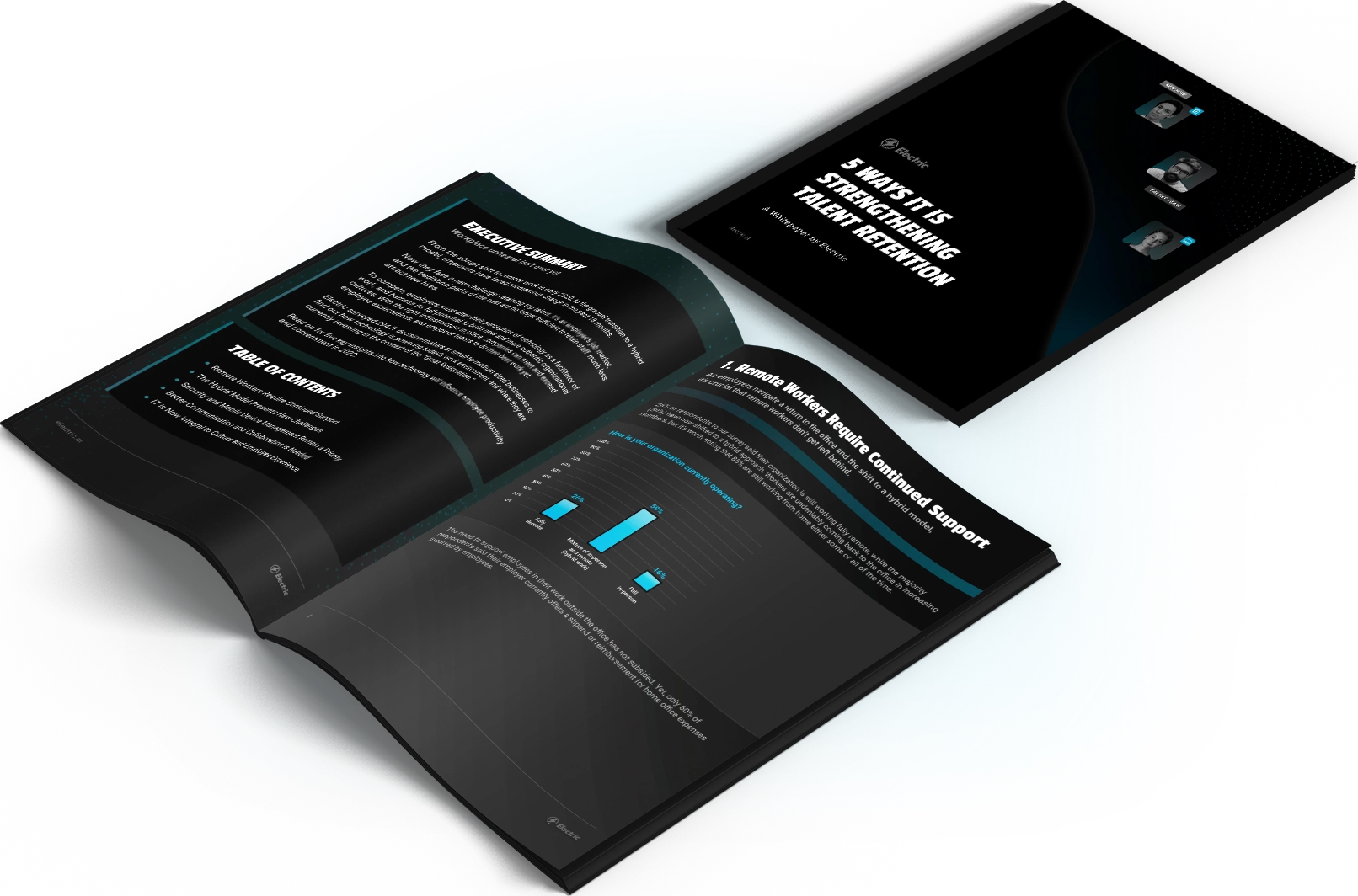 5 Ways IT Strengthens Talent Retention
In a competitive market for talent, employers must alter their perception of technology as a facilitator of work, and harness its full potential to build new and more authentic organizational cultures.
Read the Full Report
What is Talent Retention?
Talent retention is the ability of a company or organization to retain or hold on to their employees. Talent retention seeks to reduce employee turnover through identifying the key reasons behind workers resigning, and taking the necessary steps to resolve these issues. In the long term, talent retention strategies also seek to enhance overall employee satisfaction and engagement.
Employee retention is of critical importance for small businesses, as a failure to invest in talent can turn out to be quite costly. Studies show the financial impact of losing a worker can range from tens of thousands of dollars to 1.5 – 2x the employee's annual salary.
If you consider replacing a worker earning an annual salary of $60,000, recruiting and training will cost your company around $90,000 to $120,000. To ensure you keep your top talent and save on unnecessary hiring costs, you need to implement an effective talent retention strategy.
3 Important Talent Retention Strategies
Employees are considered one of the most valuable assets in an organization. Here are some of the long-standing strategies that can help your workplace to lower employee turnover.
Improve Employee Engagement
Employees that are not engaged in their work can be toxic to an organization. They can unintentionally lower team morale and set a poor example for other employees. Disengaged workers cost the US over $450 billion annually, due to lost productivity.
To improve engagement, employees need a voice to influence the decisions affecting them in the workplace. Giving employees an outlet for feedback and turning their ideas into action can dramatically improve your retention rates. Start collecting data through surveys and HR chatbots, which provide workers with an always-on communication channel, and make sure to follow up on feedback with a visible response.
Recruit the Right Employees
Talented workers want to surround themselves with like-minded people who can offer learning and inspiration. Part of the HR team's responsibility is to attract the right talent for the right roles, and hire people who share the same goals and values as your organization. This can significantly reduce turnover as new hires quickly feel at home in your company.
Of course, this is easier said than done. Recruitment can be challenging and time-consuming for hiring managers, but it's worth investing in a thorough screening and interview process to find the right people. Ensure you are reaching a diverse pool of applicants when advertising vacancies, and train all team leads on inclusive and equitable recruitment practices for the best results.
Create an Exceptional Onboarding Experience
After attracting and recruiting the right employees, it is important to have an exceptional onboarding experience that accelerates the employee from outsider to an insider. It can take up to two years before a new employee reaches the same level of productivity as an existing employee. To combat turnover during those early weeks and months, you need a proactive, welcoming onboarding process.
During this period, you need to make the new talent feel comfortable by giving them the resources they need, educating them on their responsibilities, and creating an environment where they feel accepted. Managers have a huge role to play during the onboarding process, so provide training accordingly – nearly half of employees resign from their job due to bad managers.
5 Ways IT Strengthens Talent Retention
A decent salary and benefits package is no longer enough for successful talent acquisition and retention. Similarly, traditional retention strategies only go so far in modern workplaces. Today, employers need to explore other opportunities for retaining and engaging employees in a digital-first environment. Here are five ways that IT can strengthen talent retention:
IT Supports and Engages Remote Workers
While many workers have returned to the office either full or part time, employers shouldn't overlook remote employees. No matter where your employees work from, they should have access to the hardware and office equipment they need to perform. Those who are permanently working from home also require additional support in order to feel engaged. IT is integral to team bonding in remote and hybrid environments, and the right communication and collaboration tools go a long way toward replacing face-to-face interactions.
IT Ensures Consistency in Hybrid Workplaces
While the hybrid model can deliver the best of both worlds, it also comes with a unique set of challenges. Transporting laptops and other equipment back and forth between home and office can quickly become frustrating for employees – and that's before you even consider the added cybersecurity threat of company assets being carried on public transit. If you operate a hybrid model, make sure you have the technology in place for employees to access systems, apps, and tools seamlessly, regardless of their location.
IT Eliminates Employee Frustration With Outdated Devices
Outdated devices pose a major cybersecurity risk, and can be a significant source of frustration for employees. In hybrid and remote environments, employers must take on the responsibility of keeping devices, systems, and apps up to date at all times, so that employees can perform efficiently. Assigning technical duties to non-technical employees or implementing ineffective software will not only hamper productivity, it's likely to lead to errors and potential exposure to attacks.
IT Facilitates Communication and Collaboration
The uptake of collaborative tools and technology increased dramatically during the pandemic, but distributed communication is yet to be completely perfected. By taking advantage of more innovative forms of remote collaboration, such as asynchronous communication, employers can improve productivity and job satisfaction, while reducing the time that workers spend in needless meetings.
IT is Integral to Modern Company Culture
IT has shifted from purely being a facilitator of work, to an integral component of company culture and the overall employee experience. At the beginning of the employee journey, the onboarding process forms a lasting impression. For long-term employees, tech resources directly impact their opportunities to grow and progress. Building a strong culture that supports employee retention is simply no longer possible without supporting technology.
Enhance Your Talent Retention with IT
While most companies focus on the security and efficiencies that technology brings, you can gain a competitive edge by understanding the impact IT has on your employees. IT can be a strategic driver of talent retention, but only if leveraged effectively. Managing the IT needs of even a single employee can be a challenge, which is where Electric can help. With a centralized view of your IT, it becomes much easier to deliver positive employee experiences. Get in touch to learn more about our solutions.