Whether you lead an IT department, or manage a team like HR or Ops, the right tech stack can power growth, innovation, and greater efficiency. Yet, getting sign-off on new and improved IT resources can be a challenge. If you're struggling with outdated technology or inadequate support, keep reading for the negotiation tactics you need to secure better resources for your team.
Signs You Need Better IT Resources
IT resources don't just make your job easier. Improved efficiency and productivity boost your organization's bottom line, and a stable and secure IT infrastructure keeps your most valuable assets protected. When existing technology is no longer sufficient to meet your needs, your team or organization may experience:
Downtime and lost productivity
Slow troubleshooting and incident resolution
Cyber attacks or data breaches
Inadequate backup and recovery plans
Incompatible systems and employee frustration
How Outsourced IT Can Make Your Job Easier
Overhauling your IT resources isn't easy, particularly when you still face the demands of everyday work. This, coupled with the perceived costs of upgrading IT, can lead many decision-makers to postpone necessary improvements.
Fortunately, as a small company, you don't have to research, purchase, and implement all of the required resources by yourself. When it comes to negotiating for better IT, approach your leadership team with the option of outsourced IT services. By partnering with an external Managed IT Solution, your organization will have:
Access to the latest technology
Access to IT knowledge and expertise
Improved visibility of your IT infrastructure
Improved security and risk management
Reduced IT operational expenses
Proactive monitoring and support
More time to focus on your core business
8 Ways to Negotiate for Better IT Resources
Even when there is a clear need for improved IT resources, the decision-makers involved might still need some convincing before they sign off on an upgrade. To effectively negotiate for better IT, make sure to highlight the following benefits.
1. Overall Cost Savings
Sometimes, there is a perception that increased IT resources will lead to increased costs. However, the opposite is true when improved efficiencies are taken into account. With better resources, you can automate repetitive tasks, reduce manual input, and minimize human error. Employees have more time to complete the work they were hired to do, and team leaders are freed up to focus on business growth. Additionally, with a managed IT solution, you will often have access to software discounts and streamlined costs.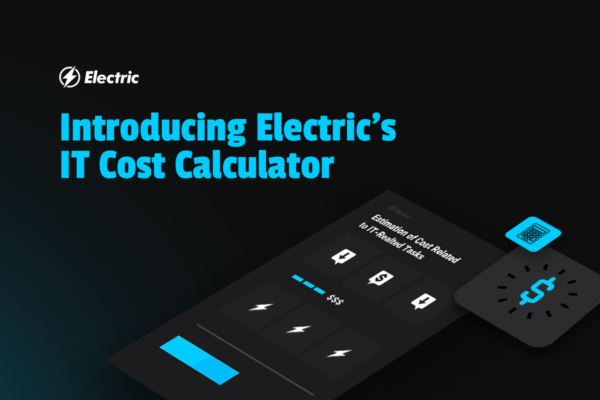 How much is IT truly costing your business?
Use Electric's free IT cost calculator to find out.
Calculate Your Costs
2. Better Business Security
Cyber attacks increased by more than 15% in 2021. Small businesses are particularly vulnerable to attack because they often lack the security of larger enterprises and are seen as an easier target by cyber criminals. Outsourcing your IT offers more advanced protection than can be achieved in-house, as teams of cybersecurity specialists can protect and monitor your assets while providing advice on the most secure IT resources for your business needs. When negotiating with your leadership team, make sure to highlight the potential repercussions of a cyber attack should they fail to improve security resources.
3. Improved Visibility and Decision Making
With better IT resources, comes better data and more informed decision-making. Centralized IT management systems provide you with real-time insight into your entire IT infrastructure, so you can proactively make improvements and resolve issues before they impact productivity. Improved visibility also helps your organization identify duplicate software or redundant apps, making it easier to streamline IT and achieve even more cost savings.
4. Compliance
Achieving compliance can be a complicated process, especially for small businesses with limited resources. However, this requirement is non-negotiable, and the consequences of non-compliance are extremely expensive to rectify. Many business leaders overlook the role that IT resources can play in making this process easier. When negotiating for new technology, outline all of the compliance protocols, reports, and documentation that would be simplified with access to the right resources.
5. Increased Productivity and Efficiency
Business productivity is heavily reliant on the quality of IT resources. With the right software, systems, and support in place, you can minimize downtime and maximize employee output. When negotiating for better IT resources, make sure to document incidents of lost productivity due to outdated technology. Any costs associated with upgrading your IT are likely to be far less than the overall cost of inefficient processes and tech-related downtime.
6. Improved Employee Morale and Retention
As well as improved productivity, employees are likely to feel more engaged and motivated if they have access to the right technology. Regular crashes, slow devices, and outdated applications all add to employee frustration. Morale and retention improve when workers feel supported to do their best work, and talent acquisition becomes easier when candidates know they are joining an organization that values innovation and growth.
Get More Value From Your IT Resources
If your organization is struggling with IT, more resources might not be the answer. Instead, small businesses must focus on implementing the right tools, and managing their resources effectively to extract their full value. At Electric, we take care of IT, so you can get back to more strategic work. Get in touch to learn more about our real-time support, centralized IT management, and standardized security.