In the face of economic uncertainty, many business leaders cut valuable resources like IT to save costs. Unfortunately, this approach can impede productivity and growth in the long-term. In the latest webinar of Electric's Leadership Series, our panel of experts discussed strategies to optimize IT spend and find efficiencies in the current economic environment.
Matt Doong, Director of Business Development at Electric, was joined by:
Steven Lord, Fintech & Crypto Practice Lead & Chief Learning Officer, Burkland
Danielle Cox, Director of IT at Derby, Bill.com
Stephanie Carton, Co-Founder, Entreprenista
Tom Hughes, Director of Services Delivery, Electric
Watch the full webinar here, or read on for a recap of their insights!
How is Economic Uncertainty Impacting IT and Security Budgets?
A poll of webinar attendees found 45% are currently reducing budget spend in response to economic uncertainty, while 36% reported no change in their budget. The panelists said this response is reflective of their interactions with executives, board members, and investors.
"Obviously, everybody is under pressure to be prudent with their spend," says Steven. "As it relates to IT and tech, a lot of that comes down to being careful with tech creep. Do we really need X, Y, and Z? Businesses must be thoughtful and efficient with capital."
With funding and valuations in a state of flux, organizations might not have access to follow-on capital rounds as quickly as in the past. From a board perspective, Steven says growing businesses must also be cognizant of security risks. "At this moment, the last thing companies need is some sort of cybersecurity event that could be extremely expensive to rectify."
Additionally, he says there is greater pressure to review outsourced opportunities to reduce in-house spend. Hiring priorities have shifted in many businesses, and it could be more cost effective to devote full time hires to product or marketing, as opposed to internal IT.
In-house vs Outsourced vs De Facto IT: Which Saves You More?
Tom says de facto IT – where someone is hired for another role but also takes on IT responsibilities – can occasionally work in smaller business environments. "But what you're going to find is, when it comes to budgeting, that particular individual or group of individuals isn't going to have the time or ability to manage the entire IT infrastructure… We look at de facto as more of a band aid."
When it comes to in-house IT, he says there is still a risk of hiring people who don't have the required expertise. "We find more and more people are shifting to an MSP. You're getting the expertise, the round the clock model, and you're getting people that have seen so much in other IT environments."
Tom says outsourced IT also provides peace of mind that reactive tickets are handled efficiently, while systems and networks are proactively monitored. "The proactivity element is so important," Steven added. "Proactively managing IT as opposed to waiting for it to become a problem – for CFOs, that's our world. We're all about having those high beam headlights on. The time to really think seriously about this kind of decision is before you need it."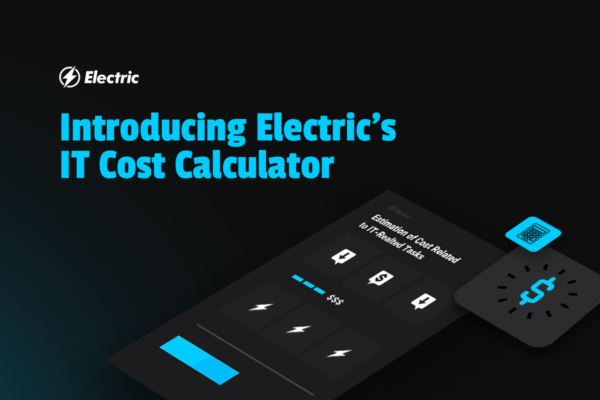 How much is IT truly costing your business?
Use Electric's free IT cost calculator to find out today.
Calculate Your IT Costs
What Business Use Cases Call for Outsourced IT?
As an Electric customer, Stephanie first decided to outsource IT when her team transitioned to remote work and centralized IT management became a challenge. "Electric handling everything for us has been absolutely incredible. We looked at a lot of different options and other outsourced providers to see what would make the most sense financially and in terms of ease of use. With Electric, everything is organized on Slack, so we knew it was going to be very easy to integrate and the team would understand how to ask for help."
Responsiveness and volume of work are other key indicators that it might be time to outsource IT, says Tom. In an event like an outage, an in-house team is quickly overwhelmed by requests. Tasks like platform migrations or employee onboarding are also challenging with limited resources.
"One person can't do it. A group of people may be able to handle it. Definitely not de facto, you're going to overwhelm that individual, whatever position they currently have. The volume is going to be a very important factor in whether an outsourced provider is more capable of handling all those requests in different ebbs and flows."
Practical Strategies for SMBs to Optimize Budget
A strong partnership with your Finance team is key to optimizing budget, says Danielle. "The most important thing to start off with is a high level view of your budget. Partner with your Finance team to understand where that money is going, what's coming in, and what needs to be purchased."
By collaborating closely with Finance and other departments on their software use, budgeting becomes much more transparent. Keep a spreadsheet of all IT-related spend to identify opportunities for savings. Then, duplicates can be consolidated, efficiency improves, and discounts become a possibility.
"Once you have just one email solution, one chat solution, one video conferencing solution, then you can start looking for savings. As you scale and grow, you should start getting a discount for bulk amounts… List out how your software is priced – is it per user, per year, or per month? When you have that insight, you can try to get discounts with those vendors."
Negotiation can also be outsourced to a third party, Danielle says. Companies like Tropic provide access to greater software discounts, as well as data-backed insights into the best solutions for your needs.
How Can Effective Budgeting Save IT Costs?
Steven says budgeting problems arise when founding teams try to manage IT themselves. There is a perception that IT is "free" if it is managed by the CEO, when in reality, there is a significant cost associated with their time. For startup teams, it can be difficult to calculate these hard vs soft costs.
Steven uses a cost of capital metric to counteract this problem. "If you invest in founding teams that are spending time on administration instead of developing the product, we CFOs have a reverse calculation: what is the additional value that you would have created had you been focusing on your real job as CEO or CFO, as opposed to dealing with an outage?"
Stephanie says her business had similar challenges before they partnered with Electric. Employees came to her office for troubleshooting, and other work would be put aside until the issue was resolved. "The amount of hours that we spent trying to manage IT ourselves instead of looking for another solution, we probably lost a lot of money and time."
Entreprenista experienced significant cost savings when they made the decision to outsource. "Before we started working with Electric, we interviewed other providers for similar services… Electric had a much larger team, everything was integrated, and it cost about 50% less than the quotes we received from other providers. We have definitely saved."
What Landmines Should Startups be Aware of When Seeking Cost Efficiencies?
Steven says ROI is naturally top of mind for CFOs. "Remember that rising rates equals a higher cost of capital for the Finance team, so the hurdle is a little higher now. Money is more expensive. Don't just go to your CFO or Finance team with what you need, go with the business case as to how those dollars are going to help."
Compliance is another potential landmine. "In the name of saving money, you have to watch two things, IT security and compliance. A lot of companies deal in areas that require them to be compliant, so there are elements that you have to be careful of when you want to increase efficiency. People think it's just about saving money. It isn't. It's about spending money smartly."
Risks of Underfunding IT and Security
Like all aspects of technology, IT security requires ongoing investment. "If you don't invest in your technology, your technology won't work. It requires maintenance, troubleshooting, reviewing, and updating. Technology is constantly evolving, so it really needs that attention," says Danielle.
Technology integrations and compatibility can also be put at risk by underfunding or elimination of resources. "Technology works with other types of technology. If you have one and not another, it may not work. You may not get the most value out of it."
Cybersecurity risks are also heightened by IT underfunding. "If you have a malicious attack or a virus gets into the infrastructure of your product, you can potentially be shut down. The other risk is that you're out of compliance. People won't want to do business with you because you're not following best practice standards."
Save on Your IT Costs with Electric
Want to learn more about optimizing your IT costs? Electric's real-time IT support, centralized IT management, and standardized security saves businesses up to 50% on their IT spend. Get in touch today to find out more about our Managed IT Solution. For more insights from our panel of experts, watch the full webinar here.