Small and medium-sized businesses rely on a growing number of applications to facilitate team collaboration, employee productivity, and business growth. While the benefits of business apps are immeasurable, they also require ongoing oversight to ensure optimum performance. As your organization scales and begins to use more and more applications, the administrative work involved can put a strain on your in-house resources.
To reduce the workload for internal IT teams, businesses often outsource this work to an external application manager. Keep reading for everything you need to know about application management services, tools, and benefits.
What is an Application Manager?
An Application Manager is the job title given to an IT specialist that manages and maintains all of the applications used within an organization. An application manager could be an in-house employee, or an external application management provider. In both cases, they typically have multiple responsibilities spanning application implementation to maintenance, security, and user permissions.
Below are some of the responsibilities of an application manager:
Application problem resolution, including troubleshooting
Provision of training and guidelines for application users
Analysis of application workflows and efficiencies
Application performance monitoring and alerts
User access control and overall application security
3 Types of Application Management Services
Application management can involve more work than many business leaders initially realize. To combat this challenge, many organizations outsource application management services to a third party. In doing so, the following responsibilities are taken on by the service provider in question.
App Installation and Access Management

As your software stack grows, you need to be increasingly aware of which employees have access to what data. Not only does this improve security, it also boosts productivity by ensuring workers have access to all of the resources they need. An external application manager can take care of the initial installation of apps on employee devices, as well as ongoing license and user management, and the approval of app requests.

App Visibility and Control

With so many applications in use in an organization, it can be easy to lose track of what technology you're using, and which software is costing your business but failing to provide value. Application managers can provide improved visibility of overall app usage in your company, and make recommendations on where gaps exist and consolidation could occur. For your in-house admins, this also means greater clarity on default app settings, and control over custom user profiles

App Security

The increase in cyber attacks continues to affect businesses as hackers devise creative methods of hacking systems and compromising data. Business apps are just one of the potential ways that threat actors can attempt to infiltrate your network, making app security extremely important. An application manager can counteract these risks by keeping apps up to date at all times, and preventing files from being shared externally.
Top 3 Benefits of an Application Manager
Here are the three most important benefits of outsourcing your business's application management.
Saves Time and Money

No matter the number of software applications within your organization, the work involved in managing them effectively can be surprisingly time-consuming. A quality application manager simplifies your workload and takes tasks off your IT team's hands. By identifying redundancies or duplication between applications, they can also help you streamline your software and save you money.

Improves Productivity and Business Growth

By outsourcing the admin-heavy tasks involved in application management, your time is freed up to focus on more strategic work. In addition, by keeping your applications running smoothly, your employees are less likely to experience downtime during app crashes or inconveniently timed updates.

Access to IT Specialists

Outsourcing application management to a team of experienced IT experts means your software is in safe hands. Specialist application managers understand the finer details of application maintenance, and are likely to have in-depth knowledge of best practices that your internal team may be unfamiliar with. This results in greater efficiency, insights, and security.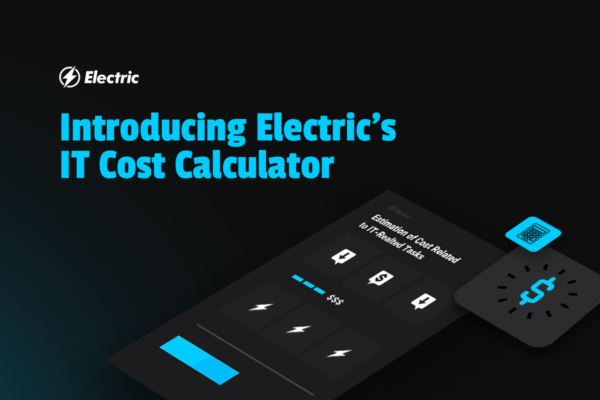 How much is IT truly costing your business?
Try our free IT cost calculator to find out how much you could save with Electric.
Calculate Your IT Costs
How to Choose the Best Application Management Tools
With multiple application management tools and service providers on the market today, choosing the right solution requires careful analysis and consideration. Below are tips to help you choose the right application management tool for your business needs.
Document your current challenges and frustrations with application management
Audit all of the apps in use in your organization and compile a comprehensive list
Assess the time and resources currently involved in troubleshooting application problems.
Research tools that align with your business needs, goals, and objectives.
Consider the cost of the tools on offer and calculate the potential return on investment.
Check if the service providers in question offer real-time customer support.
Ensure the application management tools or platforms in consideration have a user-friendly interface.
Ascertain whether the application management tool or solution is scalable, adaptable, and flexible to accommodate future growth.
Choose an Experienced Application Management Provider
When outsourcing your application management, hiring a managed solution provider with in-depth experience and knowledge of business applications is imperative. Electric's team of IT experts can handle your app management and boost your business productivity by taking labor-intensive administrative tasks off your hands. Want to learn more about our application management services? Contact us today to discuss your IT needs.