Automation is one of the most powerful ways for small businesses to streamline operations, reduce costs, and fuel growth. Your tech stack, in particular, presents a range of opportunities to eliminate repetitive tasks and reduce manual input. If technology management is taking up valuable time in your organization, it's time to consider IT process automation.
In this guide, we'll take a look at the benefits and applications of IT process automation, as well as tips for how your business can get started.
What is IT Process Automation (ITPA)?
IT process automation (ITPA) is the integration of automated procedures to manage IT services, support, and administration. IT process automation facilitates the bridging of multiple platforms, systems, and applications, thus eliminating procedural bottlenecks.
ITPA enhances the organization of information technology workflows to help businesses save time and resources, leaving more room to work on growth-impacting initiatives. According to one study, two-thirds of organizations already use process automation in one or more business functions, with the uptake increasing steadily every year.
Some examples of business functions that can benefit from IT process automation include:
Employee onboarding and offboarding
Device procurement and provisioning
Workforce scheduling and people management
Cybersecurity patches and upgrades
Payment and payroll processes
Reporting and data management
The Top 8 Benefits of IT Process Automation
For growing businesses, the benefits of IT process automation are significant. Here are 8 advantages of ITPA:
1. Enhanced Efficiency
IT process automation enables businesses to eliminate repetitive tasks and focus on boosting productivity and efficiency. As your business scales and resources become more stretched, ITPA gives you back valuable time to focus on strategy and critical initiatives.
2. Improved Productivity
IT process automation helps to solve the "productivity paradox", where employees can become less effective as their use of technology increases. Instead of spending time managing and switching between various tools, employees can rely on ITPA to optimize tech processes while minimizing the necessary input.
3. Better Compliance
In finance, healthcare, and other sectors where compliance and regulation are paramount, ITPA plays an integral role in control and oversight. Automation ensures critical processes are performed consistently, reducing the chance of costly human errors.
4. Reduced Margin for Error
Minor human errors can lead to serious system malfunctions and security breaches. IT process automation reduces this risk by standardizing best practices around security and essential workflows, which is essential as your business scales.
5. Greater Employee Satisfaction
Another perk of ITPA is that employee satisfaction tends to increase as less time is spent on repetitive or tedious work. With manual processes automated, workers can focus on more creative and challenging tasks, which boosts both productivity and retention.
6. Strengthened Security
As the cyber threats faced by small businesses continue to mount, IT process automation can help keep your business safe. Instead of manually installing, updating, and monitoring protective software, ITPA deploys cybersecurity measures consistently across your entire organization.
7. Better Scalability
As your business expands, IT process automation is invaluable to perform critical tasks at scale. ITPA can be customized to your organization's size and required functions, making wide-reaching changes possible with simple updates to your central processes.
8. Seamless Technology Integration
Finally, IT process automation enables you to seamlessly integrate processes, people, and tools through automated workflows. In the long term, ITPA helps to streamline your organization's IT management as a whole.
IT Process Automation Software & Tools
IT process automation software allows you to manage all of your automated processes from a single location. The types of IT process automation tools available to small businesses can help with a range of functions, including:
Onboarding and Offboarding
With employee onboarding and offboarding automation, you can significantly reduce the time spent on these time-consuming processes while improving the employee experience. For new hires, onboarding automation takes care of everything from payroll paperwork to system access, while offboarding automation ensures departing employees have their permissions revoked at the appropriate time. Some solutions can reduce onboarding times from 8+ hours to less than 10 minutes.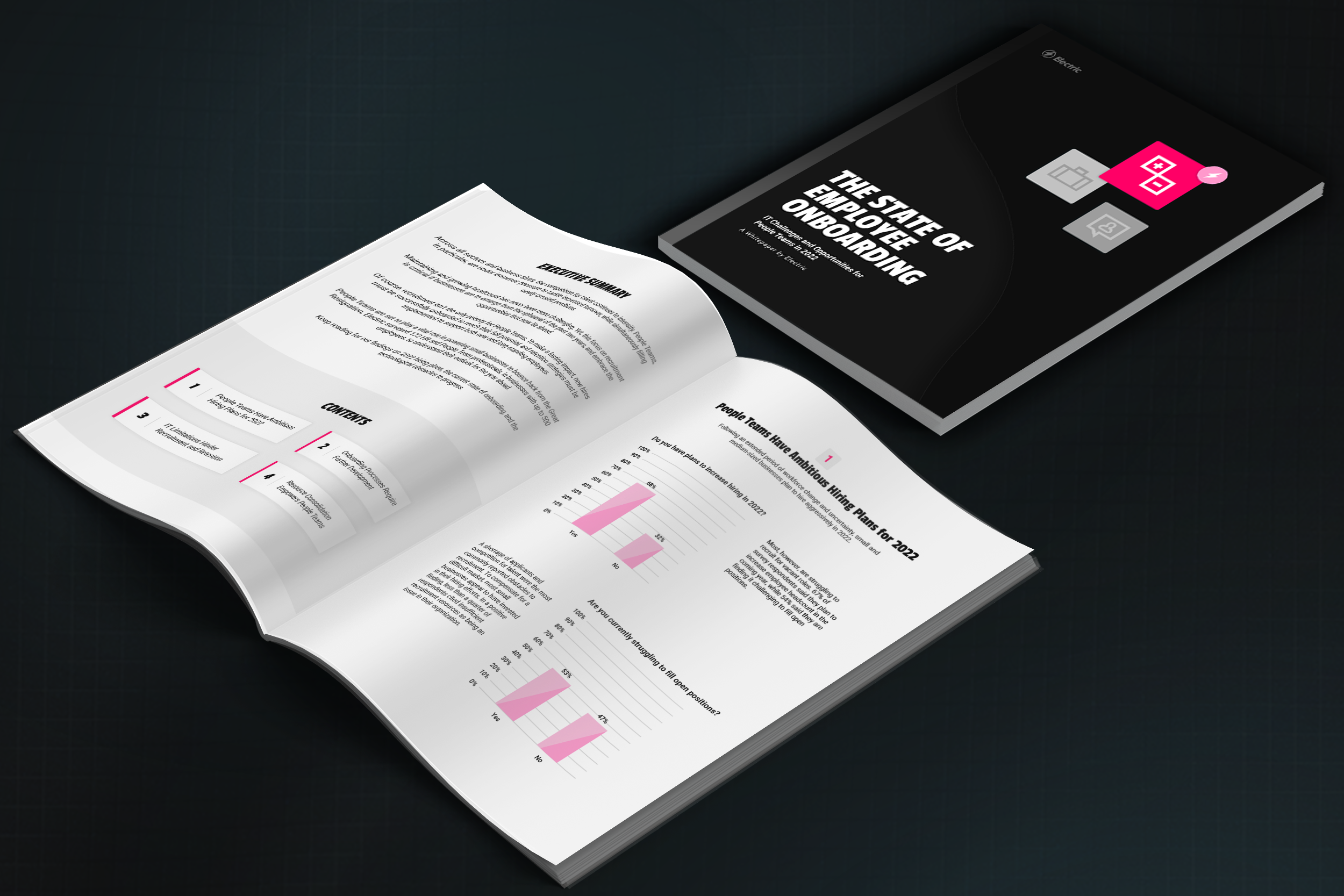 The State of Employee Onboarding
Discover the IT challenges and opportunities for People Teams in the year ahead.
Read the Report
Device Procurement and Provisioning
IT process automation software helps eliminate device procurement and provisioning bottlenecks. From ordering new devices and delivering them to employees, to installing the necessary software and granting appropriate user permissions, this form of IT process automation can produce extensive time savings.
Cybersecurity
IT process automation tools for cybersecurity ensure uniform deployment of security measures across your entire organization. Automatically roll out patches and upgrades as they become available to keep your data safe, and automate malware protection with endpoint detection and response (EDR).
How to Get Started with IT Process Automation
For organizations looking to get started with ITPA, follow these 4 simple steps:
1. Identify the desired processes
The first step in ITPA implementation is to identify the processes that you want to automate. These processes should involve tasks that are currently very repetitive and/or time-consuming, and have the potential to be standardized and streamlined.
2. Set organizational goals
The next step is to establish what you wish to gain from IT process automation. Set out your desired outputs and define measurable KPIs that you can use to track progress and iterate your processes later on.
3. Choose the right tools
Next, procure the relevant automation tools and seek out implementation advice and assistance from the experts. This step will help you get up and running with ITPA as quickly as possible.
4. Manage changes and collect feedback
The final stage of ITPA implementation is change management and employee training. Ensure team members have everything they need to manage newly automated processes, and solicit feedback to evaluate your KPIs and improve your strategy over time.
Get Help with IT Process Automation
At Electric, we make IT easy for small and medium-sized businesses. Our all-in-one IT management solution automates repetitive IT tasks and streamlines processes like employee onboarding and offboarding, device procurement and provisioning, and cybersecurity. Contact us today to learn how Electric can help you manage your people, devices, networks, and applications in one platform.