Assessing your managed IT provider's performance should be an ongoing exercise. Regular reviews help you identify gaps, bottlenecks, and potential security issues. Open feedback and communication with your provider also facilitates ongoing improvements as your organization grows. So, how can small businesses evaluate their external managed IT provider to ensure they're getting the best service possible?
In this post, we'll outline everything you need to know about managed IT performance, including what you should expect, and when it's time to switch providers.
What a Managed IT Provider Should Offer
Whether you're a business executive or a seasoned IT pro, a managed IT solution can make your job easier and empower you to focus on the work that matters. When assessing your provider's performance, it's perfectly reasonable to expect the following benefits:
1. Time Savings
A managed IT solution should take day-to-day tasks and admin off your plate. Whether it's through outsourced IT management or automation of manual work, your provider should generate significant time-savings for your team. Downtime and lost productivity should also be minimized through proactive monitoring, while real-time support means employees are never left waiting for critical troubleshooting.
2. Reduced Costs
Hiring, training, and maintaining an in-house team of IT experts isn't financially viable for many small businesses. By outsourcing your IT management, you cut down on the large expenditures that come with running a fully staffed department in-house. Aside from reducing labor costs, managed IT providers should help you find cost efficiencies when it comes to software, device procurement and provisioning, and ongoing maintenance. To learn more about IT pricing, read our article on IT support costs.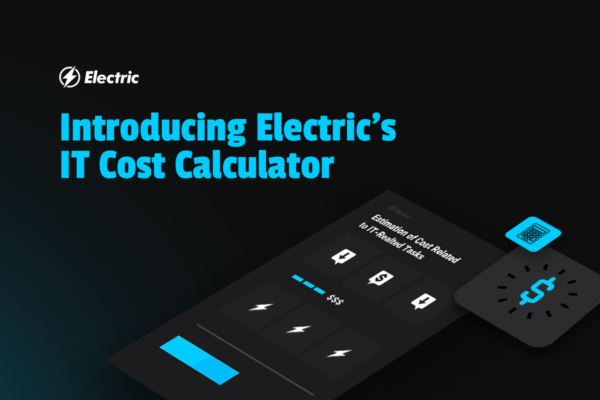 How much is IT truly costing your business?
Use Electric's free IT cost calculator to find out.
Calculate Your Costs
3. Expert Knowledge
Small companies with stretched resources often rely on generalists to cover all aspects of IT, when ideally you should have dedicated experts in areas like cybersecurity, compliance, and strategic project management. Managed IT promises an external team of experts who have the training, qualifications, and experience to meet your business needs. When you partner with a managed IT solution, you should also have access to the best technology on the market, with personalized recommendations and smooth implementation.
4. Better IT Management and Visibility
In-house IT management often results in siloed systems and inefficient use of resources. Managed IT providers, on the other hand, should offer you a singular view of your entire IT environment. Maintaining visibility of your devices, networks, people, applications, and support means you can make more informed decisions and identify any problems before they impact productivity.
Managed IT Performance Goals
Whether you've been working with your managed IT provider for a long time, or they are a recent addition to your team, it's a good idea to regularly check in on their performance to ensure your needs are being met. Below are some of the goals and KPIs to consider setting and reviewing with your managed IT provider.
1. Response Time
A key indicator of a managed IT provider's performance is their average support response time when contacted by your team. An efficient provider should offer prompt troubleshooting and problem resolution, ideally with an initial response time of 10 minutes or less. Don't be afraid to set KPIs on expected response timeframes with your IT partner.
2. Compliance
Your managed IT provider should be familiar with the compliance requirements for your specific industry. Check that your provider is proactively implementing compliant practices and ask how they stay up to date with the latest regulatory developments. If necessary, schedule regular check-ins to monitor progress.
3. Security
Assess how quickly new updates are rolled out after release, whether your antivirus is fully up to date, and how often data backups are performed. Check that your provider has a specific incident response and disaster recovery plan in place for your business, and ask when it was last reviewed – this should be done annually, at minimum.
4. Uptime
Your managed IT provider should deliver consistent uptime for critical business functions. From your network, to your apps and devices, reliable partners vigorously monitor and maintain your IT infrastructure. In addition, all employees should have dependable access to the resources they need, no matter where they work or which device they use.
5. Proactive Advice
When was the last time your IT provider recommended a change or improvement to your IT environment? A high-performing partner identifies gaps and shares advice based on expert knowledge. They should also clearly demonstrate the value they provide to your organization. If your managed IT provider waits for problems to arise or questions to be asked before taking action, consider it a red flag.
Signs it's Time to Switch Managed IT Providers
If you've been partnered with the same managed IT provider for a while without achieving the expected benefits, it might be time for a change. As well as the performance indicators listed above, watch out for the following warning signs that your managed IT is falling short.
1. Service Delays
Any small business can experience occasional crashes or outages. However, when this does occur, your managed IT provider should be on the case immediately. If you struggle to reach your provider during a crisis, or if it takes a long time for them to respond, you might need to consider an alternative.
2. Lack of Flexibility
Small businesses need managed IT providers that are flexible and able to adjust quickly to their changing needs. Don't accept a partner that can't work with you on pricing, service delivery, or contract terms as your business grows.
3. Lack of Transparency
Your provider should welcome feedback and be willing to openly discuss issues and progress. You should also have ongoing visibility into the health of your IT environment, and be able to track the status of tickets. Likewise, your pricing should be completely transparent, with no unexpected overage fees at the end of the month.
4. Recurring Issues
Managed IT should involve comprehensive monitoring systems and incident databases to detect and fix problems before they disrupt your business. When an issue occurs, a good provider not only resolves the problem quickly, they take steps to prevent recurrence. If you notice repeat issues with your provider, or experience an avoidable breach, it's time to switch your managed IT.
Partner with a High Performing Managed IT Solution
Looking for a managed IT solution you can rely on? Electric's team of IT experts is here to help you run your critical business operations seamlessly, while saving your in-house team valuable time and resources. Get in touch today to learn more about how we make IT simple, secure, and lightning-fast.